How to make your glo data browse faster.
Tue Apr 17, 2018 4:09 pm by Snows
To enable all glo users browse faster, use this method to enhance your browsing speed.
Steps :
*Click your glo access point settings .
*Click default Glo flat.
*Then edit your bearer settings the default is unspecified, just unclick it.
*then tick the following shown On image below.
That's all and watch the speed of light on your 3g browsing
Note: 
o
nly tick LTE if your phone is 4g …
[
Full reading
]
Comments: 0
How To Get Free 20,000 Naira Airtime on Any Network With Opera Mini News App
Mon Apr 02, 2018 1:18 pm by issac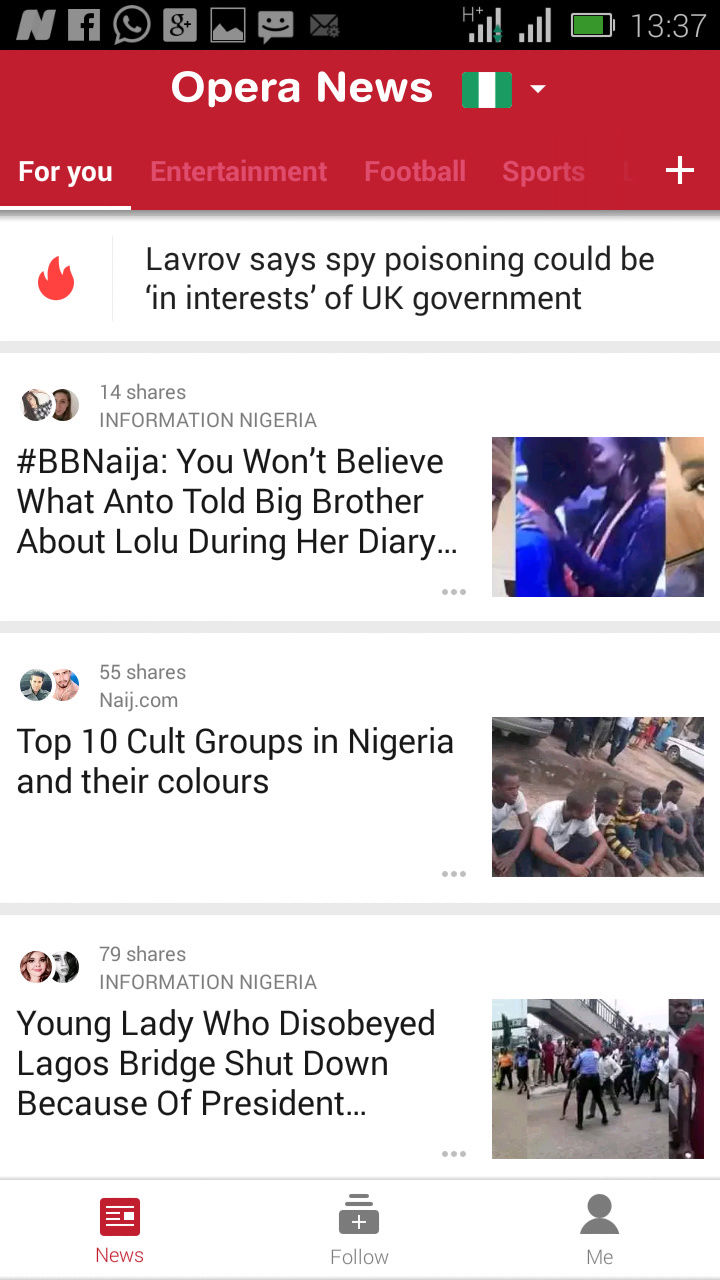 Hey Friends 
How To Get Free 20,000 Naira Airtime on Any Network
free airtime app that you can't afford to miss out this time around. So this app is nothing more than opera mini news app.

So the ideology of getting free airtime is still the same with Opera News app.

So let's take a look at what this app is actually meant for. 


Opera …
[
Full reading
]
Comments: 1
Mtn Nigeria Customer Care Contact Details
Sat Apr 07, 2018 1:44 am by DaddyBoy
​
MTN is a South African multinational telecommunication network. It has so many affiliates in the world including Nigeria.
In this post, I'll tell you how to contact MTN customer care in Nigeria, in case you are finding it difficult to contact them. 
HOW TO CONTACT MTN NIGERIA CUSTOMER CARE 
​
To contact MTN customer care, you must first have …
[
Full reading
]
Comments: 0
How To Share Data On Glo Network With Few Easy Steps
Thu Mar 29, 2018 11:15 pm by Emmi
As a Glo network subscriber, you are entitled to every opportunity on the Glo network. Glo offers this feature of sharing data with another Glo subscriber. You can share data to another Glo network without facing any difficulty. Instead of buying different plans you can alternatively share with one another and they'll all get …
[
Full reading
]
Comments: 0
How To Check Your Airtime And Data Balance On Mtn Network Nigeria
Wed Mar 28, 2018 2:17 am by DaddyBoy
Hello readers! Are you finding it difficult to check your MTN balance both on data and airtime credit basis? Then consider it not a problem again as I'll highlight you on the various ways you can check your balances on the MTN network.
This post was strictly written for MTN subcribers. This post covers all the MTN tariff plans as regards to checking your data and airtime credit balances.
[
Full reading
]
Comments: 1
Peter1

Master✭✭✭✭

Posts

:

35




Points

:

646




Reputation

:

5



*CHAPTER TO CHAPTER AND FULL SUMMARY OF
INDEPENDENCE [JAMB RECOMMENDED NOVEL FOR
UTME] BY SARAH LADIPO MAYINKA*

CHAPTER 1
Tayo is the first Nigeria to receive a scholarship to study at Balliol College, Oxford. He visits his relatives in the village of Ibadan before travelling the next day to uncle kayode's house, another relative in Lagos. On the day he sets to sail, his parents, headmaster, some of his teachers and other Lagos-based relatives stands at of his teachers and other Lagos-based relatives stands at goodbye.
CHAPTER 2
Tayo describes his journey through the seas and the warm reception he gets at England in a letter to his
father. He mentions his new friends at the college and explains in details his perception of things in his new environment. His father replies promptly, giving him precise report on the state of affairs in the family and the country.
CHAPTER 3
Mr. and Mrs. Barker, Tayo's older friends invites Tayo and Africans for a drink party in their home. There he formally meet Christine Arinze with whom he develops a casual relationship.
CHAPTER 4
Vanessa attends a party with her friends. There, she meets Charlie and Mehul. She gets drunk and wakes up the next morning with a splitting headache. Vanessa takes up her pen to write an article for the school magazine but changes her mind to write to her friend Jane instead..
CHAPTER 5
In attendance for the West Africa Society meeting is Tayo, his friends and other college students. After
the meeting, he introduce himself to Vanessa Richardson who is also in attendance. Inspite of being a trifle jealous of Tayo and Vanessa's chit, Christine invites him over to her place. She tells him about how she is struggling to maintain her academic excellence amongst other things. He console her and assures her that she will excel like she's always done.
CHAPTER 6
Tayo and Vanessa goes for a walk in the direction of the meadows. They talk on various issues ranging from Malcolm X's visit to oxford to Tayo's father's duties during colonial admission as well as Vanessa's father and grandfather's involvement in colonial services. They outrun each other to a country pub where they bought drinks. They leave early because two men spill their drinks and Vanessa declines Tayo's offer of another one.
CHAPTER 7
Vanessa goes back home for the Christmas holiday. She receive a not so warm welcome from her family as the atmosphere between her parents is strangely cold. At dinner, she has a misunderstanding with her father about his inviting apartheid friend to the Christmas party her African friends will also attend.
CHAPTER 8
Tayo arrives Aberleigh, Vanessa's home in London for the Christmas party. Aside from being mistaken for a servant by one of mr. Richardson's friend, everything else goes smoothly. Vanessa visit Tayo in the room he is spending the night in. Vanessa visit Tayo in the room he is spending the night in. They talk briefly on the demeanor of her parents and Tayo discuss his mother at Vanessa's prompting
CHAPTER 9
Tayo and Vanessa spend everyday of the week together and on Friday, she bring him daffodils to brighten up his room. Tayo shares one of his family photograph with Vanessa and the latter makes assessment of each member herself. Vanessa on the other hand shares her worries about being on African correspondent considering her British lineage. Tayo reassures her that Africa needs good journalist; British or African can then pull her close for a dance.
CHAPTER 10
Tayo and Vanessa spends Easter in Paris' with Simon and
Nima. Tayo gets his first writing journal from Vanessa
where he documents their stay in Paris from the first day.
There, they live the Bohemian life - all four of them. A day
before the completion of their holiday, Tayo gets a telegram 
that Christine is dead. While Tayo grieves for her, he also
blames himself for not being sensitive enough to her needs
as a friend.
CHAPTER 11
Vanessa and her family visits France to the Bastille holiday. Jane, Uncle Anthony, Mr and Mrs. Murdoch joins them in France. They engage in conflicting talks considering Uncle Anthony and Mr. Richardson's ever opposing views. Later that night, Jane confess to sleeping  with Uncle Tony on their way home from the train station and Venessa also tells Jane about her relationship with Tayo.
CHAPTER 12
Vanessa writes to Tayo describing the weather in France and expresses her opinion on the margery Perham's review he is working on. Tayo replies and fondly relates his experience so far in Bradford with. his cousine Tunde where those who aren't on scholarship like him have to work long hours to make end meet.
CHAPTER 13
At Tunde's house in Brandford, London. Tunde and Yusuf decides to hold a party in honour of Gambia's independence. Yusuf and Tayo discuss the marriageability of either British or African women. The party is in full swing when Tayo finds himself pressing a lady to the wall. Suddenly he takes a punch to his jaw and a fight ensures. A policeman arrives and takes them to the station for questioning.

CHAPTER 14
Tayo decides against telling Vanessa the truth about his chpped tooth which he gets as a result of the fight in Bradford. He attends Yusuf's wedding with Joy, where Vanessa later joins him. On their way back, Vanessa accuses Tayo of lying about his relationship with the late Christone. Tayo tries to cajole her from her outburst but Vanessa wouldn't have none of it, so he leaves her in the carriage.
CHAPTER 15
After their fight, Vanessa suggests they spend Christmas apart which Tayo promptly agrees to. He sets himself on a strict schedule and manages to survive alone until New Years Eve when he decides to make chicken stew. Vanessa walks in during his lousy attempt at cooking. They eventually settle their differences and spend the rest of the holiday together.
CHAPTER 16
The New Year brings Tayo's uncle, Kayode to England. Vanessa gets to meet one of his family members and they get on so well. They discuss various topics ranging from Tayo's sporting prowess to Annais Nin, a writer of erotica. Vanessa concludes that she'll love to meet the rest of Tayo's family with Uncle as loving as that.
CHAPTER 17
With a first-class degree and a graduate scholarship, Tayo gets a chance to speak at Bellamy Boy's School where Mr. Richardson works as a headmaster. His lecture is solely on Nigeria and it makes a big hit in the school. Mr. Richardson invites Tayo to his office after his lecture and tells him on clear terms his views on Tayo's relationship with his daughter. Tayo returns to college sullen and Vanessa asks him what the matter is. He tells her father is not in support of their relationship to which Vanessa asks him to fight for them if he truely loves her.
CHAPTER 18
Tayo is back in Ibadan, Nigeria due to his father's critical illness. He tries unsuccessfullyVanessa's to write to Vanessa due to his incessant pleading for more details of Englad. While ruminating on what to tell Vanessa in his letter, Tayo is called outside his room to hear the news of unsuccessful coup to kill Ironsi. This leads to unrest in some parts of the country but Tayo reassures the people, telling them not to panic..
CHAPTER 19
Tayo sends Vanessa a letter after a long while apologising for his long silence. He attributes it to his father's second heart attach, the coup d' etat and the civil war. Vanessa leaves for Lagos after her exams,ignoring Tayo's telegram telling her not to visit yet. After their loving reunion and Vanessa getting familliarized with the Lagos, Tayo tells Vanessa another woman is carrying his child. Vanessa, devastated, leaves.
CHAPTER 20
1970 at Dakar, Semegal, Vanessa now works as a correspondent for Reuters. She makes friend with
Salamatou a Senegalese who braids her hair and teaches her the local language, Wolof. Salamatou asks
her about her love life. She touches briefly on Tayo, explaining to her that she's since move on.
CHAPTER 21
In 1984, Tayo is a husband to Miriam and a father to Kemi. He is also an accomplished writer and a professor. One Sunday a month, they have lunch issues concerning the country and universities. After Lunch, Yusuf advises Tayo to limit the way he criticizes the government and Tayo tells him there's nothing to worry about.
CHAPTER 22
Tayo recalls how he ends up with Marriam and Flips through Vanessa's diary that he keeps in his drawer. Kemi, his daughter catches him unawares and chides him that he works too hard. Eventually, father tells daughter a story and they are joined by Mariam before they all go to bed.
CHAPTER 23
For the summer holiday, Tayo and his family decides to spend three weeks, Uncle Kayode's in Lagos his mother and other relatives in Ibadan. Despite Miriam's objection, Tayo visits an old man who serves Lord Lugard during his reign in Nigeria, instead of visting his mother in Ibadan. On his return, he learns that his mother dies in a fatal accident while coming to Lagos to visit him and his family.
CHAPTER 24
Six months after the death of Tayo's mother, the coup to  overthrow the democratic rulers by the millitary takes place successfully. The people's optimism quickly dies out when the millitary administration proves to be the as corrupt as the preceding rulers and this leads to lots of unrest and protests Admist the unrest, Miriam advises that they leaves Nigeria for England but Tayo objects claiming his loyalty to his country and wouldn't let him.
CHAPTER 25
In 1990, Tayo's hopes for improved educational system is dashed when a foundation that promises to help provides only second-hand books and old software programmes that can't be used due to lack of computers. Miriam and Kemi leave for England the previous
CHAPTER 26
In 1994, Tayo on his way back from his office meets soldiers who has mount up road blocks in order to inspect citizens or collect bribes. Tayo is surprised they do not ask him for money but instead they take him to the barracks for questioning. He is severely beaten and ask to stop his critical writing against the government.
CHAPTER 27
Tayo meets vanessa for the first time after their break up, during his tour of England while promoting his new book on Lord Lugard. After the seminar, they both catch up on each other's lives. At the end of the evening, Tayo asks if he would kiss her but she politely declines, saying she would miss her.
CHAPTER 28
Vanessa sits at Broadwell Park reminiscing on her meeting with Tayo during his book tour. She revisit the past and dwells mostly on how she finds herself marrying Edward Barker, Tayo's friend in Oxford. Later 
that evening, Vanessa receives Mandelo's 'Long walk To Freedom' as a wedding present from her husband.
CHAPTER 29
Tayo writes to Vanessa where he expresses himself freely like the old times. He shares his opinion on the role of artists in his letter. Vanessa earnestly implores him in her reply to be careful in his fall prey to the hands of military rulers. Tayo replies toher complaints about her failures as a mother by reasuring her she is a good mum and also tells her about his imperfections as a father and a husband.
CHAPTER 30
Vanessa drives Suleiman to the airport where he leaves for Senegal, his home country. Vanessa is heartbroken with the way they part and worries about him constantly. She bares her heart in a letter to Tayo, expressing her sadness and longing for what could have being. Eventually, she decided not to send it.
CHAPTER 31
Vanessa visits her father, Mr. Richardson, who is now old and lives in the Carrington Home for the Elderly. With her father is murdoch and Mrs. Halliday. After the brief visit, she buys a fitting skirt in preparation to meet Tayo at the airport the next day. Unfortunately, Tayo is not on the list of those on the expected plane.
CHAPTER 32
On Tayo's way to the airport, his plan to visit Englad for a long while fails as he is involved in a ghasly accident orchestrated by the Nigerian military.
CHAPTER 33
After Tayo's survival of the accident that lost the life of his driver, Abdou, he resorts to living at Kemi's apartment in San Francisco. There she works as a nanny to fund her artistic pursuits. Kemi sensing her father's depression suggest that he sees a therapist. Tayo promptly refuses, saying he doesn't need one. This outburst dregs up the ugly past making father and daughter exchange harsh words. Later that night, they apologize to one another.
CHAPTER 34
Vanessa, after the death of her father, tries to publish his manuscript. She finds out interesting news on the period of their stay in Nigeria as a family. She speculates on different twists to what leads to her mother's early departure from Nigeria. She reconciles with Suleiman, her son, who on his return to England promptly apologizes and resolves to start up a business.
CHAPTER 35
Tayo gets the opportunity to teach, which he does not appreciate initially but soon seems to enjoy. His legs heal completely, given to his long walks. He later recives a letter from the Nigerian president that states that he has being awarded a honorary degree from oxford.
CHAPTER 36 
Family and friends gather for the occasion in the his family while Kemi introduces herself, miriam and
some other family members to Vanessa and her son. Tayo and Vanessa later steals away from the party 
to have an alone time.

FULL SUMMARY
Tayo Ajayi, a Nigerian, and Vanessa Richardson, an English woman, had their affair boiling when it 
started, but as circumstances were meant to intervene, the relationship went sore and it seemed nothing could ever bring them together. The book has characters that behaved in like-patterns, like in the case of Tayo's friend, Yusuf, who had dated lots of white English ladies. He (Yusuf) ended up marrying a Nigerian Woman as predicted (Yusuf knew what he wanted and seemed to get it). Tayo also ended up the same way in as much as his affair with Vanessa Richardson had been gleaming, although his had been out of the mistake of getting a young woman (Miriam) pregnant. And talking of pattern, the novel's beginning had opened up introducing Tayo's affair with Christine, a Nigerian Igbo lady. One would think that Manyika had to end Tayo's relationship with Christine for the sake of bringing in Vanessa into Tayo's life, but still, Tayo had to end up marrying Miriam. And still the marriage failed, giving in to the familiar pattern.
Miriam in Manyika's novel represented the breeds of the Nigerians that would always run away to live abroad due to the collapsing image of their home country. Miriam went away with her daughter leaving Tayo behind. In as much as she persuaded Tayo, he wouldn't go. She didn't like an inconveniencing life. She wanted the best life for her daughter. Tayo, on the other side represented the crude breeds of Nigerians that felt home was home even though the country was boiling in corruption. In as much as the failure of the country stared firmly at his face with daggers, he chose to stay. Towards the late pages of the novel he had to leave the country under threatening circumstances against his life from the ruling military regime. The entire novel is told from the good days of Nigeria's independence down into the nineties. I applaud Manyika's ink, here. In as much as the setting of this novel floated through England, Senegal, USA, and France, she was able to use her third eye to draw out Nigeria's journey into the worse lanes of corruption, and hopelessness. Faith is another issue that Manyika dealt with. It didn't matter to her if one was a Moslem or Christian. Reading through this novel, one couldn't tell if Tayo came from a
Moslem or Christian family but we did know he embraced more of the Christian faith. She failed to point out the difficulties of inter-religious marriages in the novel, but centred more on the difficulties of interracial marriage. During Tayo's life as a part time lecturer in Sans Francisco, Manyika used a scene to unbolt some deeper issues of racism. She pointed out the racist ties between the African American and the pure African. These issues she raised refer to an Igbo as a greedy money monger and dubious monster, and in turn the Igbo would refer to the Yoruba as a dirty, loquacious and foolish personality who spend all he earns on parties and alcohol. It had to be understood that racism was one those existences that would live for a long time as far as misunderstanding between people existed. I captured lines that are coated with humour in this novel, but could be called racial remarks. Young black Yusuf came clean in his conversation with Tayo. He said white women were for sex treats while black women were for decent relationships that could lead to marriage. He added that a white woman looked so old when she turned thirty. The worst racist in this book is Vanessa's father who was a one time colonial master in Nigeria before 1960. He was against Tayo marrying his daughter, and had refused to accept Vanessa's adopted half-cast son. He seemed more racial against half-casts earlier in the novel confronting Tayo about his fears for a half-cast grandchild. It was later understood that his hatred for the blacks was as a result of an affair his wife had with a black man during the colonial era. Manyika, whose picture shows she is perhaps half- cast, was able to make a point here. She drew a difference between being black and being a half-cast (brown). This would have been quite a storm for her to write about because of the racial wind against the brown people living in whitely dominated regions. In contrast to a pure black country, half-casts are seen beautiful which Manyika failed to point out. In fact in the black continent, the typical black man may feel inferior to a half-cast. Manyika was also able to portray the polemic attack Nigerians receive from around the world these days. She  didn't bring this to print but the image was represented, and I had to figure it out. I can say it clouds around the pain felt each time an IELTS or TOEFL exam is required before a Nigerian could study abroad. This doesn't exclude a masters' degree. Does the world think Nigerians speak Latin or Greek or some kind of language called 'Nigerian'? 'I said I haven't heard you speak Nigerian,' Joyce says. Joyce is one of Manyika's English characters. And I like the way Yusuf replies this. 'Nobody speaks Nigerian, you daft thing, A coincidence in this novel which I refuse to accept was the scene in which Vanessa had just come across one of her best music, Hugh Maskela, a song that reminded her of Nelson Mandela… And on the same day, not even up to two hours if I could rightly predict, her white husband is presenting her with 'Long Walk to Freedom', Nelson Mandela's biography. What a coincidence! I also do not embrace the fact that Manyika saw hope for Nigeria through the eyes of Tayo only when Abacha died. There are still Abacha loyalists in Nigeria today who will find this offending. She should have kept the line in a riddle. Vanessa did meet with Tayo at the end of the novel, but it was hard to predict if at all a love relationship was ignited between them. Vanessa was still married, but Tayo wasn't. Manyika maintained a non-adulterous plight between the two here. The happy-ending-formula which most romance writers adapt was blurring in the novel.
POSSIBLE QUESTIONS AND ANSWER'S
1. For what purpose is Tayo travelling to England?... Ans: To take up a scholarship at Balliol College, Oxford
2. What is the name of Tayo's school in England? ….Ans: Balliol College
3. What is the significance of Tayo's visit to relatives before embarking on his journey to England?
Ans: It is their tradition
4. Through what means of transportation does Tayo travel to England? ….Ans: Water
5. Why is Tayo surprised that people do not greet each other in passing in England?
Ans: Because in Nigeria, so much value is attached to greetings
6. In what subject did Bisi receive the highest honours?.... Ans: Geography
7. In the Ajayi motto, all things are expected to be done with moderation except what? ….Ans: Study
8. Who is Mr Barker? …Ans: He His headmaster and Mr Faircliffe's old college
9. What re minds Tayo of his mother in the Barkers' house?
Ans: Isabella cooks wonderful meals in a way that reminds Tayo of his mother
10. Christine was in her third year of study when?... Ans: Tayo met her for the first Time
11. What is Vanessa Richardson's nationality?.. Ans: English
12. What is the name of the friend that Vanessa wrote a letter to, concerning the status of women? 
Ans:Jane
13. The full meaning of JACARI is?... Ans: Joint Action Committee Against Racial Inequality
14. What are Christine's reasons for putting an end to her relationship with Tayo?
Ans: Because she was clled 'clingy' and the fear of her boy being snatched by some woman.
15. The language of fun among Tayo's Nigerian friends is ?.... Ans: Pidgin
16. What are the things that made Tayo remember home each time he is at Christine's place?
Ans: Her cooking which reminds him of mama and the juju and highlife music she plays.
17. What is the trait that Nessa cherises in Tayo and that is absence in Charlie and Mehul?
Ans: Humility
18. What does Nessa mean by saying she has a ''small confession'' to make?
Ans: She has connections to Nigeria as her father is a colonial officer over there
19. What did Tayo name Vanessa as?.... Ans: Moremi
20. What delicacies did Vanessa's mother make to welcome her daughter?... Ans: Chicken pie and cake
21. For what occasion did her mother ask her whom she was inviting? …Ans: Christmas party
22. Whom did Vanessa's father invite for the occasion? …Ans: His South African racist miner friends.
23. How old was the Richardson's house when Tayo attended a party there? …Ans: About 200 years
24. "We all get embarrassed by our parents".  Who said this?... Ans: Tayo
25. To whom was it said?... Ans: Vanessa's
26. What, according to the narrator, did Nessa admire in Tayo when she visited him in the room and saw him organizing his records in piles?....... Ans: His tidiness
27. Where did Simon suggest that they (him, Tayo and their two girlfriends) spend Easter? …Ans: Paris
28. Christine died by------? ….Ans: Suicide
29. Why did Tayo feel guilty about Christine's death?
Ans: His refusal to respond properly to her letters and not giving her attention
30. Who is the only family Tayo has in England?.... Ans: Tunde
31. Why does Vanessa's father detest Uncle Tony?
Ans: To him, he is unconventional to him and because he had the opportunity of achieving a place at Cambridge University which Vanessa's father didn't have
32. What qualities did the narrator ascribe to Nancy?
Ans:She is being described as having a 'supercilious(arrogantly proud) tone and feigned generosity'
33.What made Tayo realise how lucky he was for getting a scholarship at Balliol?
Ans: He witnessed the life of struggle most African students live, engaging in ridiculous and exhausting jobs such as bakery and hospital work to make ends meet.
34. What do the signs: "No Dogs, No Irish, No Coloureds''(Africans and Indians) symbolise in the novel?
Ans: Racism
35. The least strenuous work was reserved for whom?..... Ans: The English
36. Where was bathing done since there is no bathroom in Tunde's house?..Ans: Kitchen (in tins) or public baths.
37. For what purpose(s) did Tunde throw a party in his house?... Ans: For Tayo and to celebrate Gambia's independence
38. ''Nigerian women are the best'' who said this?... Ans: Yusuf
39. Whose wedding did Tayo and Vanessa attend? …Ans: Yusuf's
40. Joyce was expected to be the bride, but the bride turned out to be whom?... Ans: Joy
41. ''No! Don't Moremi me'' Who made this statement?... Ans: Vanessa
42. On New Year's Eve, what happened to Tayo?.... Ans: He woke up homesick
43. Where did he buy his chicken from?.... Ans: The Covered Market
44. The finest hotel in Oxford is…? ….Ans: Randolph Hotel
45. According to the narrative, who is Tayo's favourite uncle?... Ans: Uncle Kayode
46. Who invited Tayo to lead his school assembly with a lecture on Nigeria?.... Ans: Mr Richardson
47. ''What are your intentions with my daughter?'' Who made this statement?... Ans: Mr Richardson
48. Who sent Tayo the telegram which reads: ''Baba is in hospital, recovering. Return home immediately''?..... Ans: Tayo's mother
49. What does Tayo despise Mr Richardson for?.... Ans: Bigotry
50. Who is Dele?.... Ans: The village drunk
51. What circumstance led to the end of Tayo and Vanessa's relationship?.. Ans: Tayo impregnated a woman
52. In this narrative, Nessa's dreams as portrayed by the writer are…?... Ans: Writing about African art and culture
53. Who is Salamatou?.... Ans: A single mother of half-caste Sulaiman
54. In Tayo's opinion, what are the root causes of oil corruption and a broken civil service in Nigeria? Ans:Greed and mismanagement
55. In what university was Tayo offered a job?.... Ans: Birmingham University
56. Who is Miriam?.... Ans: Tayo's wife
57. Whose diary did Tayo discover in his study?..... Ans: Vanessa's
58. Why is Miriam loved by Tayo's family?
Ans: She nursed Tayo's father with care when he had stroke
59. Whose house is described as 'Beauty in the Heart of Darkness'?... Ans: Uncle Kayode's house
60. What is the name of the local artiste that took Tayo to the village?....Ans: Akin
61. What led to the closure of universities?..... Ans: University students protest
62. For what reason is Tayo Opposed to leaving the country?
Ans: He Wanted to wait and help his students
63. In order of occurrence, what are the challenges Tayo faced that made him reconsider leaving Nigeria? Ans: The broken pipe, his house boy's leave of him, his disappointment in the Foundation and threats to his life.
64.What was his purpose of planning to travel to New York, even though he eventually could not?  Ans:To receive an award for his book
65. Why did Simon arrange a meeting for Tayo and whom did he hold it with?
Ans: To help in the possible funding of Tayo's university
66. What was the outcome of the meeting?...... Ans: Disappointment
67. Who challenged Tayo on the road on his way home? ……Ans: The soldiers
68. What reason did the soldiers give for bringing Tayo home?
Ans: They said Tayo had an accident while driving recklessly
69. What circumstance led to the death of Nessa's mother?..... Ans: Cancer
70. What killed Tayo's father?..... Ans: Stroke
71. By what means did Tayo's mother die?..... Ans: An accident
72. How many years of marriage did Nessa and Edward celebrate at their wedding anniversary?
Ans: 18 years
73. ''To the woman I love, and with whom I have walked the best 18 years of my life''. Who made this statement?..... Ans: Edward
74. To whom was the statement made?.... Ans: Vanessa
75. What is responsible for the divorce between Tayo and his wife?
Ans: Tayo took priority in his students over his wife and child
76. For what reason was Tayo detained?
Ans: For showing his students Perry Henzel's film, The Harder They Come.
77. What does Vanessa mean by the pick-up-your-stick- and-sandals marriage?
Ans: A kind of love story wherein two lovers who are each other's first love do not get to marry each other but meet later in life to re-unite
78. ''Ah, fuck you, Mum!'' Who said this?.... Ans: Suleiman
79. What is the name of the home in which Nessa went to check on her aged father?
Ans: The Carrington Home for the Elderly 
80. For what reason did Nessa tell her father when she was going to the airport? Ans: To meet Tayo
81. What was her father looking for before she came?.... Ans: His pen
82. What is name of Tayo's driver? …..Ans: Abdou
83. ''Marriage is a serious thing'' who said this? …….Ans: Tayo

84. To whom was it said?..... Ans: Abdoun
85. In what part of the U.S. did Kemi reside?..... Ans: San Francisco
86. Whose money was used for Tayo's treatment after his accident? …..Ans: Miriam's
87. Why was Vanessa initially reluctant to publish her father's manuscript?
Ans: The poor relationship between her and her father
88. Why did Vanessa's mother return to England with young Vanessa, while her father remained in Nigeria? …..Ans: Vanessa's mother had an affair with their gardener, Danjuma.
89.Tayo was employed to teach Oral histories in Northern Nigeria and the political history of West Africa in?....Ans: San Francisco.
90. ''…Race is a part of the fabric of this nation. You're either black or you're white, and this affects every aspect of your life'' who said this?.... Ans: Kwame
91. To whom was this said?...... Ans: Tayo
92. What honorary degree did Tayo receive?....... Ans: Doctorate of literature
93. Who asked Tayo and Nessa to help take a photograph of them?....... Ans: A middle-aged couple
94. Did Miriam grace the occasion of Tayo's award of honorary degree? Ans:..... Yes
95. The cover of the book 'Independence' was designed by who?..... Ans:Lynn Hatzius
96. Bolaji was a professor of International law at_______ ?.....Ans: Nottingham
97.What is the name of Tayo father's car?..... Ans:Morris Minor
98.Uncle Bola favorite drink is______?....... Ans:Ogogoro
99. When did Tayo Ajayi sailed to England to take up a scholarship at Oxford Alma Mater?.... Ans: 1963
100.Who suggested that they should spend Easter in Paris?...... Ans - Simon
101. Cesaire and Senghor are both what?........ Ans - Proponent of negritude
102. 'Incendiary activity' as used on page 118 in the book In Dependence means what?
Ans - Rebellious activity
103.Who interrupted Nessa and Ty's nostalgic conversation?...... Ans - Samir
104.What's the relationship between Tayo and Hawa?...... Ans -Love 020, Boss and Me
105._______ is the beautiful daughter of an ex colonial officer?.... Ans - Vanessa Richardson
106. Tayo Ajayi was given a scholarship to which of college?..... Ans - Balliol College
107.When did Nessa father toured Mambilla Plateau? …….Ans - 1949/1950
108.The gardener servant whom Vanessa mother was rumored to be having an affair with is who?
Ans - Danjuma
109.Joy, the Zimbabwean care worker worked in which of these charity home?
Ans - Carrington Home for the Elderly 
110.Who worked as a dry cleaner in London?...... Ans - Anthony Sketchley
111.Suleiman is Salamatou son and what to Vanessa?....... Ans - Adopted child
112.Uncle Kayode works as a senior officer in which of these conglomerate?.... Ans - Elf 
113.Which of these   character can be described as a charlatKarly  
Ans - Professor Innocent aka Karly Marx Jr.
114.Christine hair style looked like which of these celebrity?...... Ans - Sophia Loren
115.How is Suleiman related to Vanessa …Ans- Adopted son 
116.Vanessa's Mother known as ______ died of cancer in what year?... Ans- Mrs Elizabeth, 1978
117.Vanessa was eventually married to whom…. Ans-Professor Edwards
118.What is the nature of Christine's death?.... Ans-Suicide, overdosr
119. Uncle Kayode later pursued a career in _______ Ans-Engineering, France
120. Professor Tayo was given an honorary award in….. Ans- Literature
121. How many honorees were awarded a doctorate alongside Professor Tayo… Ans- 5
122.Tayo's cousin, Tunde is the Pastor of …..Ans- fastest growing Nigerian Church in London
123.Kwame had been teaching in the ______ before Tayo's arrival …Ans-San Francisco University 
124. For how many years has Kwame been teaching in the University before Tayo's arrival… Ans-Seven
125.The name of the driver accompanying Tayo to the Airport when he had an accident is …Ans-Abdou 
126. Mrs. Elizabeth seemingly had an affair with a slave while in Nigeria named? …..Ans-Danjuma
127. Pick-up-your-stick-and-sandals marriage was a phrase popularly used by the ______ according to Vanessa …..Ans-Hausa
128.Salamatou is the biological mother of Suleiman, but she died of …..Ans- Car accident
129.Vanessa married to Professor Barker on …….Ans- July 15th 1976
130. Suleiman was ______ years old when he dropped out of the university… Ans-18
131. Vanessa Richardson is an Africa Journalist who writes column for………. Ans-The Guardian
132. Akin, the carver, had a great uncle, who was a servant to_____during colonial period.
Ans-Lord Lugard
133. Tayo lied to Vanessa that Christine was his…. Ans- Cousin
134.Kemi (Tayo's daughter) has a boyfriend named______, who works as a _____ Ans- Laurent, chef
135. Modupe and Tayo always visit where at dark hours… Ans- Lebanese Cinema
136."Here is some money for the ladies"; The speaker here is ________ Ans-Uncle B
137.It was said in the letter written to Inspector Adeniyi Ajayi, that Tayo met King Olav's son from ________ Ans-Norway
138. Mr. Ike Nwandi, studies _______ abroad… Ans-History
139.What was Uncle. Kayode's job rank..  before his return from Abroad?.... Ans-Senior Army Officer
140. A simile embroidered to qualify Mr. Ajayi's silver car was… Ans-It was glistened like a fresh river fish
141. Before Tayo's travel, He presumed that Uncle Bola held… Ans-the secret to a woman's heart
142. In the last sentence of Mr. Ajayi's letter to his son was their family's motto which states.
Ans-In all things moderation, with exception of study
143.What is Mr. Ajayi's family's motto…. Ans-In all things moderation, with exception of study.
144.Taoy's mother died on her way to-----? ….Ans-lagos
145.Where did ike work?..... Ans-In the ministry of education.
146.Which word Akin's uncle have penchant for?... Ans-You follow
147.What game did Akin's uncle start with his friends? ….Ans-Ayo
148.What is the name of Akin's uncle boss?.... Ans - Lord lugard
149.Whom did Tayo think of whenever he was with Helene? ……Ans-Vanessa
150.What was written on Kemi's snoopy night dress? …..Ans-Love is the whole world
151.Where did Ajayi always fly to for the summer holiday's?... Ans-Lagos
152.In what year did uncle Kayoed get married to Helene? ….Ans-1974
153. How old was mirian's pregnancy at the time they visited the Yelwa club….. Ans-Five months
154.Who called out on greetings as Tayo and his family entered the lounge in yelwa club?... Ans –Ibrahim
156.What was the name of Tayo's daughter?.... Ans –Kemi
157.Who phone Tayo to congratulate him on his manuscript?..... Ans-His publisher's
158-What is the name of Salamatu's son?.... Ans-Suleiman
159.When was Tayo's family house usually quiete?.... Ans-Sunday morning
160.What did Tayo and Venessa ordered when they got to the restaurant in Lagos? …. Ans-Rice and plantain
161. What is the name of Tayo's neighborhood drunk in his home town in Ibadan?... Ans-Dele
162.Who is the most successful trader along the West African coast…. Ans- Tayo's mother
163.What is the name of oxford finest hotel?....... Ans-The Randolph hotel
164.What is the name of Ysuf's current girlfriend ……Ans-Joyce
165.What did Tunde refuse to take at the party in his house?..... Ans-Drinks
167.Tunde's room was design to be ----?..... Ans- A lounge
168.The name of Tayo's cousin is ----?.... Ans- Tunde
169.Where did Tayo accompanied Tunde  to?
170.Who was never asking but announcing?...... Ans-Nancy mordoch
dessy dexter benards

Newbie✭

Posts

:

1




Points

:

51




Reputation

:

0



ITS TIME FOR HIGH STAKERS TO MAKE WITH ME ..ITS JUST PAY AFTER WINNING PLEASE DONT MISS IT
FIXED MATCH IS READY TODAY FOR REAL PEOPLE WHO CAN MAKE HIGH STAKE LIKE 5000KOR UPWARD  BECAUSE MY MATCH ARE 100%  GAURANTEED AND SAFE PLEASE DONT LOOSE TODAY CHANCE AND IT PAY AFTER WINNING
.....KINDLY INBOX ME ON WHATSAPP 08132352267
0R EMAIL ME
CLASSICBETS39@GMAIL.COM
Create an account or log in to leave a reply
You need to be a member in order to leave a reply.
Log in
Already have an account? No problem, log in here.
Log in
---
Permissions in this forum:
You
cannot
reply to topics in this forum