How to make your glo data browse faster.
Tue Apr 17, 2018 4:09 pm by Snows
To enable all glo users browse faster, use this method to enhance your browsing speed.
Steps :
*Click your glo access point settings .
*Click default Glo flat.
*Then edit your bearer settings the default is unspecified, just unclick it.
*then tick the following shown On image below.
That's all and watch the speed of light on your 3g browsing
Note: 
o
nly tick LTE if your phone is 4g …
[
Full reading
]
Comments: 0
How To Get Free 20,000 Naira Airtime on Any Network With Opera Mini News App
Mon Apr 02, 2018 1:18 pm by issac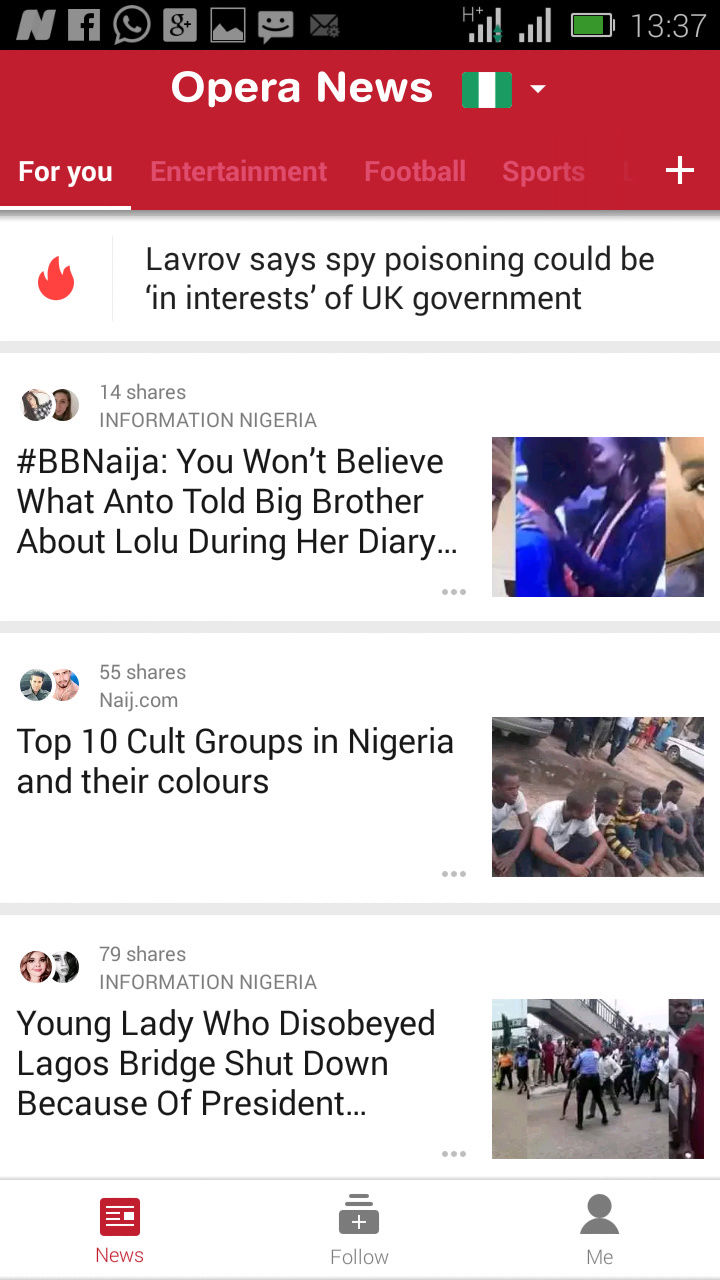 Hey Friends 
How To Get Free 20,000 Naira Airtime on Any Network
free airtime app that you can't afford to miss out this time around. So this app is nothing more than opera mini news app.

So the ideology of getting free airtime is still the same with Opera News app.

So let's take a look at what this app is actually meant for. 


Opera …
[
Full reading
]
Comments: 1
Mtn Nigeria Customer Care Contact Details
Sat Apr 07, 2018 1:44 am by DaddyBoy
​
MTN is a South African multinational telecommunication network. It has so many affiliates in the world including Nigeria.
In this post, I'll tell you how to contact MTN customer care in Nigeria, in case you are finding it difficult to contact them. 
HOW TO CONTACT MTN NIGERIA CUSTOMER CARE 
​
To contact MTN customer care, you must first have …
[
Full reading
]
Comments: 0
How To Share Data On Glo Network With Few Easy Steps
Thu Mar 29, 2018 11:15 pm by Emmi
As a Glo network subscriber, you are entitled to every opportunity on the Glo network. Glo offers this feature of sharing data with another Glo subscriber. You can share data to another Glo network without facing any difficulty. Instead of buying different plans you can alternatively share with one another and they'll all get …
[
Full reading
]
Comments: 0
How To Check Your Airtime And Data Balance On Mtn Network Nigeria
Wed Mar 28, 2018 2:17 am by DaddyBoy
Hello readers! Are you finding it difficult to check your MTN balance both on data and airtime credit basis? Then consider it not a problem again as I'll highlight you on the various ways you can check your balances on the MTN network.
This post was strictly written for MTN subcribers. This post covers all the MTN tariff plans as regards to checking your data and airtime credit balances.
[
Full reading
]
Comments: 1
This morning I'll like to share with you guys "how to undo sent gmail messages" ..
So I'll want you guys to read this post carefully paying close attention to the steps below:

-First, log in to your Gmail account on your computer.

-In the upper right corner of the screen,click the Settings icon (the one that looks like a gear).

-From the Settings menu, choose the option for Settings.

-From the Settings window, make sure the General tab is selected.

-Look for the setting that says Undo Send.

-Click the check box to Enable Undo Send.

-Click the drop-box to set the Send
cancellation period, meaning the number of seconds you have to prevent the email from being sent. You can choose 5, 10, 20 or 30 seconds.

-Scroll to the bottom of the Settings screen and click the Save Changes button.

-To test the feature, click the Compose button at the upper left corner of your Gmail account page.

-Compose a message and then click the Send button.

-At the top of the screen, you'll see a message that says: "Your message has been sent. Undo. View Message."

-To prevent the message from being sent, click the Undo link.

Gmail stops the message from going out and displays it in case you wish to make any changes and then resend it. If not, you can simply close the message, and it's relegated to your Drafts folder where you can keep it or delete
it.

The Undo Send feature is a handy way to ensure that the wrong email doesn't get sent to the wrong person.
Create an account or log in to leave a reply
You need to be a member in order to leave a reply.
Log in
Already have an account? No problem, log in here.
Log in
---
Permissions in this forum:
You
cannot
reply to topics in this forum