The late Brazilian footballers who lost their lives in a plane crash that killed many people onboard, have been honoured amidst tears.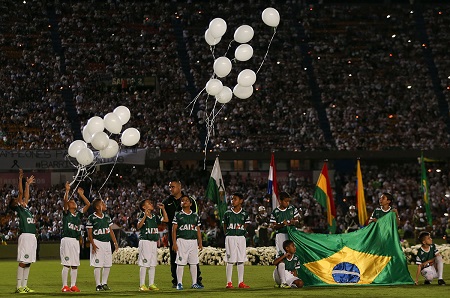 A plane carrying many Brazilian footballers crashed in Colombia, virtually wiping out the entire Brazilian football team, and causing a lot sorrows and tears to flow.
It has been revealed that the plane was running out of fuel, had no electrical power, and was preparing for an emergency landing, according to the pilot's final words.
The disaster on Monday night killed 71 people and sent shockwaves around the football world.
According to Reuters, in Medellin and Chapeco, fans held homage to the team.
Dressed in white and chanting "We will never forget, this cup goes to heaven" the Atletico Nacional stadium in Medellin erupted in cheers, while others cried and white doves flew overhead. The team had been due to play Chapecoense in the regional final.
Relative of the footballers cry during the memorial
Atletico wants the trophy to be given to Chapecoense in honour of the dead.
"As far as we are concerned," the team said,"Chapecoense will for ever be the champions of the Copa Sudamericana Cup 2016."
Tens of thousands of fans packed the Capeco's stadium for a second night.
When a video of Colombian supporters singing a club anthem was broadcast on a giant screen, the stadium exploded in song.
At what would have been kick-off time in the Cup final, the faces and names of those who died in the plane crash were shown on the screen.
See more photos from the memorial below: