Latest topics
»
[Download Music + Video] Peruzzi x Davido – Twisted
by
Emmi
Today at 12:28 am
»
[Download Music] Papiwizzy Ft. Yonda, Baseone & Terry G – Sapon (Remix)
by
Emmi
Yesterday at 12:45 pm
»
[Download Music] Owizzy Ft. Shuun Bebe – Kontrol
by
Emmi
Yesterday at 12:41 pm
»
[Download Music] Hollyboi – Orire
by
Emmi
Yesterday at 12:35 pm
»
[Download Music] M-Money – Kamabaselo
by
Emmi
Yesterday at 12:30 pm
»
[Download Music] DYHCrew Ft. PSO, Diego, Studio Boy & Ric – The Code
by
Emmi
Yesterday at 11:21 am
»
[Download Music] Cliffbado – Loose Guard
by
Emmi
Yesterday at 11:09 am
»
[Download Music] TROD – Omo Mushin
by
Emmi
Yesterday at 10:11 am
»
[Download Music] Reminisce – Burushaga
by
Emmi
Yesterday at 8:38 am
»
[Download Music] Seriki Ft. Harrysongs – Okay
by
Emmi
Thu Oct 18, 2018 3:49 pm
»
[Download Music] Lemon x Candy Bleakz x iJay – Answer Me
by
Emmi
Thu Oct 18, 2018 3:25 pm
»
[Download Music] Trapstar – Whine It Up
by
Emmi
Thu Oct 18, 2018 12:21 pm
»
[Download Music] Kuti Lego Ft. Slimcase – Plenty Money
by
Emmi
Thu Oct 18, 2018 12:09 pm
»
[Download Music] Sticker Ft. Marvelous Benjy – Big Boy
by
Emmi
Wed Oct 17, 2018 7:43 pm
»
[Download Video] Terri – Bia
by
Emmi
Wed Oct 17, 2018 2:01 pm
»
[Download Video] BosaLin – Ekene Maria
by
Emmi
Wed Oct 17, 2018 1:41 pm
»
[Download Music + Video] Ray Emodi – The Youth
by
Emmi
Wed Oct 17, 2018 1:20 pm
»
[Download Music] Olamide – Bugle
by
Emmi
Wed Oct 17, 2018 12:25 pm
»
[Download Music] GOC – My Money
by
Emmi
Wed Oct 17, 2018 11:37 am
»
[Download Music] Shakar EL – OliMango
by
Emmi
Wed Oct 17, 2018 10:16 am
[Download Music] Papiwizzy Ft. Yonda, Baseone & Terry G – Sapon (Remix)
Fri Oct 19, 2018 12:45 pm by Emmi
Oluwalonikontrol Ent Act Papiwizzy's rise to the music scene has been astronomical, following the release of his hit track Ponmo at the middle 2018 which received various positive reviews.
His fans and music lovers can't help but want more.
Papiwizzy is back with another hit which is the Remix of his Recent song 'Sapon' in which he …
[
Full reading
]
Comments: 0
[Download Music] Owizzy Ft. Shuun Bebe – Kontrol
Fri Oct 19, 2018 12:41 pm by Emmi
#Owizzy
has been enjoying a smooth run in the limelight as his releases have always been met with praises from fans and critics alike.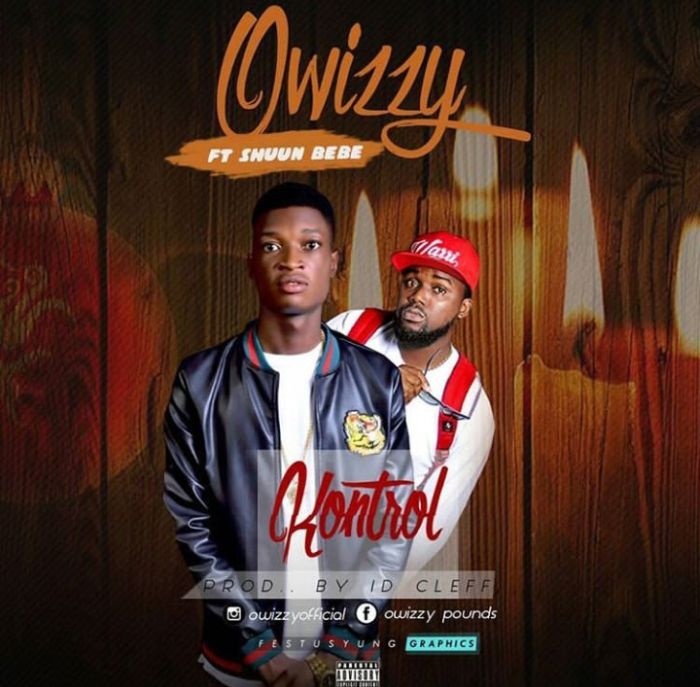 He takes the game a step further with the release of another official single – "
Kontrol
" produced by
ID Cleff.
"Kontrol" which features workaholic music act
Shuun Bebe
is a song every youth of …
[
Full reading
]
Comments: 0
[Download Music] Hollyboi – Orire
Fri Oct 19, 2018 12:35 pm by Emmi
#Hollyboi
one of the members of the Dynamic group AQM Gang Debuts with
Orire
a mind blowing inspirational song produced by Dollarsyno for Icempire Records.
Listen & Download "Hollyboi – Orire" below:-
[
Full reading
]
Comments: 0
[Download Music] M-Money – Kamabaselo
Fri Oct 19, 2018 12:30 pm by Emmi
"
#M-money
" A.K.A "Street Don Boy" dishes out a hot jam titled "
Kamabaselo
" produced by 2Flexing, mixed and master by K-wyze Kingpin.
Listen & Download "M-Money – Kamabaselo" below:-
[
Full reading
]
Comments: 0
[Download Music] DYHCrew Ft. PSO, Diego, Studio Boy & Ric – The Code
Fri Oct 19, 2018 11:21 am by Emmi
nternet under historic pressure, as a new talented artist, hyper, NETpreneur, Paul Samson, popularly known as
#PSO
, releases his fresh motivational song, featuring
Studio Boy
,
#Diego
and
#Ric
under the most lucrative and entertainment platform, NNU.NG with a brand new record label
#DYHCrew
.
Paul Samson who has taken …
[
Full reading
]
Comments: 0
emmy

Ultimate goal ✭✭✭✭✭✭

Posts

:

196




Points

:

1279




Reputation

:

15



Promoters of MMM Nigeria, known as Guiders have urged Nigerians to remain calm as the one month freezing of all accounts of the scheme is a measure adopted to ensure sustainability and stability of the scheme, Vanguard reports.
They said the ponzi scheme has not crashed as is being reported in some quarters. They revealed that there is nothing to worry about since the 'FROZEN ACCOUNT' period is even the best time to provide help.
According to the Guiders, for those providing Help (PH) and the Getting Help (GH), the accounts will continue to grow with a 50% more benefit on the amount staked or provided (PH). 
The new information was provided on the MMM Nigeria website as news began spreading that the side had crashed.
Read the full details below: 
"Good morning Mavrodians. What we are seeing now is the only practical measure to protect MMM Nigeria from danger. "A lot of news of MMM crash this December has been on the social media and other news and gossip.
This has really affected the system. There were heavy conspiracies by financial institutions to collapse the system. What happened to the system last week would have been worse if GH is allowed today. Despite the holiday bonus, many participants were ready to GH today. The PH is not commensurate to the GH and this is the fear created by sponsored fake news. 
"The truth remains that the mavros in the system are safe until they are unfrozen. Those who have PH in the system shouldn't cancel them because since all green mavro are frozen no PH will be paired. 
"For those who understand the system, what has happened is a temporary measure to save the system and saving the system is saving our money. If we are allowed to GH, by next week there may be no enough PH to pair the GH then the worst will happen. 
"This is a kind of caution taken to avert danger. So our mavros are safe. I encourage those who want to PH to still do their PH. The maturity is January and doesn't change anything by then the system is back and stronger. 
"Don't lose hope, all of us have mavros in the system and let's not use because of this little set back forget what MMM has done for us and will do more if the system is safeguarded. 
"I personally feel the same way as you but it's better to save the system than lose everything. 
"Some people are complaining why the Guiders were not informed and my response is, if the Guiders were informed the system will crash in less than 10mins of the information." 
"The way you received the news is the way we Guiders received the news but we have the training that such thing may happen if there is evidence of danger ahead. This show how firm and protective MMM is structured." 
"Let's be optimistic and positive. This is our community, let's protect it." 
This message was sent out by MMM Nigeria Guiders who identified themselves as Guider DonVal Amaechi and Guider Philip Awazi.
Create an account or log in to leave a reply
You need to be a member in order to leave a reply.
Log in
Already have an account? No problem, log in here.
Log in
---
Permissions in this forum:
You
cannot
reply to topics in this forum