Latest topics
»
[Download Video] Bling Bisi – Cool Down
by
Emmi
Yesterday at 3:32 pm
»
[Download Video] Phina Ft. Voice – Mr Titus
by
Emmi
Yesterday at 3:27 pm
»
[Download Music] Levis Pepe – Ma Loud E
by
Emmi
Yesterday at 12:37 pm
»
[Download Music] Rum D – Lero
by
Emmi
Yesterday at 11:51 am
»
[Download Music] WoleDSB Ft. DJ Zeez – Oga
by
Emmi
Yesterday at 11:31 am
»
[Download Music] Kun – Message (Prod. by Lionbeats)
by
Emmi
Yesterday at 9:17 am
»
[Download Music] Anonymous – Scam (I Go Die Mad Freestyle)
by
Emmi
Yesterday at 9:12 am
»
[Download Music] Pepp – T.O.T.W
by
Emmi
Yesterday at 9:04 am
»
[Download Music] Leolands – Gimme Dat
by
Emmi
Yesterday at 9:00 am
»
[Download Video] Kachman – Fojele
by
Emmi
Mon Oct 15, 2018 4:48 pm
»
[Download Music] Picazo Rhap – Macaroni
by
Emmi
Mon Oct 15, 2018 4:42 pm
»
[Download Music+Video] Mz Kiss – Igara
by
Emmi
Mon Oct 15, 2018 4:35 pm
»
[Download Music] Ice Prince Ft. Peruzzi – Yawa
by
Emmi
Mon Oct 15, 2018 4:30 pm
»
Financial Accounting Objective and Essay 2018 Neco Gce Questions and Answers
by
Emmi
Mon Oct 15, 2018 11:03 am
»
Commerce Objective and Essay 2018 Neco Gce Questions and Answers
by
Emmi
Mon Oct 15, 2018 10:14 am
»
Physics Practical For 2018 Neco Gce Questions and Answers
by
Emmi
Mon Oct 15, 2018 9:21 am
»
Chemistry Practical 2018 Neco Gce Questions and Answers
by
Emmi
Mon Oct 15, 2018 8:41 am
»
Biology Practical 2018 Neco Gce Questions and Answers
by
Emmi
Mon Oct 15, 2018 1:16 am
»
Agricultural Science Practical 2018 Neco Gce Questions and Answers
by
Emmi
Mon Oct 15, 2018 12:39 am
»
[Download Music] Victor AD – Body Go Tell You
by
Emmi
Sun Oct 14, 2018 8:35 pm
[Download Music] Levis Pepe – Ma Loud E
Tue Oct 16, 2018 12:37 pm by Emmi
Young and rising act – Levis Pepe who was born in Gbongan came through with his new single after realesing 'Jembe'.
This new tune is titled – Ma Loud E. ENJOY!!
Listen & Download "Levis Pepe – Ma Loud E" below:-
[
Full reading
]
Comments: 0
[Download Music] Rum D – Lero
Tue Oct 16, 2018 11:51 am by Emmi
Versatile singer
Rum D
returns with "
Lero"
a quick follow up to his Recently released "
Maye
".
Rum D don't seems to be taking any chill, Two dope singles released back to back is a sign of his readiness to take the industry by storm.
Lero is one of those Motivational/Prayer song that will always keep you going. The song is on the …
[
Full reading
]
Comments: 0
[Download Music] WoleDSB Ft. DJ Zeez – Oga
Tue Oct 16, 2018 11:31 am by Emmi
Special Recordz frontman ,
#WoleDSB
continues his impressive run of form By teaming up with the Evergreen Hit "
Fokasibe
" Crooner –
#DjZeez
to create a massive Street-Certified tune "Oga" Produced By
EndeeTone
On "Oga (Boss)" WoleDSB and DjZeez showed amazing musical chemistry to Deliver a tune that will have all …
[
Full reading
]
Comments: 0
[Download Music] Kun – Message (Prod. by Lionbeats)
Tue Oct 16, 2018 9:17 am by Emmi
Familiar artist;
#Kun
is back again this time with a rap loaded track titled – Message, filled with punchlines to thrill good music lovers.
This is coming after he took a short break. He seems to be back, hotter and better. Listen to this fire 
Listen & Download "Kun – Message" below:-
---

Do …

[

Full reading

]
Comments: 0
[Download Music] Anonymous – Scam (I Go Die Mad Freestyle)
Tue Oct 16, 2018 9:12 am by Emmi
#Anonymous
came through with a heavy flow single filled with high punchlines tagged "
Scam
".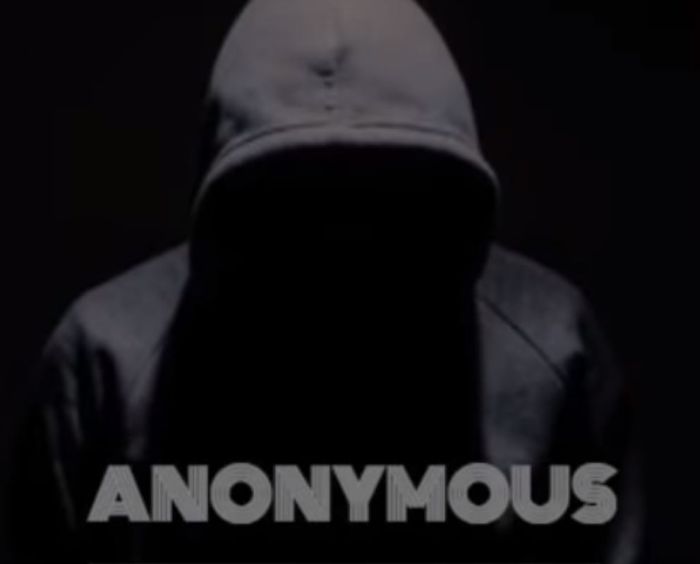 Scam is a freestyle retouch track that encapsulate different names coupled with an accompanying punchlines. which artiste do you feel he used the best punchline on his name
Listen & Download "Anonymous – Scam" below:-
[url=http://naijaloaded.store/wp-content/uploads/2018/10/Anonymous-Scam.mp3]Download Music Mp3 …
[
Full reading
]
Comments: 0
Afro hip-hop superstar and rave of the moment, Olamide Baddo, has opened up on how he got his nickname as he wins 'The Sun Creative Personality of the Year' award in Lagos.
Multi-award winning Nigerian indegenous rapper of Yoruba decent, Olamide Adedeji popularly known as Olamide Baddo, has last Saturday at Eko Hotel & Suites, Victoria Island, Lagos, won 'The Sun Creative Personality of the Year award' and described it as one of the greatest things to happen to his career.
The afro hip-hop superstar who won alongside Azubuike Chibuzo Nelson, also known as Phyno, said he would forever be grateful to the newspaper for the honour bestowed on him.
He was quoted as saying:-
"I feel very honoured, humbled and grateful to be recognised as The Sun Creative Personality of the Year. For someone like me coming from the ghetto, from nothing to something, to be recognised by an institution like The Sun, that also honours big politicians and big businessmen and women in the country; for me to be on the same platform with them, is a big deal. May God bless The Sun newspapers.
"Yes, this is the very first time that a major newspaper like The Sun would be giving me an award and I'm grateful. It goes a long way for a newspaper like The Sun to recognise me; you see my talent and you blow it out to the world, that for real, this guy is good; it goes a long way.
"I have been seeing The Sun right from when I was young; my daddy used to buy it. And for musicians like us to be recognised like this is not common."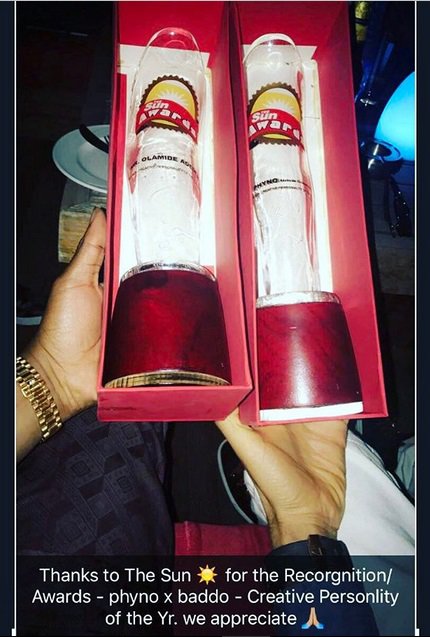 For a man who is familiar with The Sun, which column or pull out in the newspaper is his favourite? His response: "Most times I go to the business pages before anything else. I read the business pages first because I want to know what's going in the business sector in our country. I'm more a businessman than a musician."
Only recently, Olamide released his sixth studio album entitled, The Glory. But what actually inspired the 16-tracker and how is it doing in the music market?
He explained:-
"The Glory is doing very well, great as expected. Big shout out to all the fans that have been supporting me. The album actually made it to number six on the Billboard chart. It's the very first Nigerian album to make it to Top 10 of the Billboard chart, and you know it can only be God.
"And God is greater than everyone of us. Because some people refuse to acknowledge and give glory to God when they get to where they prayed for, they get carried away and all that. I am trying to be an exemption; I'm trying to let the ghetto kids know it is not because I'm skillful or whatever, it's because of God's grace.
"I want the ghetto kids to believe in God. If someone like me from the ghetto of Bariga (in Lagos) can make it with the support of God and good people that believe in me, I believe anyone can also achieve success. Yes, the album is called 'The Glory' because it's high time I let people know that God has been great and wonderful in my life."
Famously known as Baddo by his numerous fans across the country, many will wonder how Olamide came about the nickname. And is he such a 'bad guy' that he's nicknamed 'Baddo'?
"I got the nickname from the street. People have been calling me that name right from the time I was in school. But then, I am not a bad guy. It's just a nickname," the musician said with a boisterous laughter.
Create an account or log in to leave a reply
You need to be a member in order to leave a reply.
Log in
Already have an account? No problem, log in here.
Log in
---
Permissions in this forum:
You
cannot
reply to topics in this forum