Latest topics
»
2018/2019 Lagos State University (LASU) Acceptance Fee Payment Procedure
by
fastliker
Thu Nov 29, 2018 11:30 am
»
WAEC RESULT: Waec Releases 2018 August/September Results | Waec Gce Second series Exam
by
Emmi
Thu Nov 22, 2018 12:35 pm
»
2018/2019 Federal University, Lokoja (FULOKOJA) Postgraduate Admission Form
by
Emmi
Thu Nov 22, 2018 9:37 am
»
2018/2019 Ahmadu Bello University (ABU) Remedial & Basic Studies (IJMB) Admission Lists [1st & 2nd Batch]
by
Emmi
Thu Nov 22, 2018 8:22 am
»
2018/2019 Akwa Ibom State Polytechnic (AKWAIBOMPOLY) HND Admission List
by
Emmi
Thu Nov 22, 2018 7:46 am
»
2018/2019 Akwa Ibom State Polytechnic (AKWAIBOMPOLY) ND Admission List
by
Emmi
Thu Nov 22, 2018 7:31 am
»
2018/2019 Delta State Poly Otefe-Oghara (DESPO) ND Regular, HND & SPAT Admission Lists
by
Emmi
Thu Nov 22, 2018 7:07 am
»
[Download Video] Ayuz – Sho Mi
by
Emmi
Thu Nov 22, 2018 6:51 am
»
[Download Video] DopeNation x DJ Enimoney x Olamide – Naami
by
Emmi
Thu Nov 22, 2018 6:12 am
»
[Download Video] Victor AD – No Idea
by
Emmi
Thu Nov 22, 2018 5:55 am
»
[Download Music] Gentle Dee Ft. Zlatan Ibile – Ninu Aye
by
Emmi
Thu Nov 22, 2018 5:35 am
»
2018 Nov/Dec Neco Gce Government Objective and Essay Questions and Answers | Exam Runs
by
Emmi
Wed Nov 21, 2018 9:47 pm
»
[Download Music] Destiny Boy – One Ticket
by
Emmi
Wed Nov 21, 2018 7:44 pm
»
2018/2019 Obafemi Awolowo University (OAU) Admission List
by
Emmi
Wed Nov 21, 2018 5:55 pm
»
2018/2019 Adeyemi College of Education, Ondo (ACEONDO) Acceptance Fee Details
by
Emmi
Wed Nov 21, 2018 5:48 pm
»
2018/2019 Auchi Polytechnic (AUCHIPOLY) Change of Course Form
by
Emmi
Wed Nov 21, 2018 5:28 pm
»
2018/2019 Imo State Polytechnic (IMOPOLY) HND Regular & Evening Admission Lists
by
Emmi
Wed Nov 21, 2018 5:22 pm
»
2018/2019 Imo State Polytechnic (IMOPOLY) ND Regular & Evening Admission Lists
by
Emmi
Wed Nov 21, 2018 5:16 pm
»
Sule Lamido University (SLU) Maiden Convocation Ceremony Programme of Events
by
Emmi
Wed Nov 21, 2018 5:04 pm
»
Edo State Polytechnic (EDOPOLY) Maiden Convocation Ceremony Schedule & Notice to Graduands
by
Emmi
Wed Nov 21, 2018 4:45 pm
Top posting users this month
[Download Music] Gentle Dee Ft. Zlatan Ibile – Ninu Aye
Thu Nov 22, 2018 5:35 am by Emmi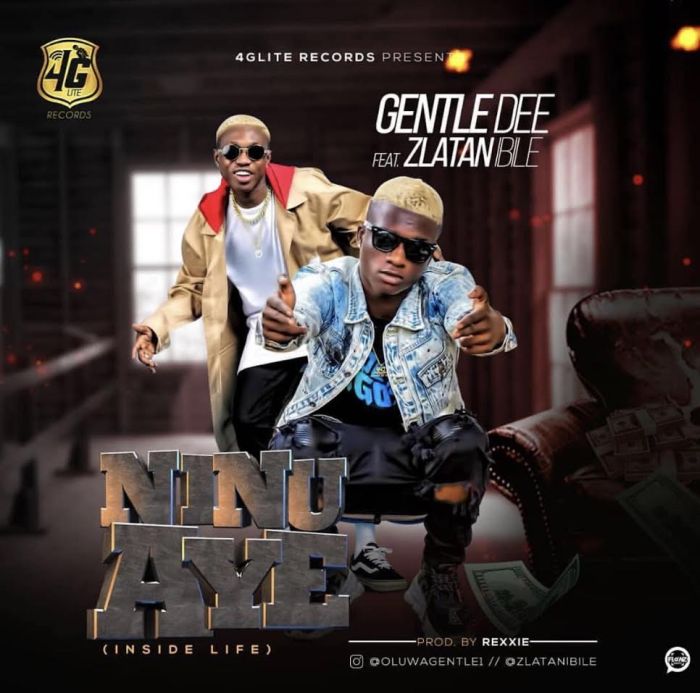 4G Lite Records presents
#GentleDee
as he hits us with an inducing super-b banger titled – "
Ninu Aye (Inside Life)
" featuring the
#Zlatan
Ibile a.k.a
Zanku
.
This beautiful song was produced by
Rexxie
. ENJOY!!!
Listen & Download "Gentle Dee Ft. Zlatan Ibile – Ninu Aye" below:-
---

Do …

[

Full reading

]
Comments: 0
[Download Music] Destiny Boy – One Ticket
Wed Nov 21, 2018 7:44 pm by Emmi
Destiny Boy
Releases "
One Ticket
"  Fuji Cover, SCG Entertainment/Hon Beeccy Music Inc Artiste Took A Total Turn And Gave Us One Of Africa's Most Trending Song One
Ticket The Fuji Version.
The Self Acclaimed Small But Mighty Who Broke Into The Music Scene 2017/As Be So Relentless In Dishing Out His Own Songs And Covers
Listen & Download …
[
Full reading
]
Comments: 0
[Download Music] Yemi Alade – Open, Close
Wed Nov 21, 2018 7:53 am by Emmi
Yemi Alade
is taking her lyrics "Back to back is not beans" seriously! Approximately 24 hours after the release of the authoritative "
Oga
", Alade shocks with another fresh track titled "
Open, Close
".
"Open Close" is a afrobeats banger that treats a sensitive topic. Check on it & Enjoy!!
Listen & Download "Yemi Alade – …
[
Full reading
]
Comments: 0
[Download Music] Yemi Alade – Oga
Wed Nov 21, 2018 7:46 am by Emmi
Yemi Alade
is in an authoritative mood on her new single titled "
Oga
". The highlife and afro-pop fusion number is produced by
Egar Boi
, who also produced Alade's smash "
How I Feel
".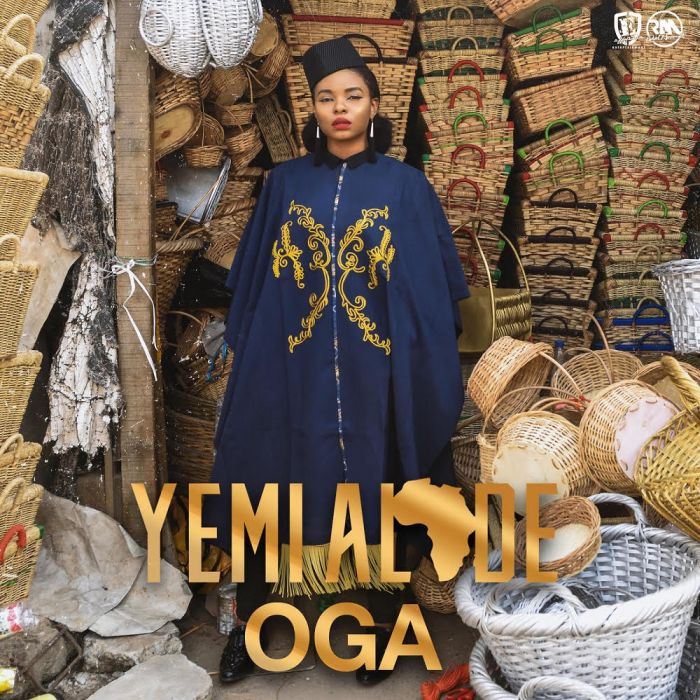 The stellar number shows Alade in her "
Mama Africa
" element, as she easily delivers yet another "bop".
"
Oga
" arrives with an engaging lyric …
[
Full reading
]
Comments: 0
[Download Music] YungPee – This Kind Thing
Wed Nov 21, 2018 3:51 am by Emmi
Henry Tebeda
popularly known as
#YungPee
comes through with a spanking new inspirational single.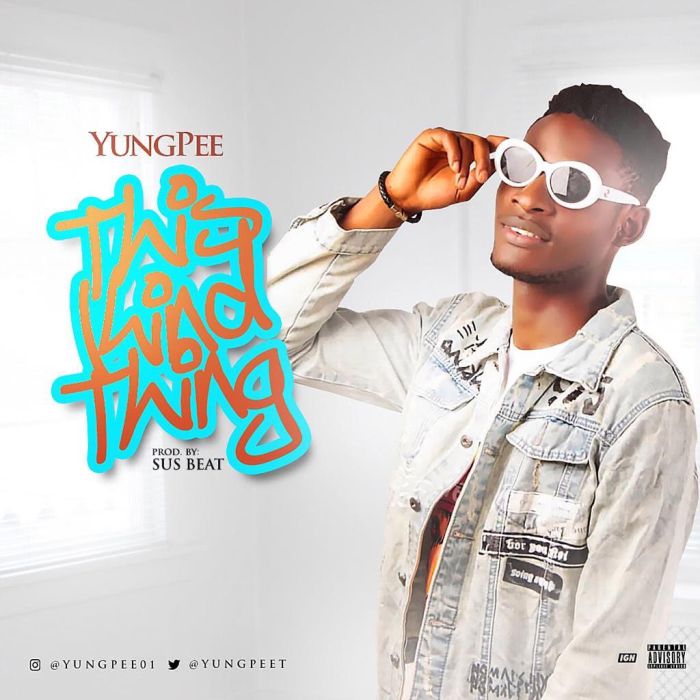 He titles it '
This Kind Thing
', produced by
Sus Beat
.
Listen & Download "YungPee – This Kind Thing" below:-
[
Full reading
]
Comments: 0
Afro hip-hop superstar and rave of the moment, Olamide Baddo, has opened up on how he got his nickname as he wins 'The Sun Creative Personality of the Year' award in Lagos.
Multi-award winning Nigerian indegenous rapper of Yoruba decent, Olamide Adedeji popularly known as Olamide Baddo, has last Saturday at Eko Hotel & Suites, Victoria Island, Lagos, won 'The Sun Creative Personality of the Year award' and described it as one of the greatest things to happen to his career.
The afro hip-hop superstar who won alongside Azubuike Chibuzo Nelson, also known as Phyno, said he would forever be grateful to the newspaper for the honour bestowed on him.
He was quoted as saying:-
"I feel very honoured, humbled and grateful to be recognised as The Sun Creative Personality of the Year. For someone like me coming from the ghetto, from nothing to something, to be recognised by an institution like The Sun, that also honours big politicians and big businessmen and women in the country; for me to be on the same platform with them, is a big deal. May God bless The Sun newspapers.
"Yes, this is the very first time that a major newspaper like The Sun would be giving me an award and I'm grateful. It goes a long way for a newspaper like The Sun to recognise me; you see my talent and you blow it out to the world, that for real, this guy is good; it goes a long way.
"I have been seeing The Sun right from when I was young; my daddy used to buy it. And for musicians like us to be recognised like this is not common."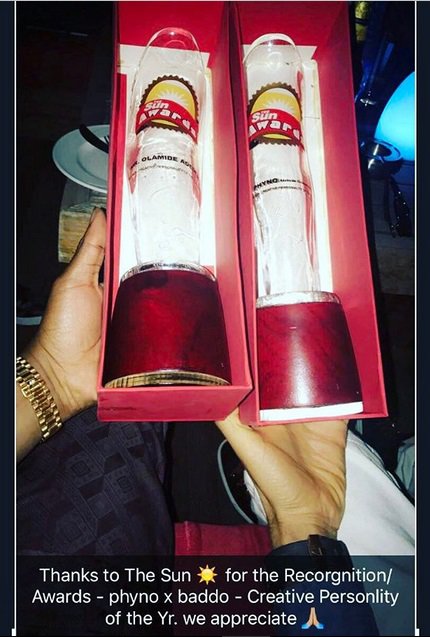 For a man who is familiar with The Sun, which column or pull out in the newspaper is his favourite? His response: "Most times I go to the business pages before anything else. I read the business pages first because I want to know what's going in the business sector in our country. I'm more a businessman than a musician."
Only recently, Olamide released his sixth studio album entitled, The Glory. But what actually inspired the 16-tracker and how is it doing in the music market?
He explained:-
"The Glory is doing very well, great as expected. Big shout out to all the fans that have been supporting me. The album actually made it to number six on the Billboard chart. It's the very first Nigerian album to make it to Top 10 of the Billboard chart, and you know it can only be God.
"And God is greater than everyone of us. Because some people refuse to acknowledge and give glory to God when they get to where they prayed for, they get carried away and all that. I am trying to be an exemption; I'm trying to let the ghetto kids know it is not because I'm skillful or whatever, it's because of God's grace.
"I want the ghetto kids to believe in God. If someone like me from the ghetto of Bariga (in Lagos) can make it with the support of God and good people that believe in me, I believe anyone can also achieve success. Yes, the album is called 'The Glory' because it's high time I let people know that God has been great and wonderful in my life."
Famously known as Baddo by his numerous fans across the country, many will wonder how Olamide came about the nickname. And is he such a 'bad guy' that he's nicknamed 'Baddo'?
"I got the nickname from the street. People have been calling me that name right from the time I was in school. But then, I am not a bad guy. It's just a nickname," the musician said with a boisterous laughter.
Create an account or log in to leave a reply
You need to be a member in order to leave a reply.
Log in
Already have an account? No problem, log in here.
Log in
---
Permissions in this forum:
You
cannot
reply to topics in this forum