Glo GO Russia Promo: Win a Trip to Russia for the FIFA World Cup 2018
Sat May 19, 2018 10:14 am by Friday
It's almost time for the 2018 FIFA World Cup and everyone is bracing up for this glorious football tournament this year.
Consequently, Nigeria's telco giant Glo has launched a new promo, called "GO Russia" to sponsor its subscribers in an all-expense paid a trip to Russia to see Nigeria and other countries slot it out for the big trophy.
This new promo is open to millions of Glo subscribers …
[
Full reading
]
Comments: 0
Tip on How To Check Your Mtn Night Data Usage
Fri May 18, 2018 10:10 pm by emmy
Mtn Night Plan
. It is easy to subscribe: just write a quick word 'NIGHT' and send it to the phone number 131.
It is good to check MTN Night plan data balance to know for sure how much mobile data you have already used and yet to use. Unfortunately, MTN provides no direct method how to check MTN night plan data balance. At the same time, the mobile operator usually texts you periodically …
[
Full reading
]
Comments: 0
How to Get Airtel 5.5GB for N1500, 7GB for 2000Naira Data Plans
Fri May 18, 2018 6:37 pm by emmy
Airtelng is back again as usual with its amazing offers, this time it introduced another set of data plans with the bonus that offers 5.5GB for N1500 and 7GB for N2000 but it's based on eligibility.
This plan is similar to Airtel 6GB data bonus plan that is still working at the moment but with a difference of 500mb.
It might also interest you to know that Airtel has also received massive …
[
Full reading
]
Comments: 0
Unlimited Airtel Free Browsing Cheat for May 2018
Wed May 09, 2018 5:13 pm by Snows
In the post, I'll be sharing with you, Airtel Free Data Bonus Codes for May 2018 and you will be able to enjoy 
Unlimited Airtel Free Browsing Cheat for May 2018
.
How to Get Unlimited Airtel Free Browsing Cheat for May 2018
[list="margin: 10px 0px; padding-right: 0px; padding-left: 0px; border: 0px; font-size: 16px; vertical-align: baseline; list-style-position: outside; list-style-image: initial; color: rgb(0, 0, 0); background-color: rgb(255, 255, 255);"]
[*]*141*13*200# gives 200MB Airtel free data.
[*]*141*13*100# gives …
[
Full reading
]
Comments: 0
How to Get Airtel 4GB Data With Just N300 Plus Hint About Airtel 4G Band Frequency
Wed May 09, 2018 8:46 am by Snows
How to Get Airtel 4GB Data With Just N300 Plus Hint About Airtel 4G Band Frequency
It's no more news that Airtel Nigeria rolled out its 4G LTE mobile network in three states which are Lagos, Ogun and Oyo with plans of spreading it to the major cities of the country in a bid to improve its administrations.
After the launch, recall that Airtel announced to give free 4GB data bonus to users who …
[
Full reading
]
Comments: 0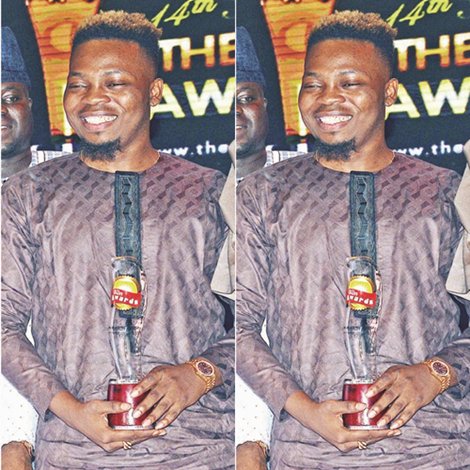 Afro hip-hop superstar and rave of the moment, Olamide Baddo, has opened up on how he got his nickname as he wins 'The Sun Creative Personality of the Year' award in Lagos.
Multi-award winning Nigerian indegenous rapper of Yoruba decent, Olamide Adedeji popularly known as Olamide Baddo, has last Saturday at Eko Hotel & Suites, Victoria Island, Lagos, won 'The Sun Creative Personality of the Year award' and described it as one of the greatest things to happen to his career.
The afro hip-hop superstar who won alongside Azubuike Chibuzo Nelson, also known as Phyno, said he would forever be grateful to the newspaper for the honour bestowed on him.
He was quoted as saying:-
"I feel very honoured, humbled and grateful to be recognised as The Sun Creative Personality of the Year. For someone like me coming from the ghetto, from nothing to something, to be recognised by an institution like The Sun, that also honours big politicians and big businessmen and women in the country; for me to be on the same platform with them, is a big deal. May God bless The Sun newspapers.
"Yes, this is the very first time that a major newspaper like The Sun would be giving me an award and I'm grateful. It goes a long way for a newspaper like The Sun to recognise me; you see my talent and you blow it out to the world, that for real, this guy is good; it goes a long way.
"I have been seeing The Sun right from when I was young; my daddy used to buy it. And for musicians like us to be recognised like this is not common."
For a man who is familiar with The Sun, which column or pull out in the newspaper is his favourite? His response: "Most times I go to the business pages before anything else. I read the business pages first because I want to know what's going in the business sector in our country. I'm more a businessman than a musician."
Only recently, Olamide released his sixth studio album entitled, The Glory. But what actually inspired the 16-tracker and how is it doing in the music market?
He explained:-
"The Glory is doing very well, great as expected. Big shout out to all the fans that have been supporting me. The album actually made it to number six on the Billboard chart. It's the very first Nigerian album to make it to Top 10 of the Billboard chart, and you know it can only be God.
"And God is greater than everyone of us. Because some people refuse to acknowledge and give glory to God when they get to where they prayed for, they get carried away and all that. I am trying to be an exemption; I'm trying to let the ghetto kids know it is not because I'm skillful or whatever, it's because of God's grace.
"I want the ghetto kids to believe in God. If someone like me from the ghetto of Bariga (in Lagos) can make it with the support of God and good people that believe in me, I believe anyone can also achieve success. Yes, the album is called 'The Glory' because it's high time I let people know that God has been great and wonderful in my life."
Famously known as Baddo by his numerous fans across the country, many will wonder how Olamide came about the nickname. And is he such a 'bad guy' that he's nicknamed 'Baddo'?
"I got the nickname from the street. People have been calling me that name right from the time I was in school. But then, I am not a bad guy. It's just a nickname," the musician said with a boisterous laughter.
Create an account or log in to leave a reply
You need to be a member in order to leave a reply.
Log in
Already have an account? No problem, log in here.
Log in
---
Permissions in this forum:
You
cannot
reply to topics in this forum