Top posting users this month
9mobile Introduces Video Streaming Bundles
Tue Nov 14, 2017 6:12 pm by Gab2
9mobile has official announced two new video steaming bundles which is the first of its kind. According to 9mobile official statement;
"These sets of new video streaming plans lets you pause and resume your video data anytime. As per their official statement;
"Another first from #9Mobile! Introducing the only video streaming bundle that let's you pause and resume your data usage anytime! …
[
Full reading
]
Comments: 0
How To Get Free 36GB Data Plus N15,000 Airtime On Your Airtel Sim | Airtel Promo
Fri Nov 10, 2017 9:22 pm by Snows
Airtel 
is currently running a promo that will give users the chance to get 36GB of data plus a whooping N15,000 airtime when you get a Fero 1801 phone for just N6,000 only.
This was shared by Airtel official on
Facebook, saying:
Get 36GB data + N15000 airtime over 6 months when you get a Fero 180/1 phone for just N6000!
[
Full reading
]
Comments: 0
Youtube Plus Pack Gives Normal Subscription + Youtube Bundle At Affordable Price
Fri Nov 10, 2017 2:02 pm by Snows
Have you heard of 
YouTube Plus Pack
. 
This pack gives free access to YouTube at night, and also to other websites (any time)..
Subscribers of this plan will get their
 normal data + YOUTUBE DATA 
to stream YouTube videos from 1am - 5am.
It's cool,Right?
You can check out the data plans available on the 
YOUTUBE PLUS …
[
Full reading
]
Comments: 0
Glo is Giving N200,200 Worth Of Airtime To Both New and Old Customers
Tue Nov 07, 2017 10:01 pm by emmy
Glo Mobile has rolled out a new plan "Glo Jumbo". This new plan gives subscribers free airtime worth over N200,200. All you have to do is simply buy a new Glo SIM or dial *224# to migrate to get eligible. Once you have done that, you'll receive a message like this.
…
[
Full reading
]
Comments: 0
Airtel data plan 4.5GB For Just N1000
Mon Nov 06, 2017 8:36 pm by pati
Airtel NG is here with a pleasant data plan for all Youtube lovers; dubbed YouTube Plus Pack. These are standard data plans that give FREE access to YouTube at night, and also to other websites (any time).
With this plan, you get your normal Android data to browse and download on any website at anytime, plus free YouTube data separately; to stream your favourite video content at night—between …
[
Full reading
]
Comments: 0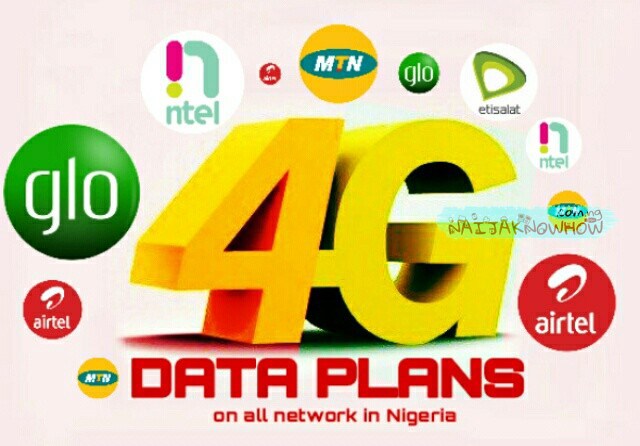 4G here, 4G there, it's no news anymore that our network providers have moved to next phase of mobile communication network. 4G LTE is gradually sending 3G mobile broadband packing. In Nigeria, we've seen MTN, Glo, Etisalat and NTel join the beginning of a 4G LTE era.
Let's have a look at how to activate and subscribe to all 4G LTE data plans on all Network in Nigeria; Airtel, Etisalat, Glo, MTN, and MTN.

1. Airtel 4G LTE Data Plans
Okay, let's start with Airtel, We are yet to get news of Airtel starting a new LTE broadband, Airtel Nigeria is yet to kick off their 4G services in Nigeria, so let's stay alert, and hope we get news before year-end.
Watch out!!!

2. Etisalat 4G LTE Data Plans
Etisalat 4G LTE service has also been seen in selected regions in Lagos, though, a tweet was shared via it's official Twitter page stating that other cities will follow very soon.
Etisalat 4G LTE has a band of 1800 and the speed is between 25mbps to 100mbps, that's a hell of a speed!
How to activate
All you require to enjoy Etisalat 4G LTE service is only a 4G enabled device. It doesn't require a Sim change/swap like MTN and Glo. Perhaps, you will have to verify the band your phone is to ensure it complies with their 4G LTE 1800 band. If you've met these requirements, you can subscribe to the best plan (see code below), then connect and enjoy fast internet with the 4G regions.
Data Plans
Dial *200# and press 3 to get all data tariffs plans for Etisalat 4G LTE service.

3. Glo 4G LTE Data Plans
Glo was the latest to join the trend, they currently have the best and cheapest data plans in Nigeria, with the new 4G services introduced, it's no different, they maintained the same data plans they had on the 3G broadband leaving them as the cheapest 4G LTE data plans in Nigeria.
How to activate
Send 4G to 400 to check if your device is 4G enabled and to get your sim 4G ready, you have to visit any Glo service center, and exchange your old 3G sum for the new 4G LTE Sim cards.
Data Plans
Here are all the data plans available on Glo 4G service in Nigeria, choose from the best..
30MB for N50 (1 Day)
60MB for N100 (1 Day)
200MB for N200 (5 Days)
1.6GB for N500 (7 Days)
3.2GB for N1000 (30 Days)
7.5GB for N2000 (30 Days)
10GB for N2500 (30 Days)
12GB for N3000 (30 Days)
18GB for N4000 (30 Days)
24GB for N5000 (30 Days)
48GB for N8000 (30 Days)
60GB for N15000 (30 Days)
90GB for N18000 (30 Days)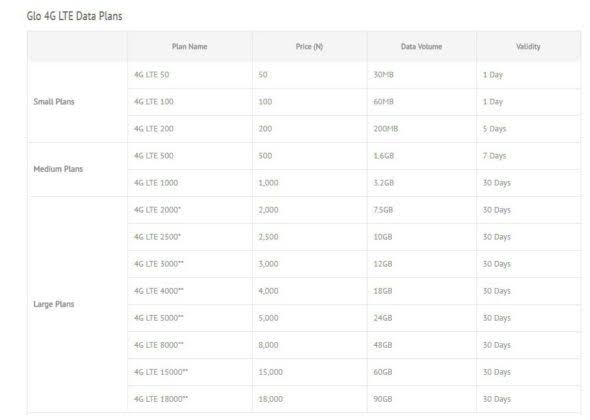 List of all Glo 4G Data Plans in Nigeria
To subscribe; Dial *777# and follow the prompt

4. MTN 4G LTE Data Plans
MTN is the leading mobile telecommunication in Nigeria, and was second to kickoff the 4G LTE service after NTel. Fully activate last month, now, let's have a look at how to activate and subscribe for MTN 4G data plans.
How to activate
To verify if your sim and device is 4G ready, simply type and send 4G to 131 via SMS. If you get a reply like this…
"Yello! You need to upgrade your SIM card and device to enjoy MTN 4G LTE. "
…Visit the nearest MTN store or partner retailer to upgrade your old 3G sim card to a 4G LTE Sim.
Data Plans
With 4GLTE, you simply use your current data plan and you are charged according to your current plan rates. This simply means your regular data plans works on 2G, 3G and 4G.

5. NTel 4G LTE Data Plans
NTel started 4G LTE service in Nigeria, first among all mobile network providers, they have their network available in Lagos, Abuja and PH. Data plans on NTel are unlimited but very expensive. Here are the available NTel data tariffs.
How to activate & collect Sim
Visit the nearest NTel store to collect and activate Sim.
Data Plans
A. Smartphone Lite
Data: Unlimited for N1000 (4 Days)
B. Smartphone Weekly
Unlimited for N1500 (7 Days)
C. Smartphone Monthly
Unlimited for N6000 (30 Days)
conclusion:
These are the activation and subscription codes of 4G LTE data plans across all Network in Nigeria. After you subscribe for an actual 4G plan, next is to set 4G LTE as your preferred network on your 4G enabled device; Android, iPhone, Windows and Blackberry.
What are your experiences with the 4G data plans like, based on your personal findings, which of the network do you consider the best, fastest and cheapest?
Let's hear them.........
Create an account or log in to leave a reply
You need to be a member in order to leave a reply.
Log in
Already have an account? No problem, log in here.
Log in
---
Permissions in this forum:
You
cannot
reply to topics in this forum