How to make your glo data browse faster.
Tue Apr 17, 2018 4:09 pm by Snows
To enable all glo users browse faster, use this method to enhance your browsing speed.
Steps :
*Click your glo access point settings .
*Click default Glo flat.
*Then edit your bearer settings the default is unspecified, just unclick it.
*then tick the following shown On image below.
That's all and watch the speed of light on your 3g browsing
Note: 
o
nly tick LTE if your phone is 4g …
[
Full reading
]
Comments: 0
How To Get Free 20,000 Naira Airtime on Any Network With Opera Mini News App
Mon Apr 02, 2018 1:18 pm by issac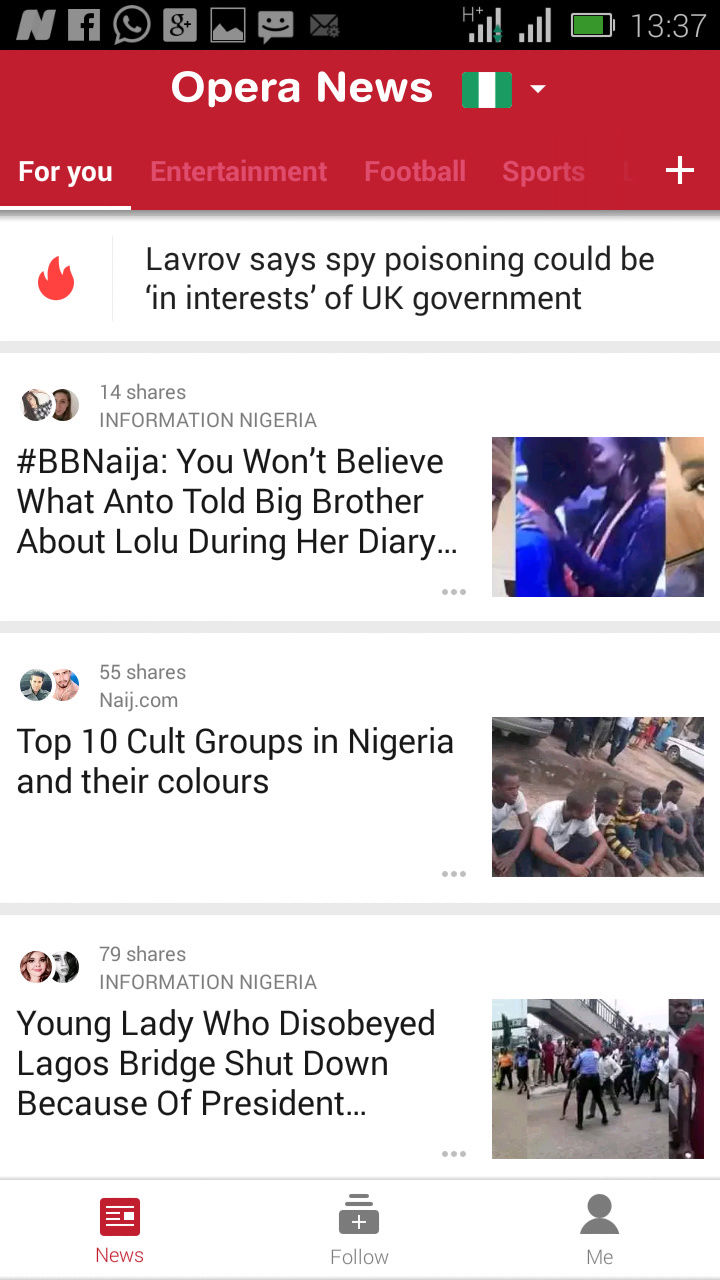 Hey Friends 
How To Get Free 20,000 Naira Airtime on Any Network
free airtime app that you can't afford to miss out this time around. So this app is nothing more than opera mini news app.

So the ideology of getting free airtime is still the same with Opera News app.

So let's take a look at what this app is actually meant for. 


Opera …
[
Full reading
]
Comments: 1
Mtn Nigeria Customer Care Contact Details
Sat Apr 07, 2018 1:44 am by DaddyBoy
​
MTN is a South African multinational telecommunication network. It has so many affiliates in the world including Nigeria.
In this post, I'll tell you how to contact MTN customer care in Nigeria, in case you are finding it difficult to contact them. 
HOW TO CONTACT MTN NIGERIA CUSTOMER CARE 
​
To contact MTN customer care, you must first have …
[
Full reading
]
Comments: 0
How To Share Data On Glo Network With Few Easy Steps
Thu Mar 29, 2018 11:15 pm by Emmi
As a Glo network subscriber, you are entitled to every opportunity on the Glo network. Glo offers this feature of sharing data with another Glo subscriber. You can share data to another Glo network without facing any difficulty. Instead of buying different plans you can alternatively share with one another and they'll all get …
[
Full reading
]
Comments: 0
How To Check Your Airtime And Data Balance On Mtn Network Nigeria
Wed Mar 28, 2018 2:17 am by DaddyBoy
Hello readers! Are you finding it difficult to check your MTN balance both on data and airtime credit basis? Then consider it not a problem again as I'll highlight you on the various ways you can check your balances on the MTN network.
This post was strictly written for MTN subcribers. This post covers all the MTN tariff plans as regards to checking your data and airtime credit balances.
[
Full reading
]
Comments: 1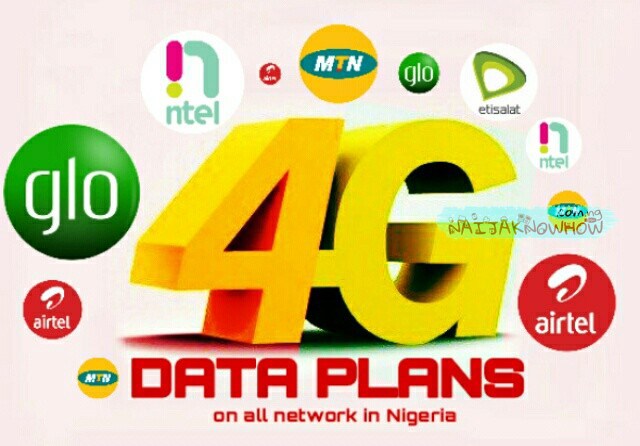 4G here, 4G there, it's no news anymore that our network providers have moved to next phase of mobile communication network. 4G LTE is gradually sending 3G mobile broadband packing. In Nigeria, we've seen MTN, Glo, Etisalat and NTel join the beginning of a 4G LTE era.
Let's have a look at how to activate and subscribe to all 4G LTE data plans on all Network in Nigeria; Airtel, Etisalat, Glo, MTN, and MTN.

1. Airtel 4G LTE Data Plans
Okay, let's start with Airtel, We are yet to get news of Airtel starting a new LTE broadband, Airtel Nigeria is yet to kick off their 4G services in Nigeria, so let's stay alert, and hope we get news before year-end.
Watch out!!!

2. Etisalat 4G LTE Data Plans
Etisalat 4G LTE service has also been seen in selected regions in Lagos, though, a tweet was shared via it's official Twitter page stating that other cities will follow very soon.
Etisalat 4G LTE has a band of 1800 and the speed is between 25mbps to 100mbps, that's a hell of a speed!
How to activate
All you require to enjoy Etisalat 4G LTE service is only a 4G enabled device. It doesn't require a Sim change/swap like MTN and Glo. Perhaps, you will have to verify the band your phone is to ensure it complies with their 4G LTE 1800 band. If you've met these requirements, you can subscribe to the best plan (see code below), then connect and enjoy fast internet with the 4G regions.
Data Plans
Dial *200# and press 3 to get all data tariffs plans for Etisalat 4G LTE service.

3. Glo 4G LTE Data Plans
Glo was the latest to join the trend, they currently have the best and cheapest data plans in Nigeria, with the new 4G services introduced, it's no different, they maintained the same data plans they had on the 3G broadband leaving them as the cheapest 4G LTE data plans in Nigeria.
How to activate
Send 4G to 400 to check if your device is 4G enabled and to get your sim 4G ready, you have to visit any Glo service center, and exchange your old 3G sum for the new 4G LTE Sim cards.
Data Plans
Here are all the data plans available on Glo 4G service in Nigeria, choose from the best..
30MB for N50 (1 Day)
60MB for N100 (1 Day)
200MB for N200 (5 Days)
1.6GB for N500 (7 Days)
3.2GB for N1000 (30 Days)
7.5GB for N2000 (30 Days)
10GB for N2500 (30 Days)
12GB for N3000 (30 Days)
18GB for N4000 (30 Days)
24GB for N5000 (30 Days)
48GB for N8000 (30 Days)
60GB for N15000 (30 Days)
90GB for N18000 (30 Days)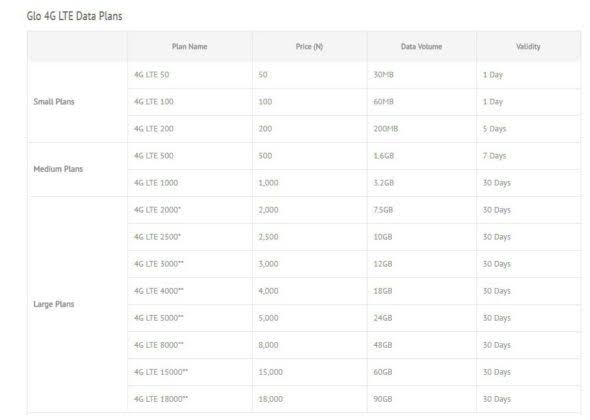 List of all Glo 4G Data Plans in Nigeria
To subscribe; Dial *777# and follow the prompt

4. MTN 4G LTE Data Plans
MTN is the leading mobile telecommunication in Nigeria, and was second to kickoff the 4G LTE service after NTel. Fully activate last month, now, let's have a look at how to activate and subscribe for MTN 4G data plans.
How to activate
To verify if your sim and device is 4G ready, simply type and send 4G to 131 via SMS. If you get a reply like this…
"Yello! You need to upgrade your SIM card and device to enjoy MTN 4G LTE. "
…Visit the nearest MTN store or partner retailer to upgrade your old 3G sim card to a 4G LTE Sim.
Data Plans
With 4GLTE, you simply use your current data plan and you are charged according to your current plan rates. This simply means your regular data plans works on 2G, 3G and 4G.

5. NTel 4G LTE Data Plans
NTel started 4G LTE service in Nigeria, first among all mobile network providers, they have their network available in Lagos, Abuja and PH. Data plans on NTel are unlimited but very expensive. Here are the available NTel data tariffs.
How to activate & collect Sim
Visit the nearest NTel store to collect and activate Sim.
Data Plans
A. Smartphone Lite
Data: Unlimited for N1000 (4 Days)
B. Smartphone Weekly
Unlimited for N1500 (7 Days)
C. Smartphone Monthly
Unlimited for N6000 (30 Days)
conclusion:
These are the activation and subscription codes of 4G LTE data plans across all Network in Nigeria. After you subscribe for an actual 4G plan, next is to set 4G LTE as your preferred network on your 4G enabled device; Android, iPhone, Windows and Blackberry.
What are your experiences with the 4G data plans like, based on your personal findings, which of the network do you consider the best, fastest and cheapest?
Let's hear them.........
Create an account or log in to leave a reply
You need to be a member in order to leave a reply.
Log in
Already have an account? No problem, log in here.
Log in
---
Permissions in this forum:
You
cannot
reply to topics in this forum