How to make your glo data browse faster.
Tue Apr 17, 2018 4:09 pm by Snows
To enable all glo users browse faster, use this method to enhance your browsing speed.
Steps :
*Click your glo access point settings .
*Click default Glo flat.
*Then edit your bearer settings the default is unspecified, just unclick it.
*then tick the following shown On image below.
That's all and watch the speed of light on your 3g browsing
Note: 
o
nly tick LTE if your phone is 4g …
[
Full reading
]
Comments: 0
How To Get Free 20,000 Naira Airtime on Any Network With Opera Mini News App
Mon Apr 02, 2018 1:18 pm by issac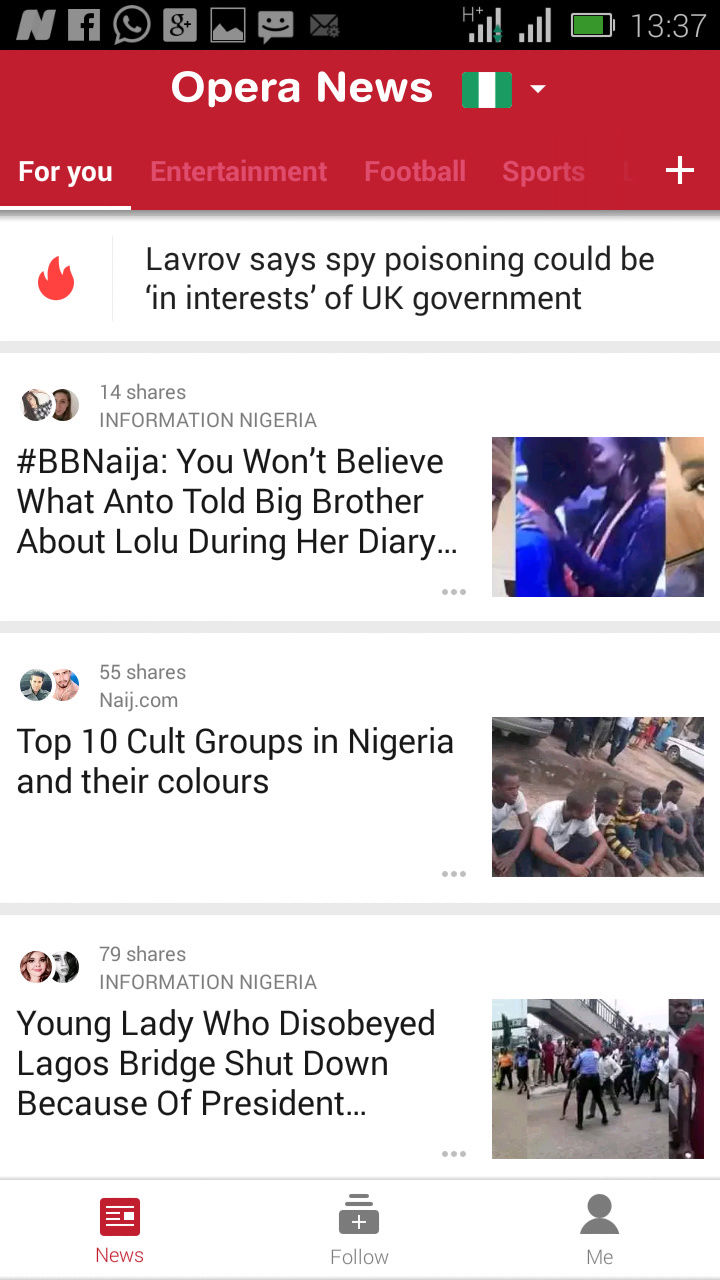 Hey Friends 
How To Get Free 20,000 Naira Airtime on Any Network
free airtime app that you can't afford to miss out this time around. So this app is nothing more than opera mini news app.

So the ideology of getting free airtime is still the same with Opera News app.

So let's take a look at what this app is actually meant for. 


Opera …
[
Full reading
]
Comments: 1
Mtn Nigeria Customer Care Contact Details
Sat Apr 07, 2018 1:44 am by DaddyBoy
​
MTN is a South African multinational telecommunication network. It has so many affiliates in the world including Nigeria.
In this post, I'll tell you how to contact MTN customer care in Nigeria, in case you are finding it difficult to contact them. 
HOW TO CONTACT MTN NIGERIA CUSTOMER CARE 
​
To contact MTN customer care, you must first have …
[
Full reading
]
Comments: 0
How To Share Data On Glo Network With Few Easy Steps
Thu Mar 29, 2018 11:15 pm by Emmi
As a Glo network subscriber, you are entitled to every opportunity on the Glo network. Glo offers this feature of sharing data with another Glo subscriber. You can share data to another Glo network without facing any difficulty. Instead of buying different plans you can alternatively share with one another and they'll all get …
[
Full reading
]
Comments: 0
How To Check Your Airtime And Data Balance On Mtn Network Nigeria
Wed Mar 28, 2018 2:17 am by DaddyBoy
Hello readers! Are you finding it difficult to check your MTN balance both on data and airtime credit basis? Then consider it not a problem again as I'll highlight you on the various ways you can check your balances on the MTN network.
This post was strictly written for MTN subcribers. This post covers all the MTN tariff plans as regards to checking your data and airtime credit balances.
[
Full reading
]
Comments: 1
JAMB has recommended 2 Compulsory Novels that candidates are to read before their exams, starting 6th May, 2017. The 2 Novels are;
1. "In Dependence" by Sarah Ladipo Manyika for UTME Candidates
2. "The Last Days at Forcados High School" by A.H. Mohammed for Direct Entry Candidates
According to the instructions, candidates will be tested on these 2 novels in Use of English, which is compulsory for every candidate, regardless of the course you intend to study in school.
A lot more JAMBites are familiar with OPTION 2 above, being that it was the only Novel that was used in testing during the 2016 UTME. OPTION 1 however, is a newly introduced Novel for 2017.
While a lot more students are only interested in buying registration forms, they neglect to look deep into other instructions, which may be critical to the success of their exams in May. That's why Myschool has decided to dwell on this important issue, via this thread.
From the instructions released by JAMB, it is clear that "In Dependence" ought to be for UTME candidates alone, while "The Last Days at Forcados High School" will be used by Direct Entry Candidates.
If you go by the instruction stated above, this simply means that UTME candidates will get questions asked from the book "In Dependence", while Direct Entry will get questions from "The Last Days at Forcados High School".
PLEASE NOTE: THIS IS AN EXAM
In as much as, JAMB has clearly stated and differentiated between the 2 texts, THIS IS AN EXAMINATION and JAMB is free to test you from any source they deem fit.
Whether you are a UTME student or a Direct Entry Student, we, The Myschool Team, will advise that you get yourself acquainted with BOTH NOVELS. There is no knowledge lost with doing so.
Please go out of your way to adequately prepare for this exam by Studying both novels and expecting questions from either of them, whether you are a UTME or Direct Entry Student.
The novels are not too voluminous and the stories are interesting for you to read within the next 2 months. You should be able to read and understand the entire story of both novels.
There should be no boundaries to what you should study. Ensure you cover the Entire JAMB Syllabus for your subjects and read extensively.
We will be creating other threads as per revision for the Novel "In Dependence", as time progresses so ensure you visit the GRupdates Website at least twice daily.
If you have issues about the novel that you feel Admin and other students can help you with, don't hesitate to post it as a comment, then check and wait patiently for a reply.
Create an account or log in to leave a reply
You need to be a member in order to leave a reply.
Log in
Already have an account? No problem, log in here.
Log in
---
Permissions in this forum:
You
cannot
reply to topics in this forum