Latest topics
»
[Download Music + Video] Peruzzi x Davido – Twisted
by
Emmi
Today at 12:28 am
»
[Download Music] Papiwizzy Ft. Yonda, Baseone & Terry G – Sapon (Remix)
by
Emmi
Yesterday at 12:45 pm
»
[Download Music] Owizzy Ft. Shuun Bebe – Kontrol
by
Emmi
Yesterday at 12:41 pm
»
[Download Music] Hollyboi – Orire
by
Emmi
Yesterday at 12:35 pm
»
[Download Music] M-Money – Kamabaselo
by
Emmi
Yesterday at 12:30 pm
»
[Download Music] DYHCrew Ft. PSO, Diego, Studio Boy & Ric – The Code
by
Emmi
Yesterday at 11:21 am
»
[Download Music] Cliffbado – Loose Guard
by
Emmi
Yesterday at 11:09 am
»
[Download Music] TROD – Omo Mushin
by
Emmi
Yesterday at 10:11 am
»
[Download Music] Reminisce – Burushaga
by
Emmi
Yesterday at 8:38 am
»
[Download Music] Seriki Ft. Harrysongs – Okay
by
Emmi
Thu Oct 18, 2018 3:49 pm
»
[Download Music] Lemon x Candy Bleakz x iJay – Answer Me
by
Emmi
Thu Oct 18, 2018 3:25 pm
»
[Download Music] Trapstar – Whine It Up
by
Emmi
Thu Oct 18, 2018 12:21 pm
»
[Download Music] Kuti Lego Ft. Slimcase – Plenty Money
by
Emmi
Thu Oct 18, 2018 12:09 pm
»
[Download Music] Sticker Ft. Marvelous Benjy – Big Boy
by
Emmi
Wed Oct 17, 2018 7:43 pm
»
[Download Video] Terri – Bia
by
Emmi
Wed Oct 17, 2018 2:01 pm
»
[Download Video] BosaLin – Ekene Maria
by
Emmi
Wed Oct 17, 2018 1:41 pm
»
[Download Music + Video] Ray Emodi – The Youth
by
Emmi
Wed Oct 17, 2018 1:20 pm
»
[Download Music] Olamide – Bugle
by
Emmi
Wed Oct 17, 2018 12:25 pm
»
[Download Music] GOC – My Money
by
Emmi
Wed Oct 17, 2018 11:37 am
»
[Download Music] Shakar EL – OliMango
by
Emmi
Wed Oct 17, 2018 10:16 am
[Download Music] Papiwizzy Ft. Yonda, Baseone & Terry G – Sapon (Remix)
Fri Oct 19, 2018 12:45 pm by Emmi
Oluwalonikontrol Ent Act Papiwizzy's rise to the music scene has been astronomical, following the release of his hit track Ponmo at the middle 2018 which received various positive reviews.
His fans and music lovers can't help but want more.
Papiwizzy is back with another hit which is the Remix of his Recent song 'Sapon' in which he …
[
Full reading
]
Comments: 0
[Download Music] Owizzy Ft. Shuun Bebe – Kontrol
Fri Oct 19, 2018 12:41 pm by Emmi
#Owizzy
has been enjoying a smooth run in the limelight as his releases have always been met with praises from fans and critics alike.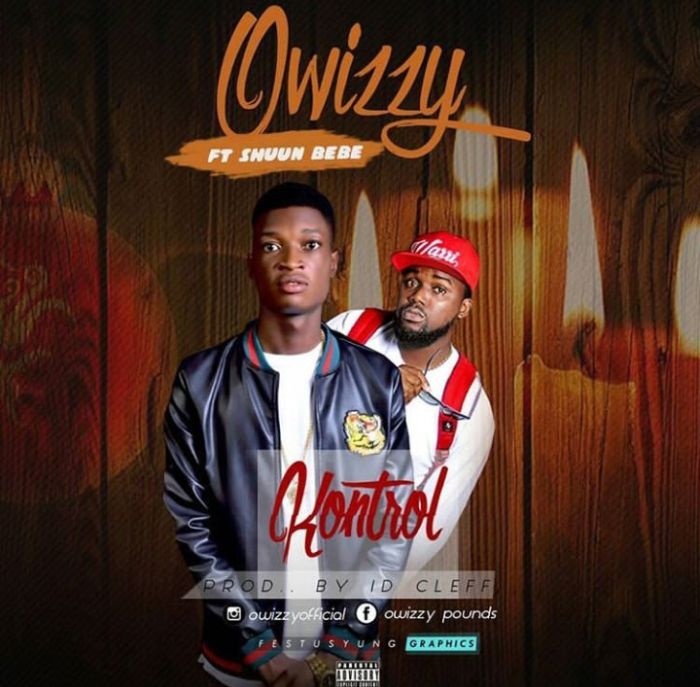 He takes the game a step further with the release of another official single – "
Kontrol
" produced by
ID Cleff.
"Kontrol" which features workaholic music act
Shuun Bebe
is a song every youth of …
[
Full reading
]
Comments: 0
[Download Music] Hollyboi – Orire
Fri Oct 19, 2018 12:35 pm by Emmi
#Hollyboi
one of the members of the Dynamic group AQM Gang Debuts with
Orire
a mind blowing inspirational song produced by Dollarsyno for Icempire Records.
Listen & Download "Hollyboi – Orire" below:-
[
Full reading
]
Comments: 0
[Download Music] M-Money – Kamabaselo
Fri Oct 19, 2018 12:30 pm by Emmi
"
#M-money
" A.K.A "Street Don Boy" dishes out a hot jam titled "
Kamabaselo
" produced by 2Flexing, mixed and master by K-wyze Kingpin.
Listen & Download "M-Money – Kamabaselo" below:-
[
Full reading
]
Comments: 0
[Download Music] DYHCrew Ft. PSO, Diego, Studio Boy & Ric – The Code
Fri Oct 19, 2018 11:21 am by Emmi
nternet under historic pressure, as a new talented artist, hyper, NETpreneur, Paul Samson, popularly known as
#PSO
, releases his fresh motivational song, featuring
Studio Boy
,
#Diego
and
#Ric
under the most lucrative and entertainment platform, NNU.NG with a brand new record label
#DYHCrew
.
Paul Samson who has taken …
[
Full reading
]
Comments: 0
Snows

Ultimate goal ✭✭✭✭✭✭

Posts

:

295




Points

:

1545




Reputation

:

15



Buhari on life-support for 20 days, needs prayer, presidency must tell Nigerians the truth always - Fayose
Today, it makes 53 days since our President; Muhammadu Buhari left Nigeria to attend to his health challenges abroad. No official information as to his whereabouts and his state of health.
Like every other Nigerians, I do not wish the president dead, I have therefore maintained dignified silence since we were told that the President embarked on his second medical trip abroad this year. 
However, the recorded audio message which was released by the Presidency as the President's Ramadan message to Nigerians necessitated my setting the records straight today. 
No doubt, the audio message was only a damage-control strategy aimed at further deceiving Nigerians.
I have therefore elected in good conscience to state as follows:
That the audio message does not represent the truth as our President does not only have voice impairment, he has been on life-support since June 6, 2017 at a West-End, London Hospital. 
Of a fact, our First Lady, Her Excellency, Mrs Aisha Buhari was not allowed to see her husband during her last visit to the United Kingdom if only she will be courageous enough to admit.
Only three Nigerians who are of the President's cabal are allowed access to the President. I will keep their identities for now. 
Anyone with contrary claim should produce the President to Nigerians within the next 48 hours.
It is obvious that Nigeria is drifting like the last days of the Yar'Adua's government.
Nigerians will recall that I warned against electing President Buhari on the account of his age, health and mental capacity. 
Nigerians will also recall that when they released pictures to the press claiming that President Buhari had an interview with Kemi Fadojutimi of "All Eyes on Africa" TV Show in London, on Monday, February 23, 2015, I proved to the whole world that the interview was conducted in suite 881 at Transcorp Hilton Hotel, Abuja. 
Hate me or like me, again I am putting Nigerians on notice on the present state of health of our president.
In closing, let me state that I am not unaware of the various attempts on my life; I am undaunted as I remain committed to truth and fearlessness because a man's life does not consist in the abundance of his possessions.
Dear Nigerians, even though President Buhari needs our prayers and we should keep praying that God takes total control of his situation, it is equally imperative that our leaders must tell us the truth at all times.
It is time that the President takes the interests of Nigerians above his own and resign from office so that our country can move forward. The fate of Nigeria and its people must not remain in the hands of the Presidency cabal, our country must be set free. 
May God help our country.
Ayodele Fayose
Governor, Ekiti State
Create an account or log in to leave a reply
You need to be a member in order to leave a reply.
Log in
Already have an account? No problem, log in here.
Log in
---
Permissions in this forum:
You
cannot
reply to topics in this forum