Top posting users this month
How To Borrow Real Cash From MTN Using MTN XtraCash Package 2018
Tue Apr 24, 2018 2:11 am by DaddyBoy
As technology changes everything change also because as time goes on new things are been developed and upgrades are been made, the MTN Nigeria company has indeed upgraded their services to a high standard that MTN users can now borrow Real cash from MTN Using MTN XtraCash systems. 

[url=https://3.bp.blogspot.com/-APwMqDh2838/Wt5Tv7k6q8I/AAAAAAAAELU/Uaa7lD3y044Ws1wM7AvywquOXJP6TdIagCLcBGAs/s1600/images%2826%29.jpg][img(280px,186px):fcfa]…[/img(280px,186px):fcfa]
[
Full reading
]
Comments: 0
How to make your glo data browse faster.
Tue Apr 17, 2018 4:09 pm by Snows
To enable all glo users browse faster, use this method to enhance your browsing speed.
Steps :
*Click your glo access point settings .
*Click default Glo flat.
*Then edit your bearer settings the default is unspecified, just unclick it.
*then tick the following shown On image below.
That's all and watch the speed of light on your 3g browsing
Note: 
o
nly tick LTE if your phone is 4g …
[
Full reading
]
Comments: 0
How To Get Free 20,000 Naira Airtime on Any Network With Opera Mini News App
Mon Apr 02, 2018 1:18 pm by issac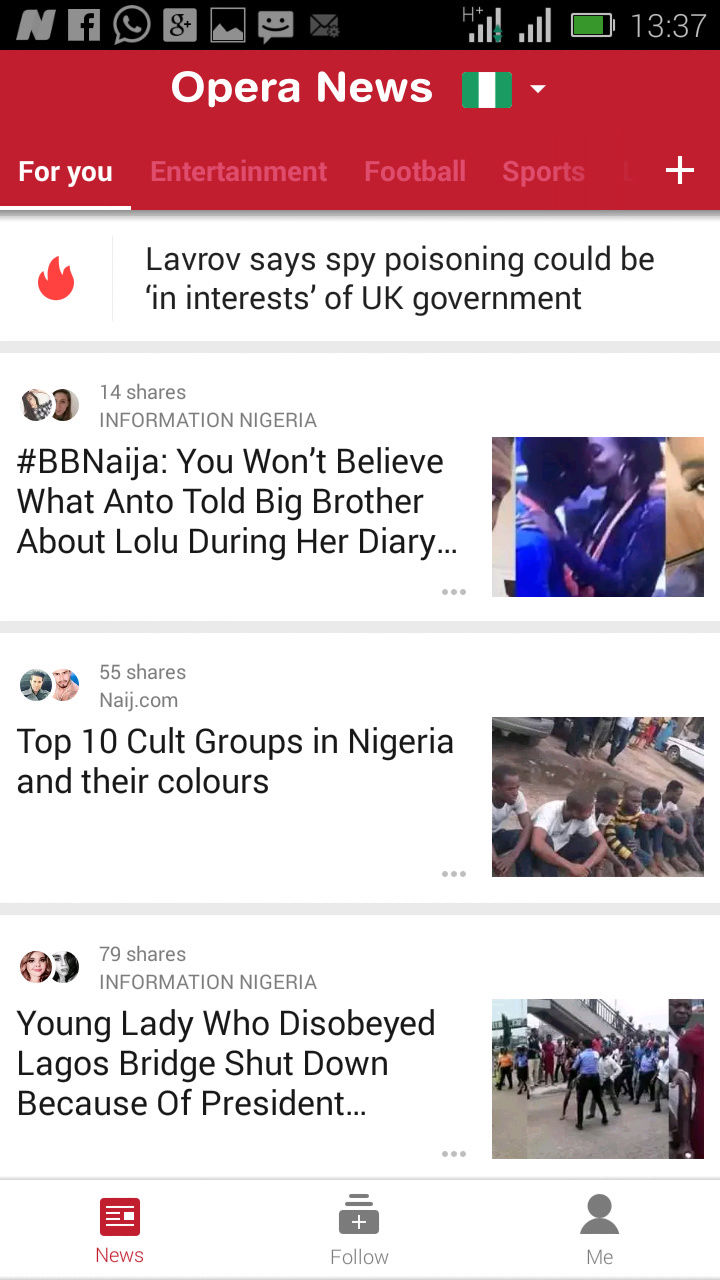 Hey Friends 
How To Get Free 20,000 Naira Airtime on Any Network
free airtime app that you can't afford to miss out this time around. So this app is nothing more than opera mini news app.

So the ideology of getting free airtime is still the same with Opera News app.

So let's take a look at what this app is actually meant for. 


Opera …
[
Full reading
]
Comments: 1
Mtn Nigeria Customer Care Contact Details
Sat Apr 07, 2018 1:44 am by DaddyBoy
​
MTN is a South African multinational telecommunication network. It has so many affiliates in the world including Nigeria.
In this post, I'll tell you how to contact MTN customer care in Nigeria, in case you are finding it difficult to contact them. 
HOW TO CONTACT MTN NIGERIA CUSTOMER CARE 
​
To contact MTN customer care, you must first have …
[
Full reading
]
Comments: 0
How To Share Data On Glo Network With Few Easy Steps
Thu Mar 29, 2018 11:15 pm by Emmi
As a Glo network subscriber, you are entitled to every opportunity on the Glo network. Glo offers this feature of sharing data with another Glo subscriber. You can share data to another Glo network without facing any difficulty. Instead of buying different plans you can alternatively share with one another and they'll all get …
[
Full reading
]
Comments: 0
emmy

Ultimate goal ✭✭✭✭✭✭

Posts

:

163




Points

:

999




Reputation

:

15



What's up technicians  Today, am going to show you guyz the method on how to transfer credits on your Mobile Network Provider in Nigeria be it Mtn, Airtel, Glo and Etislat.
But you have to note that, it is not all the Network in Nigeria that conducts free transfer of credits. Like Airtel collects N10 for the transaction to be
successful, Etisalat N15 too. 
So first on the list is Glo ›››››››
How to Transfer GLO Credits
But first, you can easily Change or Create Glo Me2u Transfer Pin by dialing *132*00000*New Pin* New Pin# then send. Always remember that the GLO Default PIN is 00000.

Now to transfer GLO credit, dial *131*recipients phone number*Amount*Pin# then send. For instant, *131*07053627819*100*12345#.

After some time, you will receive a message back from the network telling you to confirm by pressing 1 and press 2 to cancel.

Glo EasyShare enables you to share your call credit with any one you choose on the Glo network. Send credit to family, friends and loved ones in an instant with this service.

To Transfer Credit, dial *131*Phone Number of the recipient*Amount to be transferred*Password#.


How to Transfer Etisalat Credits
To transfer your etisalat credits, you will need to;
Goto the Etisalat service menu in your phone >click on Balance transfer>a box will pop up requesting for your pin>The default pin is 0000>the amount.

Always remember that you can also change your default pin from the service menu. Another means to transfer credit from etisalat is by dialing *223*Pin*Amount*Phone Number#

To transfer credit using Secure Credit Transfer, simply type: *100*Mobile Number*Amount to be transferred*PIN# then press SEND. E.g.: If you wish to send AED 5, simply type *100*05XXXXXXXX*5*1234# then press SEND. You can request your PIN by sending CTPIN to 1010 (you will receive a 4-digit PIN).


How to Transfer AIRTEL Credits
 

You can change or create new airtel secret pin. The Airtel default pin is 1234. While to change airtel transfer pin, send Pin Old Pin New Pin e.g Pin 1234 9090 as SMS to 432.

Then, while you are done with that, you can transfer your credits by sending 2U (space) Recipient's phone number (space) Amount (space) Pin as SMS to 432. For instant: 2U 08128902673 100 1234 to 432

Or just dial *432# and follow the instructions. 


How to Transfer MTN Credits
 

And before any other thing. You need to create a secret pin. This secret pin must be known to you alone, and the pin must be four digit numbers. Anyone that knows your pin can transfer your credit without your consent.

You will need to change your transfer pin from default to a normal number. The default pin is 0000. You can change your pin via SMS and USSD.

Via SMS:- You can do that by sending *default pin* *new pin* *new pin* to 777. For instant in SMS, send 0000 1234 1234 to 777.

Via SMS: Transfer *the person phone number* *amount* *your secret pin* to 777. For instant Transfer 08065655230 200 1234 and to 777

After that, send Yes to 777 after you must have receive message requesting you to that. If you want to cancel the transaction, just send CANCEL to 777.

And there they are, The above are the proven method on how to change and create new transfer pin for all the networks in Nigeria including MTN, ETISALAT, AIRTEL and GLO.

Don't forget to share, because sharing is caring, also drop your comments if any of the ones listed above worked for you. 

Stay tuned to www.9jatech.africamotion.net  for all latest update


Register with us to add your post today
Create an account or log in to leave a reply
You need to be a member in order to leave a reply.
Log in
Already have an account? No problem, log in here.
Log in
---
Permissions in this forum:
You
cannot
reply to topics in this forum