How to make your glo data browse faster.
Tue Apr 17, 2018 4:09 pm by Snows
To enable all glo users browse faster, use this method to enhance your browsing speed.
Steps :
*Click your glo access point settings .
*Click default Glo flat.
*Then edit your bearer settings the default is unspecified, just unclick it.
*then tick the following shown On image below.
That's all and watch the speed of light on your 3g browsing
Note: 
o
nly tick LTE if your phone is 4g …
[
Full reading
]
Comments: 0
How To Get Free 20,000 Naira Airtime on Any Network With Opera Mini News App
Mon Apr 02, 2018 1:18 pm by issac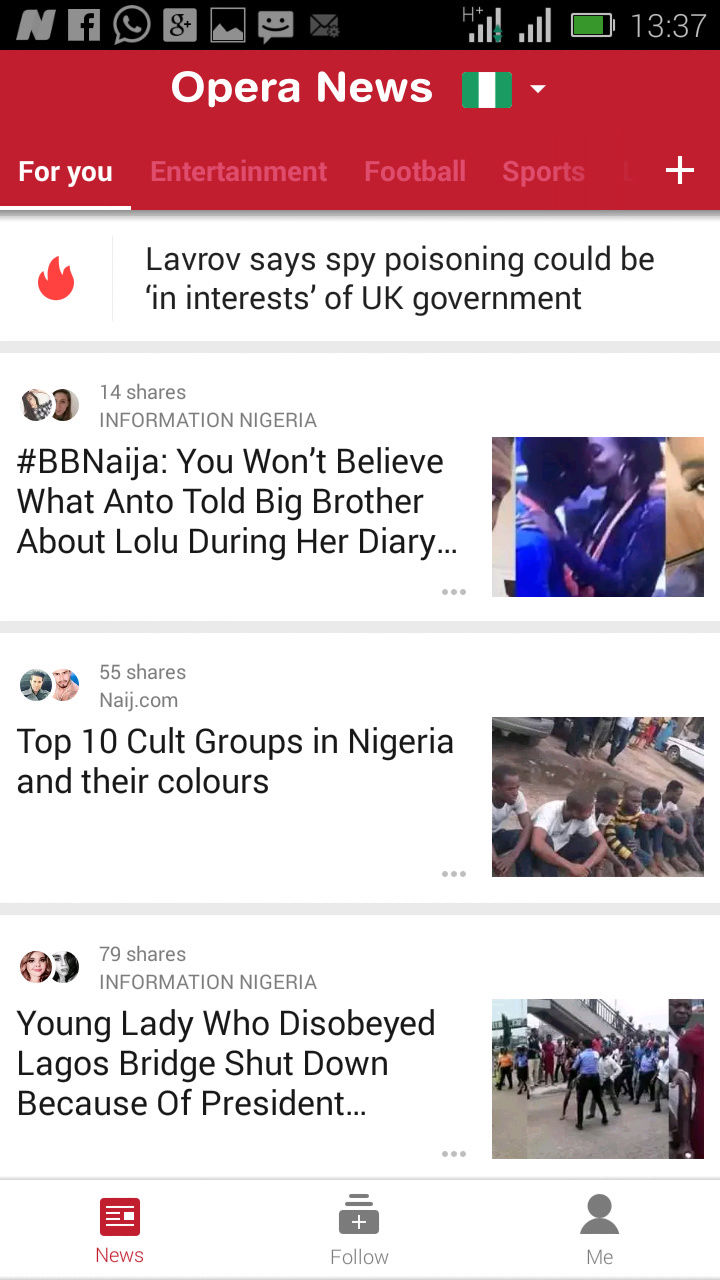 Hey Friends 
How To Get Free 20,000 Naira Airtime on Any Network
free airtime app that you can't afford to miss out this time around. So this app is nothing more than opera mini news app.

So the ideology of getting free airtime is still the same with Opera News app.

So let's take a look at what this app is actually meant for. 


Opera …
[
Full reading
]
Comments: 1
Mtn Nigeria Customer Care Contact Details
Sat Apr 07, 2018 1:44 am by DaddyBoy
​
MTN is a South African multinational telecommunication network. It has so many affiliates in the world including Nigeria.
In this post, I'll tell you how to contact MTN customer care in Nigeria, in case you are finding it difficult to contact them. 
HOW TO CONTACT MTN NIGERIA CUSTOMER CARE 
​
To contact MTN customer care, you must first have …
[
Full reading
]
Comments: 0
How To Share Data On Glo Network With Few Easy Steps
Thu Mar 29, 2018 11:15 pm by Emmi
As a Glo network subscriber, you are entitled to every opportunity on the Glo network. Glo offers this feature of sharing data with another Glo subscriber. You can share data to another Glo network without facing any difficulty. Instead of buying different plans you can alternatively share with one another and they'll all get …
[
Full reading
]
Comments: 0
How To Check Your Airtime And Data Balance On Mtn Network Nigeria
Wed Mar 28, 2018 2:17 am by DaddyBoy
Hello readers! Are you finding it difficult to check your MTN balance both on data and airtime credit basis? Then consider it not a problem again as I'll highlight you on the various ways you can check your balances on the MTN network.
This post was strictly written for MTN subcribers. This post covers all the MTN tariff plans as regards to checking your data and airtime credit balances.
[
Full reading
]
Comments: 1
Snows

Ultimate goal ✭✭✭✭✭✭

Posts

:

246




Points

:

1215




Reputation

:

15



WhatsApp is one of most popular messenger all over the World with more than 30million messages daily with end-to-end encryption.
1. Launch latest WhatsApp Mssenger.
2. Start conversation with your friend.
3. Tap camera icon.
4. Select an Image.
5. Select any icon(crop,sticker,enter text or draw a doodle) at top right.
6. Click send.
How To Tag People In WhatsApp Group
Tagging people is now acceptable in WhatsApp,which means you can tag member of a group with @ then the tagged member get notify about the message you sent.
How To Add Formatting To WhatsApp Message
WhatsApp has accepted text formatting (bold,italics and strikethrough) for users
Bold- type *your message*
Italics- type _your message_
Strikethrough- type ~your message~
How To Hide Last Seen Timestamp
1. Goto Settings
2. Tap Account
3. Click on Privacy
4. Select Last Seen
5. Tick Nobody.
From now nobody will see when you online last.Note you will not be able to see when other member is online.
How To Disable Read Receipts
1. Goto Settings
2. Tap Account
3. Click on Privacy
4. Tick off Read Receipts.
How To Backup And Restore WhatsApp Conversation
To Backup
1. Goto Settings
2. Click Chats
3 Select Chat Backup
4. Click BACKUP
To Restore:- Uninstall WhatsApp and Install it back after then a prompted message will sent to you "restore your recent backup".
How To Find Your WhatsApp Message Stats
1. Goto Settings
2. Select Data Usage
3. Click Network Usage.
How To Reply To Messages Via Tablet,PC or Mac
1. Goto web.whatsapp.com
2. Scan the QR code using the QR reader built into WhatsApp for iOS and Android. By this you are linked to your account via PC or MAC.
How To Mute Annoying Group Chats
There are so many groups disturbing you with countless messages so,tap the name of the group and tap "Mute"(select the duration of the Mute).
WhatsApp End-To-End Encryption
All messages you send to your friends are now secured with end-to-end encryption which means WhatsApp and Third parties can't read or listen to your conversation.
 YOU CAN ALSO REGISTER WITH US TO ADD YOUR POST OR COMMENT TO ANY POST IN HERE
CLICK HERE TO REGISTER
Create an account or log in to leave a reply
You need to be a member in order to leave a reply.
Log in
Already have an account? No problem, log in here.
Log in
---
Permissions in this forum:
You
cannot
reply to topics in this forum