Latest topics
»
[Download Music + Video] Peruzzi x Davido – Twisted
by
Emmi
Today at 12:28 am
»
[Download Music] Papiwizzy Ft. Yonda, Baseone & Terry G – Sapon (Remix)
by
Emmi
Yesterday at 12:45 pm
»
[Download Music] Owizzy Ft. Shuun Bebe – Kontrol
by
Emmi
Yesterday at 12:41 pm
»
[Download Music] Hollyboi – Orire
by
Emmi
Yesterday at 12:35 pm
»
[Download Music] M-Money – Kamabaselo
by
Emmi
Yesterday at 12:30 pm
»
[Download Music] DYHCrew Ft. PSO, Diego, Studio Boy & Ric – The Code
by
Emmi
Yesterday at 11:21 am
»
[Download Music] Cliffbado – Loose Guard
by
Emmi
Yesterday at 11:09 am
»
[Download Music] TROD – Omo Mushin
by
Emmi
Yesterday at 10:11 am
»
[Download Music] Reminisce – Burushaga
by
Emmi
Yesterday at 8:38 am
»
[Download Music] Seriki Ft. Harrysongs – Okay
by
Emmi
Thu Oct 18, 2018 3:49 pm
»
[Download Music] Lemon x Candy Bleakz x iJay – Answer Me
by
Emmi
Thu Oct 18, 2018 3:25 pm
»
[Download Music] Trapstar – Whine It Up
by
Emmi
Thu Oct 18, 2018 12:21 pm
»
[Download Music] Kuti Lego Ft. Slimcase – Plenty Money
by
Emmi
Thu Oct 18, 2018 12:09 pm
»
[Download Music] Sticker Ft. Marvelous Benjy – Big Boy
by
Emmi
Wed Oct 17, 2018 7:43 pm
»
[Download Video] Terri – Bia
by
Emmi
Wed Oct 17, 2018 2:01 pm
»
[Download Video] BosaLin – Ekene Maria
by
Emmi
Wed Oct 17, 2018 1:41 pm
»
[Download Music + Video] Ray Emodi – The Youth
by
Emmi
Wed Oct 17, 2018 1:20 pm
»
[Download Music] Olamide – Bugle
by
Emmi
Wed Oct 17, 2018 12:25 pm
»
[Download Music] GOC – My Money
by
Emmi
Wed Oct 17, 2018 11:37 am
»
[Download Music] Shakar EL – OliMango
by
Emmi
Wed Oct 17, 2018 10:16 am
[Download Music] Papiwizzy Ft. Yonda, Baseone & Terry G – Sapon (Remix)
Fri Oct 19, 2018 12:45 pm by Emmi
Oluwalonikontrol Ent Act Papiwizzy's rise to the music scene has been astronomical, following the release of his hit track Ponmo at the middle 2018 which received various positive reviews.
His fans and music lovers can't help but want more.
Papiwizzy is back with another hit which is the Remix of his Recent song 'Sapon' in which he …
[
Full reading
]
Comments: 0
[Download Music] Owizzy Ft. Shuun Bebe – Kontrol
Fri Oct 19, 2018 12:41 pm by Emmi
#Owizzy
has been enjoying a smooth run in the limelight as his releases have always been met with praises from fans and critics alike.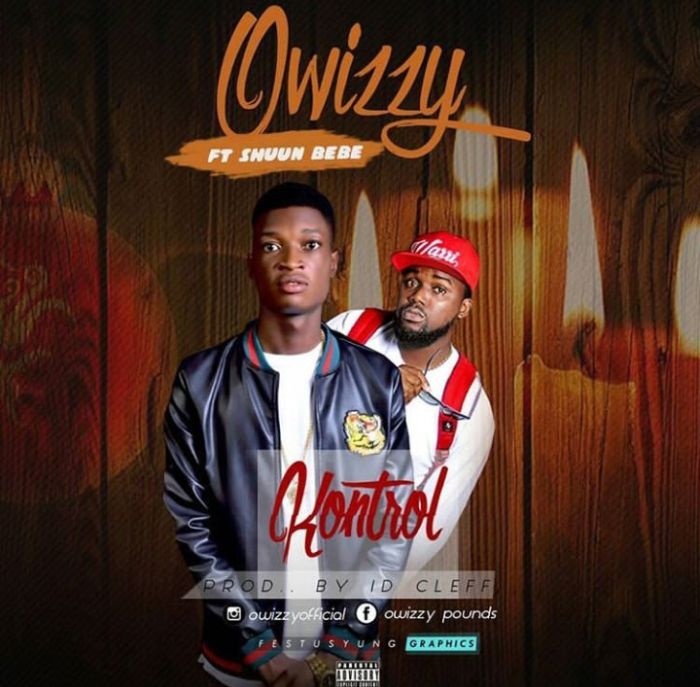 He takes the game a step further with the release of another official single – "
Kontrol
" produced by
ID Cleff.
"Kontrol" which features workaholic music act
Shuun Bebe
is a song every youth of …
[
Full reading
]
Comments: 0
[Download Music] Hollyboi – Orire
Fri Oct 19, 2018 12:35 pm by Emmi
#Hollyboi
one of the members of the Dynamic group AQM Gang Debuts with
Orire
a mind blowing inspirational song produced by Dollarsyno for Icempire Records.
Listen & Download "Hollyboi – Orire" below:-
[
Full reading
]
Comments: 0
[Download Music] M-Money – Kamabaselo
Fri Oct 19, 2018 12:30 pm by Emmi
"
#M-money
" A.K.A "Street Don Boy" dishes out a hot jam titled "
Kamabaselo
" produced by 2Flexing, mixed and master by K-wyze Kingpin.
Listen & Download "M-Money – Kamabaselo" below:-
[
Full reading
]
Comments: 0
[Download Music] DYHCrew Ft. PSO, Diego, Studio Boy & Ric – The Code
Fri Oct 19, 2018 11:21 am by Emmi
nternet under historic pressure, as a new talented artist, hyper, NETpreneur, Paul Samson, popularly known as
#PSO
, releases his fresh motivational song, featuring
Studio Boy
,
#Diego
and
#Ric
under the most lucrative and entertainment platform, NNU.NG with a brand new record label
#DYHCrew
.
Paul Samson who has taken …
[
Full reading
]
Comments: 0
pati

Master User✭✭✭✭✭

Posts

:

89




Points

:

768




Reputation

:

4



The heavy rain that fell on Friday night and Saturday morning has left hundreds of homes and roads flooded in Nigeria's affluent neighbourhoods of Ajah, Ikoyi, Lekki and Victoria Island areas of Lagos State.
It was gathered that from Lekki Phase I, all the way down to Lekki Free Trade Zone, and Ajah were severely affected by the flood. Other areas affected were Lekki Phase II, Osapa London, Victoria Garden City, Ikoyi, Banana Island, Badore, Bogije, Igbo Efon and Awoyaya.
Many of the residents in these areas, who are arguably millionaires, were stranded in their homes while others had to flee their houses to hotels and friends' homes on the Mainland on Saturday after the flood entered their homes destroying property.
Passengers were also stranded at bus stops across the state following the downpour that lasted for several hours, with gridlock witnessed in several areas. Some of the commuters paid the sum of N1,000 to touts who were willing to carry them on their backs across the flood, while some brave ones swam in the flood to their destinations.
Motorists pushing a bus
At Lekki Phase 1, several vehicles broke down on the road giving some hoodlums popularly known as Area Boys the opportunity to make money.
Depending on their bargaining power, motorists were made to cough up between N1,500 and N2,500 for their vehicles to be pushed out of the water.
In a bid to avoid flooded roads, several motorists drove against the traffic, causing more chaos on the road.
At Adetokunbo Ademola and adjoining streets on Victoria Island, several homes were overrun by the flood.
Public transport operators aborted their trips and passengers were forced to alight from the buses.
Similarly, tricycle operators had a field day as they operated freely on the flooded roads though they had to increase their fare.
For instance, they charged N150 for a N50-trip. Due to the scarcity of vehicles and the flooded roads, commuters were forced to trek to their destinations in the rain.
Operators of commercial motorcycles also had a field day ferrying commuters to places many buses and taxis could not ply.
Residents affected by the flood also posted photos and videos on social media to capture their agonies on Saturday.
Meanwhile
, according to Punch, a Twitter
 handler identified only as Abdulrahman, advised the Lagos State Government to declare a state of emergency on the incessant flooding in the state.
Sharing a picture of a flooded part of Victoria Island, he said, "I think Lagos should declare a state of emergency over this flood. This (picture) is not Lekki; this is the heart of VI. This place never witnessed such (flooding)."
Josiah Amaga, another 
Twitter
 user, said, "Let us take a moment to pray for our friends in Lekki, VI, Ajah and Lagos State in general for this flood.
Also on 
Twitter
, Chidi Okereke wondered why flooding should be a major challenge in the state, despite its economic buoyancy. "How can we ensure it doesn't happen again?" Okereke said.
An activist, Victoria Ohaeri, wrote on 
Facebook
, "We have been told that Lagos is the centre of excellence. But when it rains non-stop for only two days, citizens are submerged in a flood of doubts."
A 
Facebook
 user affected by the flood, Cookel Erheriene, bemoaned that the disaster made people stranded.
Sharing a photo of a flooded duplex in his area, Erheriene said, "Areas from Lekki Phase 1 all the way down to the Lekki Free Trade Zone have been partially submerged in flood. The situation has caused people to be stranded and broken down in spirit. Where will I sleep now?"
Also the flood did not spare the residents of Banana Island, the uber-rich enclave where plots of land are sold for as much as N500m.
Parts of the large estate which is home to some of the country's richest men were heavily flooded. On 2nd Avenue (which is also known as Mike Adenuga Avenue), both sides of the dualised road were flooded.
Uwajeh Samuel, tweeting with the address, @vegsej, wrote that, "I was on my way to the estate this morning. Had to make a turn back to the mainland when I saw the flood on banana island road."
In a post on social media by one of the residents in the Victoria Island area of Lagos, Bamidele Ademola-Olateju narrated how the downpour kept her indoors.
''I'm rained in! There is water at my gate. One more downpour and my driveway will be flooded. I'm told water is entering a friend's house through the window. They are all upstairs stranded. Accept my sympathy. Sell the land for N70m and move to Akute. Wahala in Africa's most affluent slum,'' she wrote.
The Lagos State Police Command urged commuters to avoid the Ahmadu Bello Way until the flood subsided.
The State Commissioner of Police in Lagos State, Mr. Fatai Owoseni, in an interview with 
Channels Television
, urged residents to take alternative routes, noting that efforts were ongoing to drain the flood so that the road would be passable.
The police boss said the decision was made to avert disaster, owing to the flood, which found its way into the diesel storage of a filling station.
A Lagos resident who spoke about the situation on condition of anonymity, said, "The major issue is not the heavy rain in Lagos. It is the fact that, over the years, there was no proper planning of the city by successive governments, despite the rapid urbanisation and population increase."
Other commuters told said that the frequent flooding in several parts of the affected areas was due to the poor drainage system in Lagos as well as the dredging going on at Eko Atlantic City.
•
Passers-by in the flood
In Obalende and Ikoyi, many residents were seen with various sizes of buckets scooping water out of their flooded homes.
There were also several pictures on the Internet showing apartments in a soggy situation with cars nearly submerged.
Commenting on the flooding, a Senior Lecturer of Geography at the University of Ibadan, Dr. Ibidun Adelekan, described the developmental activities on the islands of Lagos State as magnets for flood.
Adelakun, who specialises in climate and deve lopment and human dimensions of global environmental change, told 
SUNDAY PUNCH
 that the flooding in Lagos was due to heavy rain and high population.
"So, with more people and buildings, you have more artificial surfaces than natural surfaces — all the construction, roads, and buildings. The natural surfaces, like the soil and vegetated area; when it rains, infiltration can take place. But when you have artificial surfaces, then you have more of run-off. Also, in many parts of Lagos, the drainage capacity is low; in some cases, the drains were constructed many years ago and now you have more rainfall.
"We've done some analysis and statistically, we're having heavier rainfall. So, sometimes, the capacity of the drainage is not enough to carry away the storm water. A lot of drainage channels are blocked or you have people depositing water sachets, tyres and all kinds of things. That also reduces the drainage capacity. Once the storm water goes into the drainage channels, it overflows.
"On the island, we have the coast and that means the elevation is lower. With that, you also have high water tables and lower coastal areas; the underground water is higher, so once there is more rainfall, the infiltration capacity cannot be as high as the mainland area. In the coastal area, there is also a tendency for graduation: the slope goes down towards the sea, so all the water will tend to flow towards the coastal area, that is, the island. So, we have more water around that area."
Adelakun called on the Lagos State Government to encourage people not to throw solid waste into the drainage channels.
"When people are building, they should make allowance for natural areas also. Another reason why we have flooding is that, because these are wetlands, a lot of land reclamation, especially in terms of sand filling, is taking place. Wetlands are buffers for floods. So, when you start filling swampy areas to make way for buildings, you're also reducing the capacity of the natural environment to serve as buffers for flood. That should also be discouraged" she added.
Another expert, Emeritus Professor of Geography at the University of Lagos, Prof. Adetoye Faniran, said, "This is what happens almost annually this time of the year. The rainy season is very important. Also, the density of the rainfall is very important. The sea-level-rise phenomenon because of climate change is another factor. But perhaps the most important factor is the low topography, where the water settles because the water has passed its level.
"The most important factors are heavy rainfall, sanitation and drainage. But for Lagos, especially the place where the flooding is, there is not much we can do because it's near sea level."
Meanwhile, the Lagos State Government has called on residents to be cautious on the roads as torrential rain persists across the state.
In a statement issued on Saturday by the Commissioner for Information and Strategy, Steve Ayorinde, the government warned that "heavy downpour should be expected for a few more weeks."
He added, "The government solicits the support of citizens to desist from dumping refuse in the canals and gutters, and observe safe and hygienic practices at all times in order to reduce the effect of temporary flooding being recorded in some areas.
"The government also urges residents to make use of emergency numbers in case of dire situations."
Similar flooding occurred on July 10, 2011. The torrential rainfall led to a flood of epic proportions, which swallowed houses, cars, and caused the death of 25 people. The worst-hit areas were Victoria Island, Ikoyi and Lekki as the flood entered several homes, destroying property.
Create an account or log in to leave a reply
You need to be a member in order to leave a reply.
Log in
Already have an account? No problem, log in here.
Log in
---
Permissions in this forum:
You
cannot
reply to topics in this forum