How to make your glo data browse faster.
Tue Apr 17, 2018 4:09 pm by Snows
To enable all glo users browse faster, use this method to enhance your browsing speed.
Steps :
*Click your glo access point settings .
*Click default Glo flat.
*Then edit your bearer settings the default is unspecified, just unclick it.
*then tick the following shown On image below.
That's all and watch the speed of light on your 3g browsing
Note: 
o
nly tick LTE if your phone is 4g …
[
Full reading
]
Comments: 0
How To Get Free 20,000 Naira Airtime on Any Network With Opera Mini News App
Mon Apr 02, 2018 1:18 pm by issac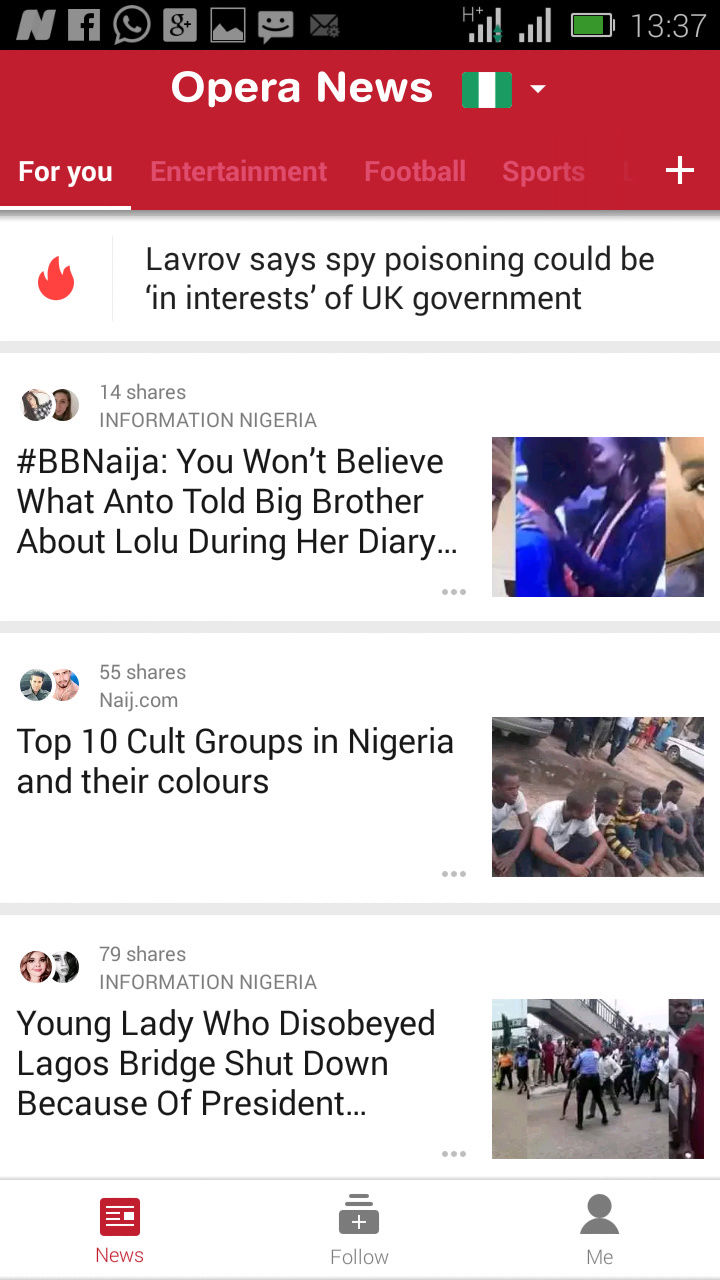 Hey Friends 
How To Get Free 20,000 Naira Airtime on Any Network
free airtime app that you can't afford to miss out this time around. So this app is nothing more than opera mini news app.

So the ideology of getting free airtime is still the same with Opera News app.

So let's take a look at what this app is actually meant for. 


Opera …
[
Full reading
]
Comments: 1
Mtn Nigeria Customer Care Contact Details
Sat Apr 07, 2018 1:44 am by DaddyBoy
​
MTN is a South African multinational telecommunication network. It has so many affiliates in the world including Nigeria.
In this post, I'll tell you how to contact MTN customer care in Nigeria, in case you are finding it difficult to contact them. 
HOW TO CONTACT MTN NIGERIA CUSTOMER CARE 
​
To contact MTN customer care, you must first have …
[
Full reading
]
Comments: 0
How To Share Data On Glo Network With Few Easy Steps
Thu Mar 29, 2018 11:15 pm by Emmi
As a Glo network subscriber, you are entitled to every opportunity on the Glo network. Glo offers this feature of sharing data with another Glo subscriber. You can share data to another Glo network without facing any difficulty. Instead of buying different plans you can alternatively share with one another and they'll all get …
[
Full reading
]
Comments: 0
How To Check Your Airtime And Data Balance On Mtn Network Nigeria
Wed Mar 28, 2018 2:17 am by DaddyBoy
Hello readers! Are you finding it difficult to check your MTN balance both on data and airtime credit basis? Then consider it not a problem again as I'll highlight you on the various ways you can check your balances on the MTN network.
This post was strictly written for MTN subcribers. This post covers all the MTN tariff plans as regards to checking your data and airtime credit balances.
[
Full reading
]
Comments: 1
emmy

Ultimate goal ✭✭✭✭✭✭

Posts

:

163




Points

:

995




Reputation

:

15



Secret Codes Functions/Description
*#06# To check IMEI of your device, enter this code.
*#0*# To enter service menu on the very new Android phones.
*#0228# To check battery status.
*#9090# / *#1111# To make device in Service mode.
*#*#4636#*#* To get information about battery, usage statistics and device.
*#*#34971539#*#* To get all information about camera.
*#12580*369# To get software and hardware info.
*#228# For ADC Reading.
#7353# To hide test menu 2/Self Test Mode.
##7764726 To hide service menu for Motorola Droid.
*#*#273283*255*663282*#*#* For backup of our all media files.
*#*#232338#*#* It display the Wi-Fi mac address.
*#7465625# To view status of lock-phone.
*#*#3264#*#* To show RAM version.
*#*#44336#*#* To display build time and change list number.
*#*#232337#*# To see or display device's Bluetooth address.
*#*#197328640#*#* It enables test mode for service.
*#*#8351#*#* To enable voice dial mode.
*#*#8350#*#* To disable the voice dial mode.
*#*#0842#*#* To test Back-light/vibration.
*#*#2664#*#* To test the touch-screen.
*#*#0289#*#* For Audio test.
*#*#0*#*#* For LCD display test.
*#*#232331#*#* To test Bluetooth of any Android device.
*#*#0283#*#* To perform a packet loop-back test.
*#*#1575#*#* For advanced GPS test.
*#*#1472365#*#* To Perform a quick GPS test.
*#*#0588#*#* To perform a proximity sensor test.
*#*#7262626#*#* To perform field test.
*#*#232339#*#* Testing Wireless LAN.
*#9090# To Diagnose configuration of device.
*#872564# To control U-S-B logging.
*#9900# System dump mode. 
*#*#7780#*#* Reset to factory state.
*2767*3855# To format Android device.
*#*#4986*2650468#*#* To get pda, phone, H/W and RF Call Date. 
*#*#1234#*#* To know about pda and firmware version. 
*#*#1111#*#* For FTA Software version. 
*#*#2222#*#* For FTA Hardware version.
*#*#7594#*#* To change power button behaviour once code enabled. 
*#*#8255#*#* To launch Google Talk service monitor.
 stay tune for more updates, its www.9jatech.africamotion.net
Create an account or log in to leave a reply
You need to be a member in order to leave a reply.
Log in
Already have an account? No problem, log in here.
Log in
---
Permissions in this forum:
You
cannot
reply to topics in this forum