How to make your glo data browse faster.
Tue Apr 17, 2018 4:09 pm by Snows
To enable all glo users browse faster, use this method to enhance your browsing speed.
Steps :
*Click your glo access point settings .
*Click default Glo flat.
*Then edit your bearer settings the default is unspecified, just unclick it.
*then tick the following shown On image below.
That's all and watch the speed of light on your 3g browsing
Note: 
o
nly tick LTE if your phone is 4g …
[
Full reading
]
Comments: 0
How To Get Free 20,000 Naira Airtime on Any Network With Opera Mini News App
Mon Apr 02, 2018 1:18 pm by issac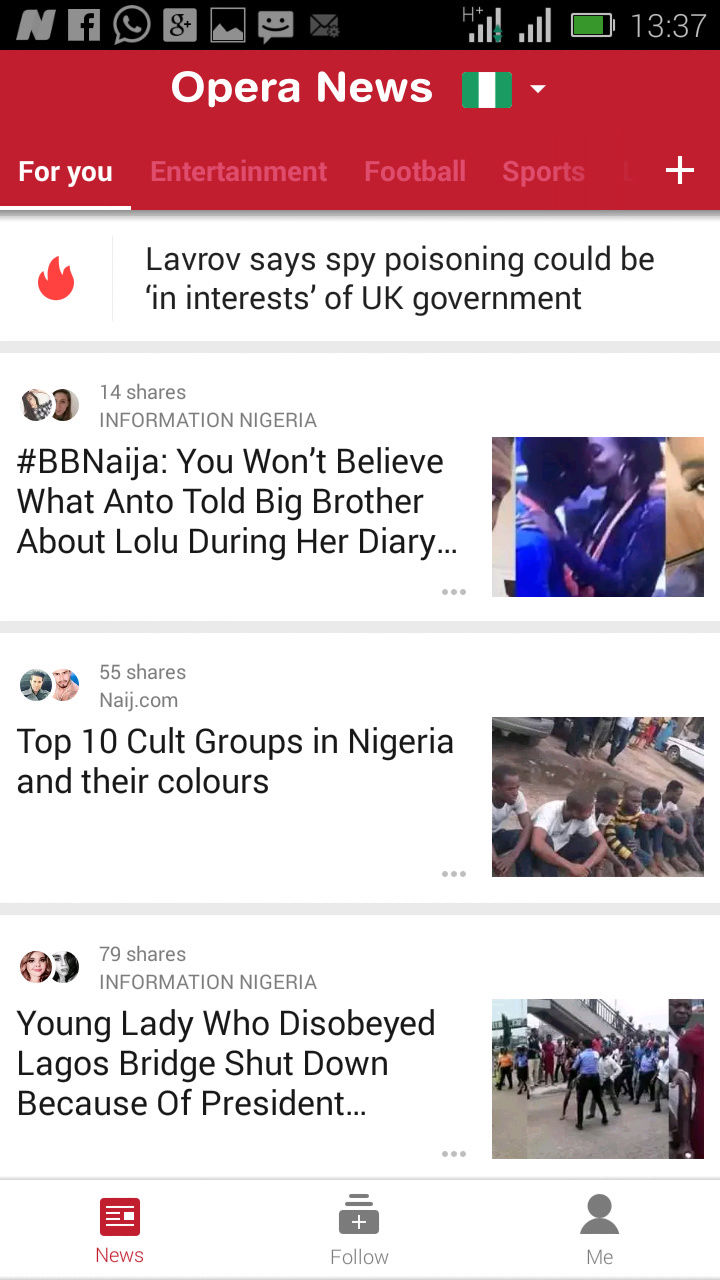 Hey Friends 
How To Get Free 20,000 Naira Airtime on Any Network
free airtime app that you can't afford to miss out this time around. So this app is nothing more than opera mini news app.

So the ideology of getting free airtime is still the same with Opera News app.

So let's take a look at what this app is actually meant for. 


Opera …
[
Full reading
]
Comments: 1
Mtn Nigeria Customer Care Contact Details
Sat Apr 07, 2018 1:44 am by DaddyBoy
​
MTN is a South African multinational telecommunication network. It has so many affiliates in the world including Nigeria.
In this post, I'll tell you how to contact MTN customer care in Nigeria, in case you are finding it difficult to contact them. 
HOW TO CONTACT MTN NIGERIA CUSTOMER CARE 
​
To contact MTN customer care, you must first have …
[
Full reading
]
Comments: 0
How To Share Data On Glo Network With Few Easy Steps
Thu Mar 29, 2018 11:15 pm by Emmi
As a Glo network subscriber, you are entitled to every opportunity on the Glo network. Glo offers this feature of sharing data with another Glo subscriber. You can share data to another Glo network without facing any difficulty. Instead of buying different plans you can alternatively share with one another and they'll all get …
[
Full reading
]
Comments: 0
How To Check Your Airtime And Data Balance On Mtn Network Nigeria
Wed Mar 28, 2018 2:17 am by DaddyBoy
Hello readers! Are you finding it difficult to check your MTN balance both on data and airtime credit basis? Then consider it not a problem again as I'll highlight you on the various ways you can check your balances on the MTN network.
This post was strictly written for MTN subcribers. This post covers all the MTN tariff plans as regards to checking your data and airtime credit balances.
[
Full reading
]
Comments: 1

Facebook is winning the race to bring Snapchat's Stories format to the rest of the world before its originator. WhatsApp Status, its version of Snapchat Stories, now has 250 million daily active users. That's despite it being relegated to a secondary dedicated tab in the app, opposed to being front and center on the home screen like Instagram Stories which also now has over 250 million users. 

Snapchat by comparison only has 166 million daily users of its entire app. That include Snapchat's private messaging feature that benefits from "Streaks" which uses gamification and emoji badges to incentivize friends to send at least one Snap back and forth each day.


All that engagement with Stories, voice and audio calls, and its core of text messaging has driven WhatsApp to 1 billion total daily users and 1.3 billion monthly users. That means a remarkably high 76% of WhatsApp's monthly users come back daily. WhatsApp users now send over 55 billion messages per day, including 4.5 billion photos and 1 billion videos.

For reference, WhatsApp had just 1 billion total monthly users in February 2016, and 450 million monthly users and 350 million daily users in February 2014 when it was acquired by Facebook. Now that $19 billion price tag doesn't seem so crazy.


Mark Zuckerberg announced the 250 million metric update during today's successful Q2 2017 Facebook earnings call, and in a stats update on his Facebook profile. That's up from 175 million, which Zuckerberg revealed 3 months ago on Facebook's previous earnings call. He says that Facebook and WhatsApp are now building out teams to monetize their messaging apps. WhatsApp Status could be a natural home for vertical video ads just like the ones thriving on Instagram.

WhatsApp CEO Jan Koum followed up with his own blog post of stats, concluding that "As we celebrate this milestone, we're committed more than ever to bringing you more useful features to enjoy, while delivering the reliability, simplicity, and security you expect with WhatsApp."


The rapid global growth of WhatsApp Status in the first 6 months since it launched in February demonstrates that Snapchat left a huge market open for exploitation by focusing on U.S. teensinstead of kids all around the world.
Create an account or log in to leave a reply
You need to be a member in order to leave a reply.
Log in
Already have an account? No problem, log in here.
Log in
---
Permissions in this forum:
You
cannot
reply to topics in this forum