moreflex
moreflex is a bundle plan designed to give more value for making calls, browsing pay as you go and sending SMS to all networks.

BENEFITS OF MOREFLEX


Get over 300% when you buy flex 4000, 10,000 and 20,000.

get 300% or more when you buy flex 300, 500 and 1000 bundles.

Get 150% bonus on any purchase of flex 2000 and 5000 bundles.

buy the same 2000 and 5000 flex bundle 2 times consecutively and get the third bundle free.

for recharges of ₦5,000 and above within a month you get to enjoy free incoming calls while roaming on selected networks in 6 countries. UK (vodafone), US (T-mobile), South Africa (vodacom), UAE (9mobile), Netherlands (KPN) and Saudi Arabia (mobily). service is valid for 30 days.

MOREFLEX SUBSCRIPTION DETAILS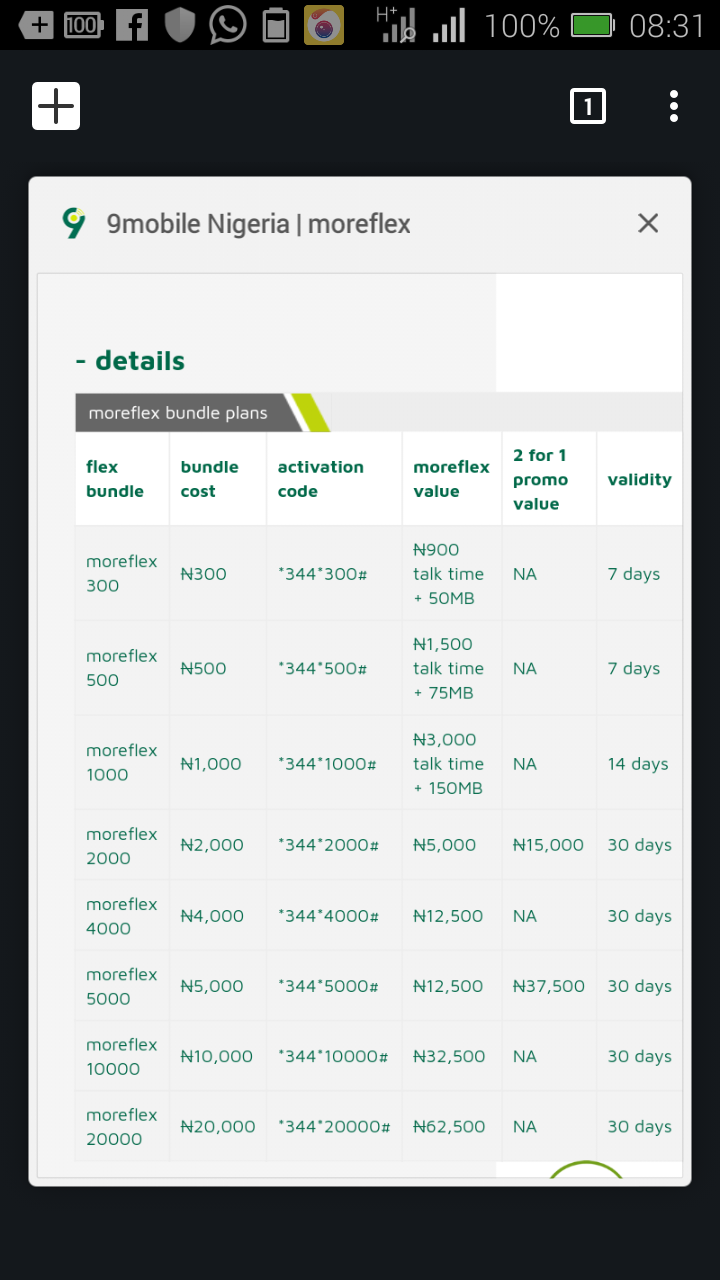 MOREFLEX PRICING AND TARIFF PLAN
Additional information about MoreFlex 


moreflex bundles renew automatically on expiration or exhaustion.

to opt out of auto renewal, dial *344*0#.



moreflex bundles are valid till 11.59pm of the expiry day.

you can also enjoy receiver pays, blackberry services and data plans.

ALSO READ>>>
http://www.9jatechs.com/t757-9mobile-morelife-complete-tariff-plan-subscription-details-and-benefits#999
http://www.9jatechs.com/t762-9mobile-moreflex-evolution-tariff-plan-subscription-details-and-benefits#1005
http://www.9jatechs.com/t755-9mobile-more-talk-tariff-plan-subscription-details-and-benefits#997
http://www.9jatechs.com/t763-9mobile-launches-new-tariff-plans-check-out-the-offers-and-migration-codes#1006