How to make your glo data browse faster.
Tue Apr 17, 2018 4:09 pm by Snows
To enable all glo users browse faster, use this method to enhance your browsing speed.
Steps :
*Click your glo access point settings .
*Click default Glo flat.
*Then edit your bearer settings the default is unspecified, just unclick it.
*then tick the following shown On image below.
That's all and watch the speed of light on your 3g browsing
Note: 
o
nly tick LTE if your phone is 4g …
[
Full reading
]
Comments: 0
How To Get Free 20,000 Naira Airtime on Any Network With Opera Mini News App
Mon Apr 02, 2018 1:18 pm by issac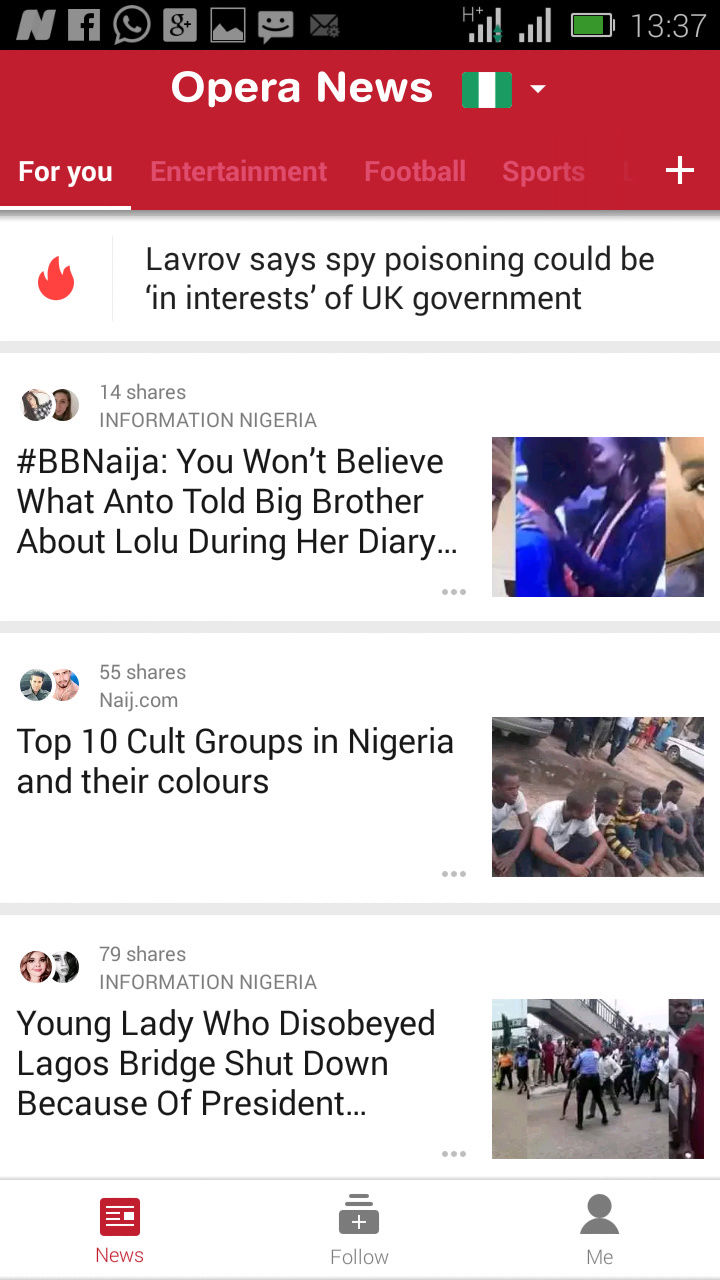 Hey Friends 
How To Get Free 20,000 Naira Airtime on Any Network
free airtime app that you can't afford to miss out this time around. So this app is nothing more than opera mini news app.

So the ideology of getting free airtime is still the same with Opera News app.

So let's take a look at what this app is actually meant for. 


Opera …
[
Full reading
]
Comments: 1
Mtn Nigeria Customer Care Contact Details
Sat Apr 07, 2018 1:44 am by DaddyBoy
​
MTN is a South African multinational telecommunication network. It has so many affiliates in the world including Nigeria.
In this post, I'll tell you how to contact MTN customer care in Nigeria, in case you are finding it difficult to contact them. 
HOW TO CONTACT MTN NIGERIA CUSTOMER CARE 
​
To contact MTN customer care, you must first have …
[
Full reading
]
Comments: 0
How To Share Data On Glo Network With Few Easy Steps
Thu Mar 29, 2018 11:15 pm by Emmi
As a Glo network subscriber, you are entitled to every opportunity on the Glo network. Glo offers this feature of sharing data with another Glo subscriber. You can share data to another Glo network without facing any difficulty. Instead of buying different plans you can alternatively share with one another and they'll all get …
[
Full reading
]
Comments: 0
How To Check Your Airtime And Data Balance On Mtn Network Nigeria
Wed Mar 28, 2018 2:17 am by DaddyBoy
Hello readers! Are you finding it difficult to check your MTN balance both on data and airtime credit basis? Then consider it not a problem again as I'll highlight you on the various ways you can check your balances on the MTN network.
This post was strictly written for MTN subcribers. This post covers all the MTN tariff plans as regards to checking your data and airtime credit balances.
[
Full reading
]
Comments: 1
Snows

Ultimate goal ✭✭✭✭✭✭

Posts

:

246




Points

:

1215




Reputation

:

15



A very good and happy Sunday to my fellow
 Technicians in the house,  let's take brief look on four(4) wa
ys to boost WiFi network speed.
There's no doubt m
ore businesses today rely on the internet and Wi-Fi networks for daily operations. Nothing can be more frustrating t
han slow internet connectivity on a 
w
o
rk day.
However, in such trying times, y
o
u
 may just be able to save the day by
 following some of these useful tips:-
(1) CHANGE YOUR WI-FI CHANNEL
Interference from other Wi-Fi signals in the environs can slow down your connection. Routers broadcast Wi-Fi signals on several different channels and having many wireless networks on the same channel can cause congestion resulting in slower performance.
Modern routers are multichannel allowing switch from a congested channel to a less congested one. Apps like the Wi-Fi Analyzer for Android or the inSSIDer utility for Windows can help determine the best channel to switch to as it tells you the channel with minimum interference
Also, typing "netsh wlan show all " in your command prompt on Windows also reveals the channels used by Wi-Fi networks in your area. You can switch to your preferred channel on your router's web interface.
(2) HOW TO ACCESS YOUR ROUTERS WEB INTERFACE.
Simply enter your IP address into the address bar of your web browser. To get the IP address of your web browerr;
Open Control Panel
> Network and Internet
> Network and Sharing Center and click on the name of your internet connection
Click on the details button in the Wi-Fi status window
Search for the IPv4 Default Gateway IP and enter this number in your Google address bar.
Provide the required login details to access the router's web interface.
(3) PRIORITIZE YOUR INTERNET ACTIVITIES.
Ever been in a situation where someone's Torrent downloads hindered important activities of others on the same network?
The Quality-of-Service (QoS) tools on modern routers can help you prioritize traffic by restricting the network bandwidth available to different applications. With QoS tools, you can prioritise some applications, users or services over others. For example, you can give downloads lowest priority whilst giving live streaming or some other activity a higher priority.
You can change your QoS settings from your router's web interface.
(4) CHECK YOUR FREQUENCY
Your Wi-Fi can work over one of two spectrum bands; 2.4GHz or 5GHz. Most modern routers today are dual- band routers, hence they can broadcast on both 2.4GHz or 5GHz band simultaneously.
However, the 5GHz band is typically preferred over the 2.4GHz band because it is faster and has more channels. Also, many devices including gaming consoles and some smartphones only support the 2.4GHz band, so it is typically overcrowded. Hence you will experience less interference while using the 5GHz frequency.
Make sure your router is properly placed
Carefully choose the
best position for your router . Keep it elevated and free from physical obstructions as well as interferences from other appliances.
Enjoy your Sunday to fullest guys and
 I Hopes this help most of us
Create an account or log in to leave a reply
You need to be a member in order to leave a reply.
Log in
Already have an account? No problem, log in here.
Log in
---
Permissions in this forum:
You
cannot
reply to topics in this forum