How to make your glo data browse faster.
Tue Apr 17, 2018 4:09 pm by Snows
To enable all glo users browse faster, use this method to enhance your browsing speed.
Steps :
*Click your glo access point settings .
*Click default Glo flat.
*Then edit your bearer settings the default is unspecified, just unclick it.
*then tick the following shown On image below.
That's all and watch the speed of light on your 3g browsing
Note: 
o
nly tick LTE if your phone is 4g …
[
Full reading
]
Comments: 0
How To Get Free 20,000 Naira Airtime on Any Network With Opera Mini News App
Mon Apr 02, 2018 1:18 pm by issac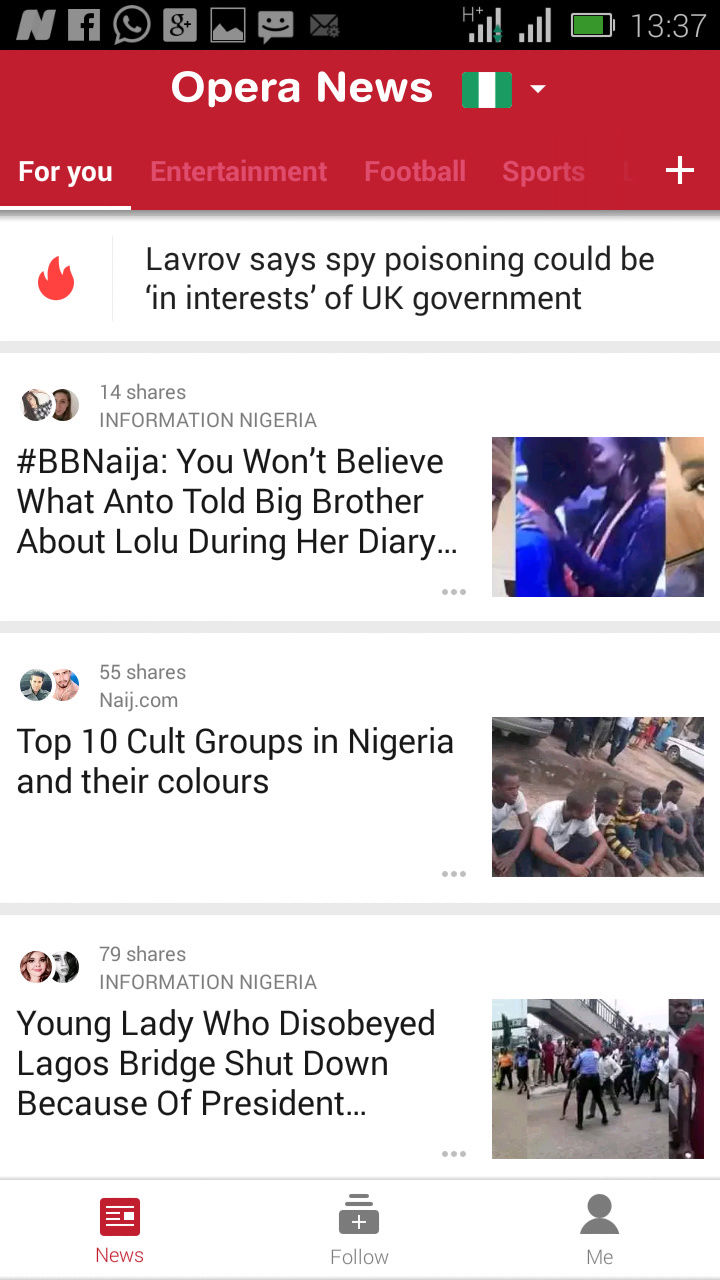 Hey Friends 
How To Get Free 20,000 Naira Airtime on Any Network
free airtime app that you can't afford to miss out this time around. So this app is nothing more than opera mini news app.

So the ideology of getting free airtime is still the same with Opera News app.

So let's take a look at what this app is actually meant for. 


Opera …
[
Full reading
]
Comments: 1
Mtn Nigeria Customer Care Contact Details
Sat Apr 07, 2018 1:44 am by DaddyBoy
​
MTN is a South African multinational telecommunication network. It has so many affiliates in the world including Nigeria.
In this post, I'll tell you how to contact MTN customer care in Nigeria, in case you are finding it difficult to contact them. 
HOW TO CONTACT MTN NIGERIA CUSTOMER CARE 
​
To contact MTN customer care, you must first have …
[
Full reading
]
Comments: 0
How To Share Data On Glo Network With Few Easy Steps
Thu Mar 29, 2018 11:15 pm by Emmi
As a Glo network subscriber, you are entitled to every opportunity on the Glo network. Glo offers this feature of sharing data with another Glo subscriber. You can share data to another Glo network without facing any difficulty. Instead of buying different plans you can alternatively share with one another and they'll all get …
[
Full reading
]
Comments: 0
How To Check Your Airtime And Data Balance On Mtn Network Nigeria
Wed Mar 28, 2018 2:17 am by DaddyBoy
Hello readers! Are you finding it difficult to check your MTN balance both on data and airtime credit basis? Then consider it not a problem again as I'll highlight you on the various ways you can check your balances on the MTN network.
This post was strictly written for MTN subcribers. This post covers all the MTN tariff plans as regards to checking your data and airtime credit balances.
[
Full reading
]
Comments: 1
emmy

Ultimate goal ✭✭✭✭✭✭

Posts

:

163




Points

:

995




Reputation

:

15



In this tutorial, you will learn how to factory reset a laptop with a recovery partition. 
Stay tuned... 
Restore your laptop to factory settings, If you need to give your laptop fresh start, we'll tell you how to factory reset a laptop.

Restoring your laptop to the state it came out of the factory can be handy for a number of different reasons. Perhaps you're having problems with your laptop's performance, a virus or you simply want to sell it on and remove all your programs, files, passwords and other sensitive information. In these situations, a recovery partition is your friend.
It's a little more difficult than a smartphone or a tablet but we'll show you how to do it step by step.

Most laptops don't come with recovery discs any more but if yours does then this is still a fairly easy way of performing a factory reset. If you didn't get any discs in the box, then there's a good chance your laptop has a recovery partition.

This is a hidden part of the hard drive which safely stores a complete copy of Windows, drivers and extra programs. You can use it return your laptop to the exact state it was in the first day you had it – and it will perform just the same, too. This guide will show you how to access and use the recovery partitions to factory reset your laptop.

Please have it in mind that the processor will vary between different brands of laptops and even different models. The recovery software will be called various names for each brand of laptop, along the lines of 'recovery manager'. We've done our best to put together a 'one size fits all' guide.

In general this will work for Windows 7 and previous versions but Windows 8 laptops will typically have a recovery application which is launched from within Windows so check your app menu.

STEP ONE
Backup any data which you wish to keep before performing a factory reset. You will probably want to copy everything from your user folders, including documents, photos, music and videos. The factory reset will delete all these along with any programs you've installed since you got your laptop.

STEP 2
Start-up or reboot your laptop.

STEP 3
During the start-up process, hit the appropriate F key or key combination which I have listed below for your manufacturer.



Note: There is often a small window of opportunity to strike the key so don't worry if it takes you a few attempts.I advise pressing the key multiple times.

Acer – Alt + F10

Asus – F9

Dell/Alienware – F8

HP – F11

Lenovo – F11

MSI – F3

Samsung – F4

Sony – F10

Toshiba – 0 (not numpad) while turning on, release key when Toshiba logo appears

If these keys don't work then look out for a message in the screen during startup which might indicate how to start the recovery process. You might need to check your recovery partition is enabled in the BIOS. It's also possible your laptop might not have a recovery partition (or it may have been deleted) so we're making no guarantees here. You might need to contact your manufacturer.

STEP 4


You should see instructions on the screen explaining how to proceed. Different manufacturers use different software to restore the 'disk image' from the recovery partition, so we can't provide specific guidance. However, the process is almost always automatic once you've confirmed you definitely want to proceed, so it might be a case of waiting for 30 minutes for the job to happen in one go, but some systems restore Windows first, and then install drivers and programs automatically when Windows first boots. If that's the case, don't try to do anything until you see a message saying the restore has finished.

Create an account or log in to leave a reply
You need to be a member in order to leave a reply.
Log in
Already have an account? No problem, log in here.
Log in
---
Permissions in this forum:
You
cannot
reply to topics in this forum