How to make your glo data browse faster.
Tue Apr 17, 2018 4:09 pm by Snows
To enable all glo users browse faster, use this method to enhance your browsing speed.
Steps :
*Click your glo access point settings .
*Click default Glo flat.
*Then edit your bearer settings the default is unspecified, just unclick it.
*then tick the following shown On image below.
That's all and watch the speed of light on your 3g browsing
Note: 
o
nly tick LTE if your phone is 4g …
[
Full reading
]
Comments: 0
How To Get Free 20,000 Naira Airtime on Any Network With Opera Mini News App
Mon Apr 02, 2018 1:18 pm by issac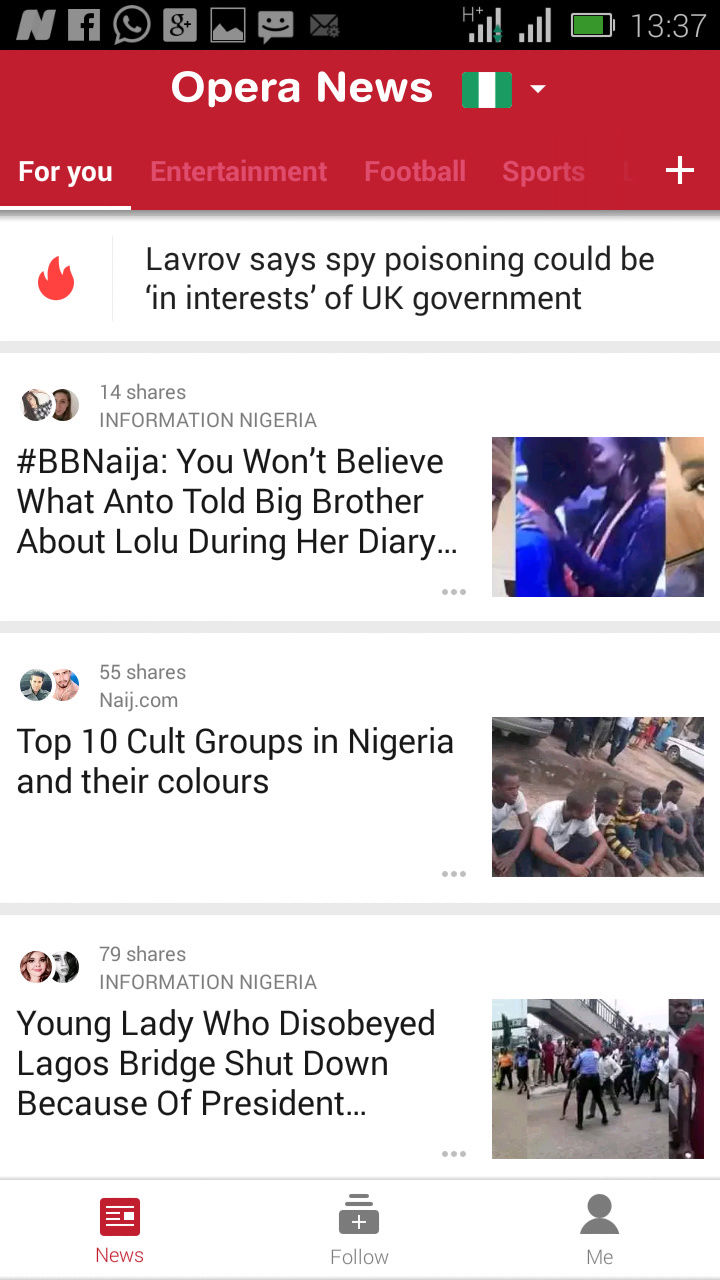 Hey Friends 
How To Get Free 20,000 Naira Airtime on Any Network
free airtime app that you can't afford to miss out this time around. So this app is nothing more than opera mini news app.

So the ideology of getting free airtime is still the same with Opera News app.

So let's take a look at what this app is actually meant for. 


Opera …
[
Full reading
]
Comments: 1
Mtn Nigeria Customer Care Contact Details
Sat Apr 07, 2018 1:44 am by DaddyBoy
​
MTN is a South African multinational telecommunication network. It has so many affiliates in the world including Nigeria.
In this post, I'll tell you how to contact MTN customer care in Nigeria, in case you are finding it difficult to contact them. 
HOW TO CONTACT MTN NIGERIA CUSTOMER CARE 
​
To contact MTN customer care, you must first have …
[
Full reading
]
Comments: 0
How To Share Data On Glo Network With Few Easy Steps
Thu Mar 29, 2018 11:15 pm by Emmi
As a Glo network subscriber, you are entitled to every opportunity on the Glo network. Glo offers this feature of sharing data with another Glo subscriber. You can share data to another Glo network without facing any difficulty. Instead of buying different plans you can alternatively share with one another and they'll all get …
[
Full reading
]
Comments: 0
How To Check Your Airtime And Data Balance On Mtn Network Nigeria
Wed Mar 28, 2018 2:17 am by DaddyBoy
Hello readers! Are you finding it difficult to check your MTN balance both on data and airtime credit basis? Then consider it not a problem again as I'll highlight you on the various ways you can check your balances on the MTN network.
This post was strictly written for MTN subcribers. This post covers all the MTN tariff plans as regards to checking your data and airtime credit balances.
[
Full reading
]
Comments: 1
Snows

Ultimate goal ✭✭✭✭✭✭

Posts

:

246




Points

:

1215




Reputation

:

15



 Hey technicians, 
tonight we would be looking on how to run WhatsApp on our computer.
No doubt WhatsApp is clearly a great messaging app -- it just reached one billion daily users . But it's not always ideal to be holding huge conversations on your smartphone.
You might not know that WhatsApp isn't just bound to your phone, though. You can use it on your computer, too. This lets you get a better look at photos, makes reading lengthy paragraphs a little more manageable, and allows you to scroll faster through group messages to get to what you're looking for.
Here's how to set up WhatsApp Web so you have access to the app in two places instead of one. Once you do this, all of your messages will be synched between the two devices.
Anyone with the following phones can set up WhatsApp Web:
*Android
*iPhone ( iOS 8.1 and higher)
*Windows (8.0 and 8.1)
*Nokia S60
*Nokia S40 EVO
*BlackBerry
*BlackBerry 10
If you have one of those phones, you're set to get started. The first thing you'll need to do is go to web.whatsapp.com on your computer. Make sure your phone is still using data or a Wi-Fi connection. You can only access WhatsApp Web if your phone is working since that's the main connection for your account.
You should see the screen below after you follow the link.
You'll see a QR code when you go to WhatsApp Web.
The next step is opening up WhatsApp on your phone and signaling that you want to use WhatsApp Web.
Here's how to do so on each compatible phone.
On Android: in the Chats screen > Menu > WhatsApp Web.
On Nokia S60 and Windows Phone: go to
Menu > WhatsApp Web .
On iPhone: go to Settings > WhatsApp Web .
On BlackBerry: go to Chats > Menu >
WhatsApp Web.
On BlackBerry 10: Swipe down from top of the screen > WhatsApp Web.
On Nokia S40: Swipe up from bottom of screen > WhatsApp Web.
This is what it looks like on iPhone. Once you hit "WhatsApp Web/Desktop" the app will access your phone's camera so you can scan the QR code on your computer.
Use your phone to scan the QR code.
After you scan the QR code, WhatsApp Web will open up so you can start chatting away. If you have any previous conservations on your mobile app, they will all show up here.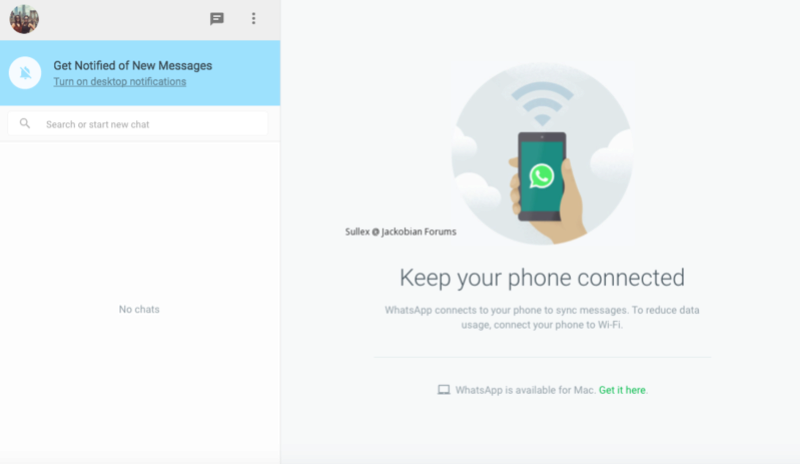 Continue conversations on WhatsApp Web.
You can also download WhatsApp Web for your Mac or Windows PC if you'd rather do that. Mac users will need Mac OS X 10.9 and higher and Windows users will need Windows 8 nd higher.
The whole set up should take less than five minutes, so you might as well do it right away. Then just start enjoying WhatsApp in all the places 
y
ou
 c
an!
 In case you're confused, am here to help you out......
Use the comment box to ask your questions
Create an account or log in to leave a reply
You need to be a member in order to leave a reply.
Log in
Already have an account? No problem, log in here.
Log in
---
Permissions in this forum:
You
cannot
reply to topics in this forum