How to make your glo data browse faster.
Tue Apr 17, 2018 4:09 pm by Snows
To enable all glo users browse faster, use this method to enhance your browsing speed.
Steps :
*Click your glo access point settings .
*Click default Glo flat.
*Then edit your bearer settings the default is unspecified, just unclick it.
*then tick the following shown On image below.
That's all and watch the speed of light on your 3g browsing
Note: 
o
nly tick LTE if your phone is 4g …
[
Full reading
]
Comments: 0
How To Get Free 20,000 Naira Airtime on Any Network With Opera Mini News App
Mon Apr 02, 2018 1:18 pm by issac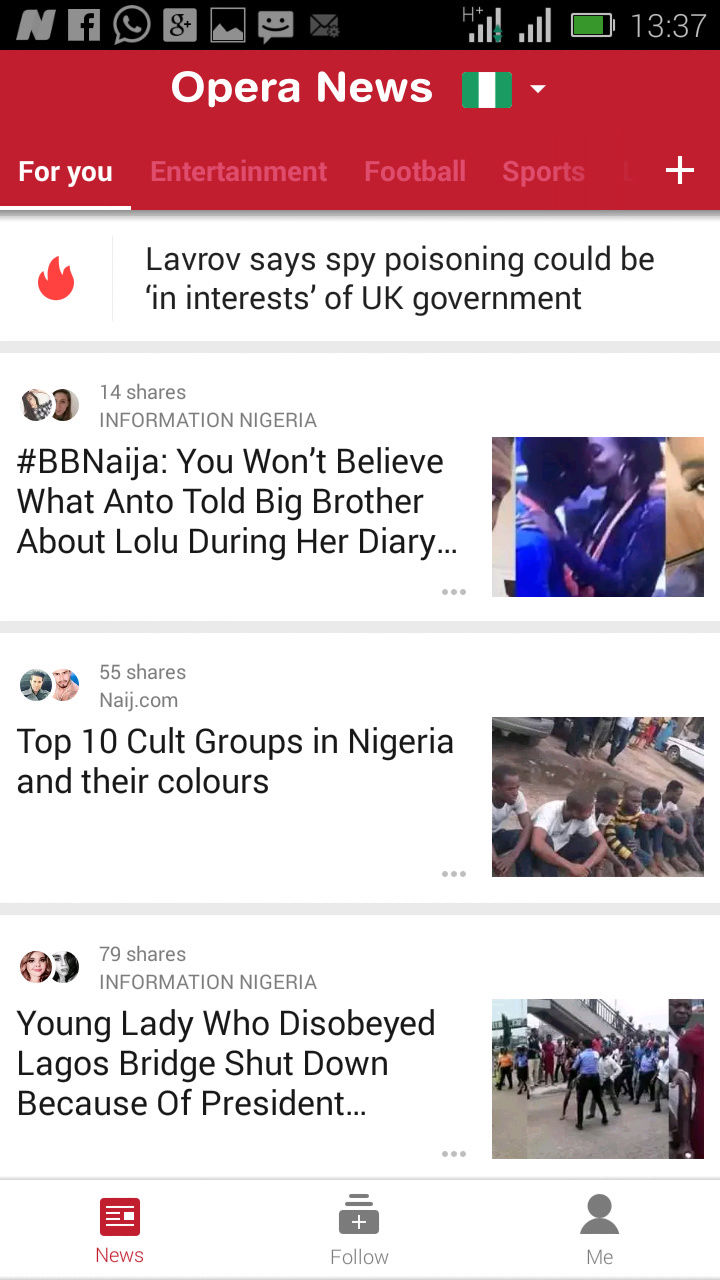 Hey Friends 
How To Get Free 20,000 Naira Airtime on Any Network
free airtime app that you can't afford to miss out this time around. So this app is nothing more than opera mini news app.

So the ideology of getting free airtime is still the same with Opera News app.

So let's take a look at what this app is actually meant for. 


Opera …
[
Full reading
]
Comments: 1
Mtn Nigeria Customer Care Contact Details
Sat Apr 07, 2018 1:44 am by DaddyBoy
​
MTN is a South African multinational telecommunication network. It has so many affiliates in the world including Nigeria.
In this post, I'll tell you how to contact MTN customer care in Nigeria, in case you are finding it difficult to contact them. 
HOW TO CONTACT MTN NIGERIA CUSTOMER CARE 
​
To contact MTN customer care, you must first have …
[
Full reading
]
Comments: 0
How To Share Data On Glo Network With Few Easy Steps
Thu Mar 29, 2018 11:15 pm by Emmi
As a Glo network subscriber, you are entitled to every opportunity on the Glo network. Glo offers this feature of sharing data with another Glo subscriber. You can share data to another Glo network without facing any difficulty. Instead of buying different plans you can alternatively share with one another and they'll all get …
[
Full reading
]
Comments: 0
How To Check Your Airtime And Data Balance On Mtn Network Nigeria
Wed Mar 28, 2018 2:17 am by DaddyBoy
Hello readers! Are you finding it difficult to check your MTN balance both on data and airtime credit basis? Then consider it not a problem again as I'll highlight you on the various ways you can check your balances on the MTN network.
This post was strictly written for MTN subcribers. This post covers all the MTN tariff plans as regards to checking your data and airtime credit balances.
[
Full reading
]
Comments: 1
The cyber criminals behind the global Wannacry ransomware attack that caused chaos worldwide have finally cashed out their ransom payments.
Nearly three months ago, the WannaCry ransomware shut down hospitals, telecom providers, and many businesses worldwide, infecting hundreds of thousands of computers in more than 150 countries, encrypting files and then charging victims $300-$600 for the keys.
WannaCry was really bad, as the nasty ransomware force the British NHS (National Health Service) to shut down hospitals and doctor's surgeries, and infected a Spanish telecommunications company and Russian mobile operator, among much more.
Even a month after the outbreak, the WannaCry ransomware was found infecting systems at Honda Motor Company, forcing the factory to shut down its production, and 55 speed and traffic light cameras in Victoria, Australia.
Overall, the hackers behind WannaCry made $140,000 in Bitcoins from the victims who paid for the decryption keys—but for almost three months, they did not touch three of their wallets where victims were instructed to send ransom payments.
However, the WannaCry hackers started cashing out their cryptocurrencies on Wednesday night.
According to a Twitter Bot tracking WannaCry ransom payments, only 338 victims paid the $300 in Bitcoin that totalled $140,000.
On Wednesday night, this money was withdrawn in 7 different payments within 15 minutes, although it is not clear where the money is being sent, or how the attacker will use it.
If you are unaware, we recently reported about Google's research on how cyber criminals and ransomware hackers cash out their stolen or looted cryptocurrencies via cryptocurrency exchanges that are involved in money laundering.
Last week, even German authorities arrested an alleged operator of the popular BTC-e Bitcoin exchange on charges of Laundering over 4 billion in Bitcoin for culprits involved in hacking attacks, tax fraud and drug trafficking without identifying them.
The identity behind the WannaCry ransomware is still unknown, though some researchers traced back WannaCry to a state-sponsored hacking group called Lazarus in North Korea, while other believed the perpetrators might be Chinese.
The WannaCry epidemic was using self-spreading capabilities by leveraging leaked NSA's SMBv1 exploit, called EternalBlue, to infect vulnerable Windows computers, particularly those using older versions of the operating system.
While most of the affected organisations have now returned to normal, law enforcement agencie
s
 across the world are still on the hunt.
Create an account or log in to leave a reply
You need to be a member in order to leave a reply.
Log in
Already have an account? No problem, log in here.
Log in
---
Permissions in this forum:
You
cannot
reply to topics in this forum