How to make your glo data browse faster.
Tue Apr 17, 2018 4:09 pm by Snows
To enable all glo users browse faster, use this method to enhance your browsing speed.
Steps :
*Click your glo access point settings .
*Click default Glo flat.
*Then edit your bearer settings the default is unspecified, just unclick it.
*then tick the following shown On image below.
That's all and watch the speed of light on your 3g browsing
Note: 
o
nly tick LTE if your phone is 4g …
[
Full reading
]
Comments: 0
How To Get Free 20,000 Naira Airtime on Any Network With Opera Mini News App
Mon Apr 02, 2018 1:18 pm by issac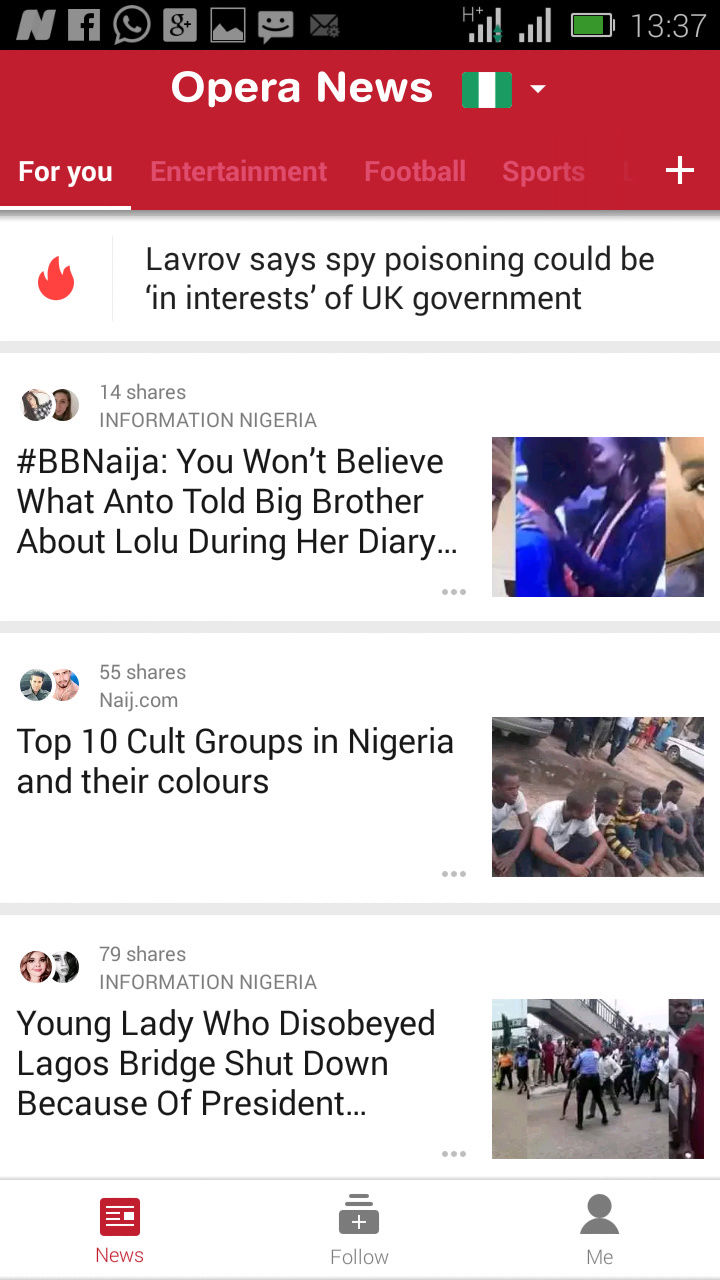 Hey Friends 
How To Get Free 20,000 Naira Airtime on Any Network
free airtime app that you can't afford to miss out this time around. So this app is nothing more than opera mini news app.

So the ideology of getting free airtime is still the same with Opera News app.

So let's take a look at what this app is actually meant for. 


Opera …
[
Full reading
]
Comments: 1
Mtn Nigeria Customer Care Contact Details
Sat Apr 07, 2018 1:44 am by DaddyBoy
​
MTN is a South African multinational telecommunication network. It has so many affiliates in the world including Nigeria.
In this post, I'll tell you how to contact MTN customer care in Nigeria, in case you are finding it difficult to contact them. 
HOW TO CONTACT MTN NIGERIA CUSTOMER CARE 
​
To contact MTN customer care, you must first have …
[
Full reading
]
Comments: 0
How To Share Data On Glo Network With Few Easy Steps
Thu Mar 29, 2018 11:15 pm by Emmi
As a Glo network subscriber, you are entitled to every opportunity on the Glo network. Glo offers this feature of sharing data with another Glo subscriber. You can share data to another Glo network without facing any difficulty. Instead of buying different plans you can alternatively share with one another and they'll all get …
[
Full reading
]
Comments: 0
How To Check Your Airtime And Data Balance On Mtn Network Nigeria
Wed Mar 28, 2018 2:17 am by DaddyBoy
Hello readers! Are you finding it difficult to check your MTN balance both on data and airtime credit basis? Then consider it not a problem again as I'll highlight you on the various ways you can check your balances on the MTN network.
This post was strictly written for MTN subcribers. This post covers all the MTN tariff plans as regards to checking your data and airtime credit balances.
[
Full reading
]
Comments: 1
emmy

Ultimate goal ✭✭✭✭✭✭

Posts

:

163




Points

:

995




Reputation

:

15



Facebook is reportedly working on dedicated video chat hardware, per a new report by Bloomberg. The device is said to be the inaugural major product from Facebook's hardware-focused Building 8 product development lab, and will include a notebook-sized display. It's intended to make video chat participants separated geographically feel like they're together in the same space, the report claims.
Bloomberg's report also claims Building 8 is developing a separate smart speaker product, similar to Amazon's Echo and Google Home, which would use a voice assistant developed by the social network provider. Facebook CEO Mark Zuckerberg developed his own home voice assistant as part of a project resulting from his annual resolutions, which in 2016 focused on building a smart home companion similar to Jarvis from Iron Man.
This isn't the first we've heard of a smart speaker in development at Facebook – a report last week sourced from DigiTimes suggested that the company's supply chain sources indicated a smart speaker with an integrated 15-inch display was on track for a potential first quarter 2018 launch.
Based on the details of this new report, it sounds like the smart speaker and device with a 15-inch display may actually be two separate products. The 15-inch screen would fit with this fresh suggestion of a device with a laptop-sized screen tailored for video chat, at least.
Bloomberg also says the video chat gadget will include a wide-angle camera, built-in microphones and speakers, with artificial intelligence tech used to improve its photographic (offering zoom and lock features on people's faces) and audio performance. In testing, it's being supported by a thin stand that supports the display, which could reportedly be between 13 and 15-inches in size. FB is said to be considering Android for the OS, rather than its own in-house operating system.
Facebook has also tested a 360-degree camera for the device, which would fit with their push to bring 360 video to their social platform, but that won't be ready in time for its initial planned product launch. It's reportedly set to retail for "a few hundred dollars," Bloomberg reports, with the standalone smart speaker aiming to sell for somewhere around $100; that speaker could be sidelined entirely, too, if Facebook decides to focus entirely on the video chat hardware.
A video chat device could make sense for Facebook in a number of ways, including as a way to lower the friction of video chat to make it accessible to a broad user base, rather than making it an additional service that requires logins and apps on platforms designed for general purpose use. Plus, it could integrate with Facebook Messenger, making that chat platform even more of a default option for broad communication, and helping it grow as a customer service transaction platform at the same time.
Create an account or log in to leave a reply
You need to be a member in order to leave a reply.
Log in
Already have an account? No problem, log in here.
Log in
---
Permissions in this forum:
You
cannot
reply to topics in this forum