How to make your glo data browse faster.
Tue Apr 17, 2018 4:09 pm by Snows
To enable all glo users browse faster, use this method to enhance your browsing speed.
Steps :
*Click your glo access point settings .
*Click default Glo flat.
*Then edit your bearer settings the default is unspecified, just unclick it.
*then tick the following shown On image below.
That's all and watch the speed of light on your 3g browsing
Note: 
o
nly tick LTE if your phone is 4g …
[
Full reading
]
Comments: 0
How To Get Free 20,000 Naira Airtime on Any Network With Opera Mini News App
Mon Apr 02, 2018 1:18 pm by issac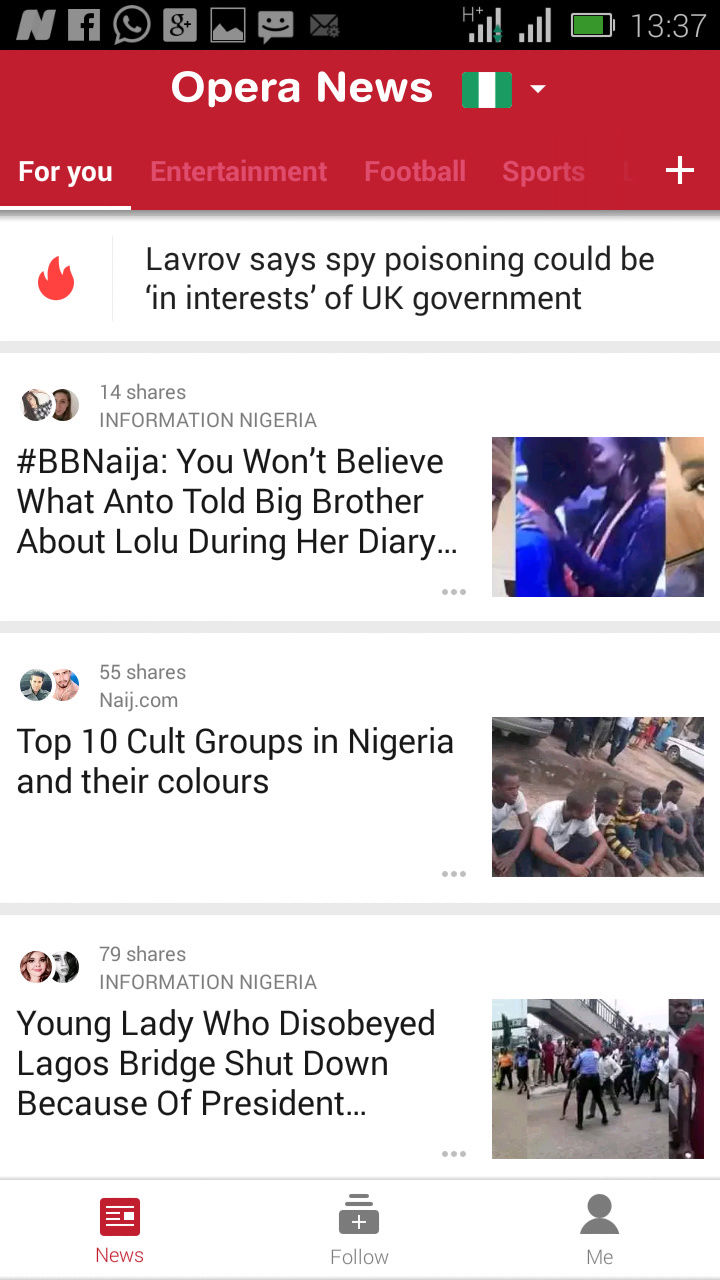 Hey Friends 
How To Get Free 20,000 Naira Airtime on Any Network
free airtime app that you can't afford to miss out this time around. So this app is nothing more than opera mini news app.

So the ideology of getting free airtime is still the same with Opera News app.

So let's take a look at what this app is actually meant for. 


Opera …
[
Full reading
]
Comments: 1
Mtn Nigeria Customer Care Contact Details
Sat Apr 07, 2018 1:44 am by DaddyBoy
​
MTN is a South African multinational telecommunication network. It has so many affiliates in the world including Nigeria.
In this post, I'll tell you how to contact MTN customer care in Nigeria, in case you are finding it difficult to contact them. 
HOW TO CONTACT MTN NIGERIA CUSTOMER CARE 
​
To contact MTN customer care, you must first have …
[
Full reading
]
Comments: 0
How To Share Data On Glo Network With Few Easy Steps
Thu Mar 29, 2018 11:15 pm by Emmi
As a Glo network subscriber, you are entitled to every opportunity on the Glo network. Glo offers this feature of sharing data with another Glo subscriber. You can share data to another Glo network without facing any difficulty. Instead of buying different plans you can alternatively share with one another and they'll all get …
[
Full reading
]
Comments: 0
How To Check Your Airtime And Data Balance On Mtn Network Nigeria
Wed Mar 28, 2018 2:17 am by DaddyBoy
Hello readers! Are you finding it difficult to check your MTN balance both on data and airtime credit basis? Then consider it not a problem again as I'll highlight you on the various ways you can check your balances on the MTN network.
This post was strictly written for MTN subcribers. This post covers all the MTN tariff plans as regards to checking your data and airtime credit balances.
[
Full reading
]
Comments: 1
No matter how hard you try or how meticulously you care for it, your notebook is going to show signs of age over time. Keycaps wear down and get that off-putting, shiny-plastic look. Dirt, crumbs, and gunk get stuck in the keyboard and other crevices, while lint and dust build up in virtually every crack, seam and open port. Don't forget those inevitable scratches and nicks, on your pC. The same degradations are going on inside your laptop, too: Dense heatsinks become clogged with gunk. Thermal interface materials weaken and loosen the bond between said heatsink and your processor. All of it conspires to cause your laptop to overheat, whir loudly, or become instable or even fail (in extreme-enough conditions).
Fortunately, there's plenty you can do to make a trusty old laptop run like new. Throw in a couple of
upgrades while you're at it, and the system may even run better than it did when you first took it out of the box. Cleaning the exterior Cleaning and restoring
the exterior features of a notebook is straightforward, but you don't want to go attacking the machine with harsh cleansers or chemicals, which could damage the screen or finish. Here's what you ideally need for an exterior clean-up: -Canned air -Small brush -Mild
vinegar-based glass cleaner, or LCD-specific cleaner -Cotton swabs -Paper towels, lint-free cloth (Optional) Scotch-Brite pad and polishing compound.
Applying some gentle cleaner to a lint-free cloth and wiping down the exterior of your laptop will do away with any light dirt and grunge, while the small brush
and canned air will make quick work of any dust and other junk. Don't spray chemicals directly onto your laptop, and try not to get liquid inside your case.
Flip the machine over and mash the keys to dislodge any debris from under the keyboard, then hit it with a few blasts of canned air. You'll be shocked at what comes flying out. Repeat the process a few times as necessary. Some keyboard!s may scoff at the idea of using canned air because it may force the debris into the key-switches, but I've never had an
issue. Parts that have been scratched or worn down and shiny may never regain their original glory, but a Scotch-Brite pad and a little elbow grease will dull the
shalaalalaal\Aine and result in a less-noticeable matte finish onaal
any shiny plastic surfaces. More serious scratches— or painted surfaces that have become lightly
scratched and—can be minimized using a bit of polishing compound.
Diving into the interior
Cleaning the interior of a notebook is another story altogether. Even for experienced tinkerers, opening up the system and keeping track of all of the screws and small parts can be difficult. Compounding the problem, no two notebooks are the same. If you're up for the task, however, cleaning a notebook's internals can quiet down noisy cooling fans and quell any heat-
related instability or noise.
Need we say, make sure the notebook is powered off completely before you rip into it. A small screwdriver is all you'll likely need to open up your
notebook, though there may be screws with different heads—like torx, pentalobes, or Allen—and different lengths, and clips that need to be disengaged as well.
I'd strongly advise mapping them out first and placing each part in a bin or container that'll make it easy to remember exactly where it came from inside your laptop. I'd also recommend searching for a service manual for your particular notebook, or even hitting up YouTube for disassembly instructions. You may also find that additional screws or clips are located beneath drive bays and other access panels, so move slowly and be meticulous as you navigate the machine.
Interior cleaning: Steady as she goes
I used an aged Compaq X1000 for this project. The machine had over a dozen screws holding it together,
some of which ran along the edges of the machines near the I/O ports and hinges.
Once all of the screws had been removed, I disconnected any components (like the hard drive and optical drive) and found a couple of additional screws in the hard drive bay. When I removed those, I was able to remove the whole underside of the notebook.
However, I had to carefully pry the edges of the enclosure over the I/O ports and eject button for the
notebook's expansion slot. In the majority of mainstream notebooks thataren't crammed full of gaming-grade gear, you're likely to find a single cooling apparatus, which links the processor, graphics processor (if the notebook has one), and the chipset. A couple of heat-plates, with a heat-pipe connecting them, will snake across all of the chips and link to an array of thin heat-sink fins. The notebook's cooling fan will likely sit adjacent to or directly on top of the heat sink. Use the canned air and brush to gently clean any dust from the fan and heat sink, and then find the screws or fasteners holding the cooling hardware in place. Once you disengage the fasteners, the fan should pop right off the chips.
With the heat-sink assembly removed, clean any old thermal interface material from heat-plates and chips, then apply a new layer of TIM before re-installing the
heatsink assembly. You should use only a tiny amount
—just enough for a paper-thin layer. The techniques are essentially the same for both desktops and laptops. Reassemble the notebook and you're good
to go! Effective upgrades You may want to upgrade some components to give your freshened-up laptop a performance boost to match, especially since you'll already have the machine open. Replacing major components like a CPU or GPU isn't really possible, but adding more RAM and moving from a traditional hard drive to an
SSD can also be very effective upgrades. Adding more RAM to your laptop is normally as simple as replacing the existing SO-DIMM (or DIMM) memory modules with ones of larger capacity, or by installing a second memory module of similar speed and
capacity to the first if there's an open slot. Upgrading the notebook hard drive to an SSD can be a bit more difficult, especially if you want to clone your OS and data over from a hard drive. Notebook computers can be cleaned and upgraded— with the proper planning and care. It's certainly worth your time to tinker before sending it to the e-waste bin. The laptop you save could be your own.
Create an account or log in to leave a reply
You need to be a member in order to leave a reply.
Log in
Already have an account? No problem, log in here.
Log in
---
Permissions in this forum:
You
cannot
reply to topics in this forum