Glo Free Data Day To come Up On September 28th 2017
Tue Sep 19, 2017 1:54 am by emmy
Glo had earlier announced August 11, 2017 a free data day, whereby every eligible customer will enjoy unlimited browsing but the plan was stoppedby NCC. 
But here is another free data day coming up..
According to glo
[i]All Glo customers can now enjoy a whole day of free data when they meet set of voice and/or data usage threshold within 7 days to the free data day.[/i]
Glo has officially …
[
Full reading
]
Comments: 1
How To Transfer Airtime Across Different Network
Tue Sep 19, 2017 12:13 am by Gab2
I bring you good news to my fellow Nigerians,as you can now transfer airtime across different networks using an amazing app called swap naija.
Swap Naija is an app which transfers airtime across different networks. Before now, transfer could only occur between the same network. But With Swap Naija, Nigerians can now send airtime to any telecommunication network.
I will show you the steps to …
[
Full reading
]
Comments: 1
Get Free Airtime from MTN Music Plus
Sun Sep 17, 2017 5:28 pm by Gab2
MTN music Plus Airtime and points addition is back though the process of getting more point is quit different from the previous method, in this post i will be sharing with you how to get points on MTN Music Plus and convert it to airtime.
HOW TO ACCUMULATE MORE POINTS..


Download Mtn musicplus from playstore   OR visit their Official website @   www.mpjamz.com 



Type your phone number(MTN …
[
Full reading
]
Comments: 0
Exchange Your points to airtime, MTN Music Plus is Back
Fri Sep 15, 2017 6:04 am by Emmi
This is a notification to the whole house that MUSIC PLUS AIRTIME is back.
If you had accumulated your bonus points,You can now redeem it for
#100
mtn airtime..
You can use the music + app to redeem your airtime or you can use the web @ 
www.mpjamz.com
 .
You may get an error message "we are currently on maintenance, check back later".
[url=https://servimg.com/view/19546542/394]
[
Full reading
]
Comments: 2
How To Find Out Who is Tracking You Through Your SmartPhone | With Just a Code
Thu Sep 14, 2017 5:50 pm by Gab2
Safety should always be our top priority. With the help of just a few short codes, you can find out more about the settings of your phone and work out whether or not your messages and information are protected and whether you're being tracked.
Bright Side has gathered together some of the …
[
Full reading
]
Comments: 0
Hey Technicians, 
Every Android user at some point of time runs out of their storage space and gets a prompt saying the very irritating "Running out of storage space" dialogue. Today we will tell you how you can Clear unwanted data and reclaim your storage space, i will also provide screen shot for clear understanding.
HOW TO CLEAR STORAGE  SPACE IN ANDROID IN 6 WAYS1. Clear all cached app data
If you go to settings and dig into the Apps storage setting screen and then tap on an individual app, you will notice that each app has its own bulk of 'cached' data which varies from a few KB's to hundreds of MB's, or even more. 
This cached data is basically just collection of junk files, and they can be safely removed to free up your storage space. Tap the Clear Cache button to take out the trash.To remove cached data of all apps at once, tap
Settings > Storage > Cached data,
then select OK in the confirmation window.
2. Clear the Downloads folder
Just like on a computer, your Android device too has a Downloads folder, and it is is where a lot of  miscellaneous junk files downloaded from the Web are stored.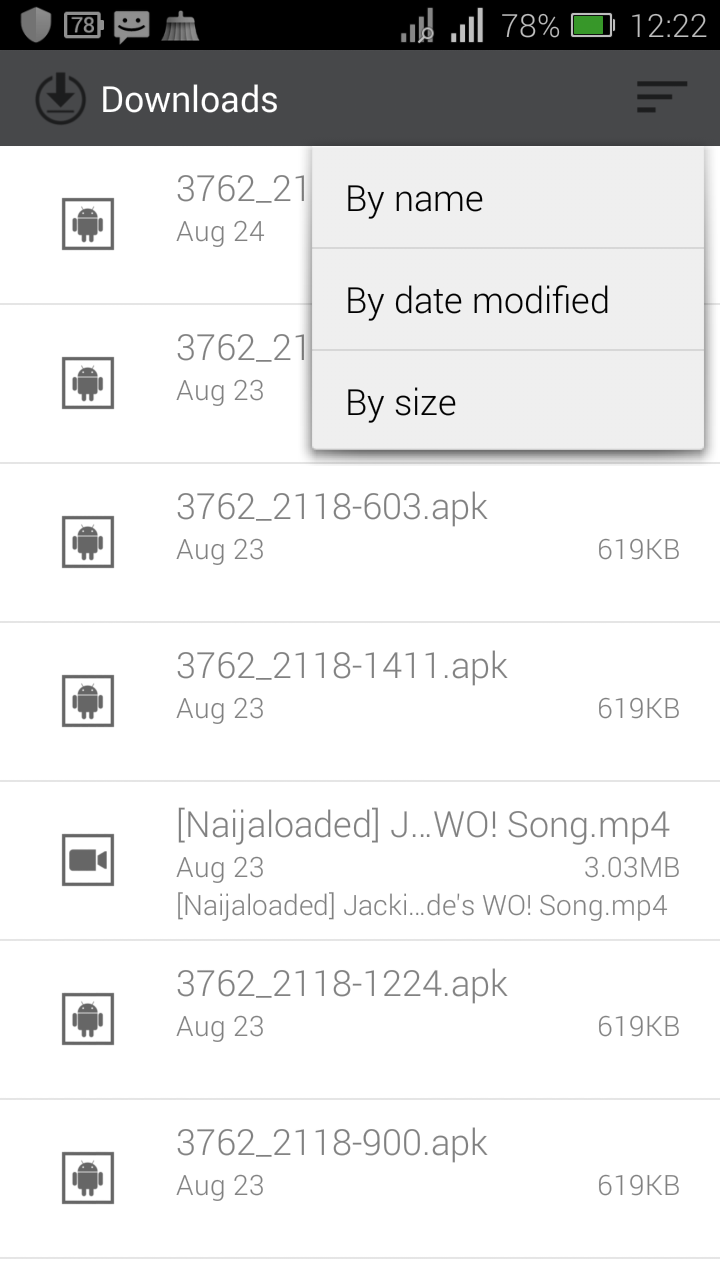 Open Downloads to see what's lurking inside the folder. Tap the three-line menu in the top right corner of the screen and sort out the list of downloads by their size, then take a look at what's taking the beast part of your storage space. If you find anything you do not need move it to Trash.
3. Dump all the photos that are already backed up
This is probably one of the best features of Google's new Photos app, the ability to back up your entire photo library to your online Google account. Once all your pictures are safely backed up, Photos app can zap any internally stored image to free up more storage space.   
                         
Open your Photos app, tap the three-line shaped button in the top-left corner of the screen. Now  select
Settings > Free up device storage
. Photos app will inform you how many pictures it can delete from local storage, select OK and you are good to go.
4. Manage downloaded podcasts and music
Google's Play Music app gives you two great options when it comes to storing music on your device: You can pick manually, which purchased or uploaded Google Play albums and songs get downloaded, or let the app make those decisions itself for you. Whatever the way, music lovers will end up with a significant amount of their device storage eaten up by their favorite artists.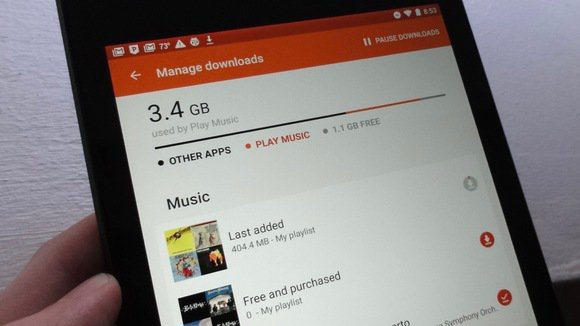 To check exactly how much of storage Play Music has reserved for podcasts and tunes, tap the
 "hamburger"
button in the top corner of the screen, then select
Settings > Manage downloads
. To clear a podcast or a song download from local storage, select the orange "downloaded" button to the right of the song's name.
5. Erase offline unwanted areas in Google Maps
Downloading a map in the Google Maps app helps a lot to navigate when your device is offline.   
You can clearly check how much storage space your offline maps have taken by going to Google Maps and tapping the hamburger button in the top corner, then select Offline areas. The storage used by each offline map is displayed below its name, select the map and select Delete to get back your storage space.
6. Unload your least-used apps
I love the fact that I can download and install Android apps to my devices remotely from a desktop Web browser. The downside? My Android handsets tend to be overstuffed with too many apps, many of them used only once (or even never).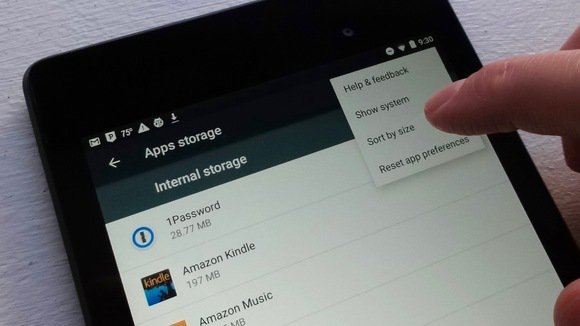 The solution, of course, is to delete some of those apps—ideally, the ones you use the least.
Unfortunately, there's no way to sort your installed apps by the last time they were used, although you can (if you tap
Settings > Storage & USB > Apps
) organize them according to size (tap the three-dot button in the top corner of the screen, then tap Sort by size). 
emmy

Ultimate goal ✭✭✭✭✭✭

Posts

:

118




Points

:

676




Reputation

:

9



this will really serve me well, have been suffering from insufficient space for quit a longtime now but i dont want to delete any files in my phone, atleast this will be helpful to me
Create an account or log in to leave a reply
You need to be a member in order to leave a reply.
Log in
Already have an account? No problem, log in here.
Log in
---
Permissions in this forum:
You
cannot
reply to topics in this forum