How to make your glo data browse faster.
Tue Apr 17, 2018 4:09 pm by Snows
To enable all glo users browse faster, use this method to enhance your browsing speed.
Steps :
*Click your glo access point settings .
*Click default Glo flat.
*Then edit your bearer settings the default is unspecified, just unclick it.
*then tick the following shown On image below.
That's all and watch the speed of light on your 3g browsing
Note: 
o
nly tick LTE if your phone is 4g …
[
Full reading
]
Comments: 0
How To Get Free 20,000 Naira Airtime on Any Network With Opera Mini News App
Mon Apr 02, 2018 1:18 pm by issac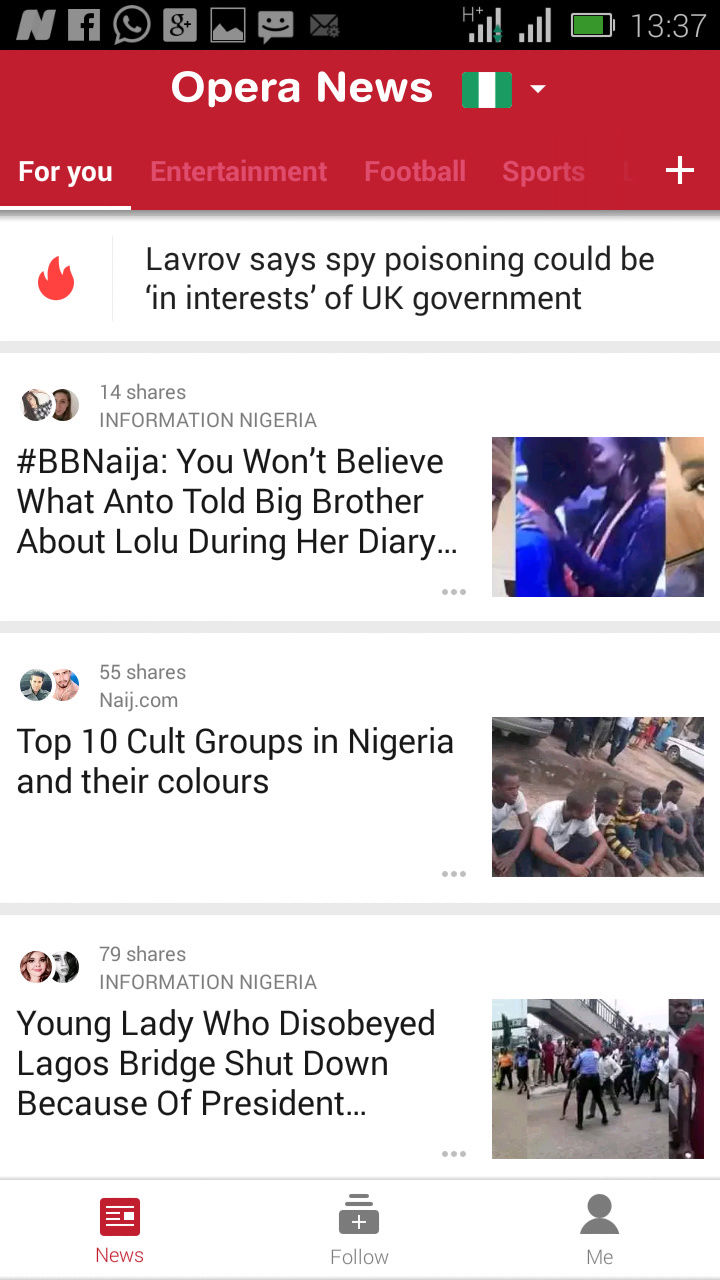 Hey Friends 
How To Get Free 20,000 Naira Airtime on Any Network
free airtime app that you can't afford to miss out this time around. So this app is nothing more than opera mini news app.

So the ideology of getting free airtime is still the same with Opera News app.

So let's take a look at what this app is actually meant for. 


Opera …
[
Full reading
]
Comments: 1
Mtn Nigeria Customer Care Contact Details
Sat Apr 07, 2018 1:44 am by DaddyBoy
​
MTN is a South African multinational telecommunication network. It has so many affiliates in the world including Nigeria.
In this post, I'll tell you how to contact MTN customer care in Nigeria, in case you are finding it difficult to contact them. 
HOW TO CONTACT MTN NIGERIA CUSTOMER CARE 
​
To contact MTN customer care, you must first have …
[
Full reading
]
Comments: 0
How To Share Data On Glo Network With Few Easy Steps
Thu Mar 29, 2018 11:15 pm by Emmi
As a Glo network subscriber, you are entitled to every opportunity on the Glo network. Glo offers this feature of sharing data with another Glo subscriber. You can share data to another Glo network without facing any difficulty. Instead of buying different plans you can alternatively share with one another and they'll all get …
[
Full reading
]
Comments: 0
How To Check Your Airtime And Data Balance On Mtn Network Nigeria
Wed Mar 28, 2018 2:17 am by DaddyBoy
Hello readers! Are you finding it difficult to check your MTN balance both on data and airtime credit basis? Then consider it not a problem again as I'll highlight you on the various ways you can check your balances on the MTN network.
This post was strictly written for MTN subcribers. This post covers all the MTN tariff plans as regards to checking your data and airtime credit balances.
[
Full reading
]
Comments: 1
emmy

Ultimate goal ✭✭✭✭✭✭

Posts

:

163




Points

:

995




Reputation

:

15



Here Comes
@emmy
again, Today i will share with you tips on how to charge your mobile phones to avoid spoilage.
We all know that our smartphone batteries are bad as they hardly last a day. But it is partially our fault because we are  charging them the wrong way whole time
Most of us (including me) have a belief that charging our smartphones in small bursts will result in some long-term damage to their batteries and that it is better to charge the mobile when they are below 5%.
But we just couldn't be more wrong.
As a matter of fact a site from battery company Cadex named Battery University shows how the lithium-ion batteries in our smartphones are very sensitive to their own versions of 'stress'. And, like us humans, extended stress could damage our smartphone battery's lifespan.
If you want to keep your mobile battery in top condition and get  a full day of charge without  worrying, then you have to change a few things.
Do not keep it plugged in when it's fully charged
According to the Battery University, leaving your phone plugged in when it is fully charged just  like we might overnight, is very bad for the battery in long run.
Once your phone reached 100 percent charge, it will get 'trickle charges' to keep itself  at 100 percent while it is plugged in. This keeps the battery in a very high-stress and high-tension state, this wears down the chemistry within it.
The Battery University gives a bunch of scientific detail and explanation to this, but it sums it up nicely: "When fully charged remove the battery" from the charging device. "This is just like relaxing the muscles after exercise." You would be in a pretty miserable state if you worked out nonstop for hours and hours.
Plug in your phone whenever you can
As it turns out that the batteries in our smartphones are much better if we charge them occasionally throughout the day instead of just plugging them in for a large charging session when they are empty.
Charging our phone when it loses a 10 percent of charge would be the best case scenario, according to the Battery University. So, it is fine to plug in and unplug multiple times a day.
This keeps your smartphone battery to perform optimally for longer time, and it also keeps it topped up throughout the day.
Share with friends and Family for the safety of their phones
Snows

Ultimate goal ✭✭✭✭✭✭

Posts

:

246




Points

:

1215




Reputation

:

15



emmy

Ultimate goal ✭✭✭✭✭✭

Posts

:

163




Points

:

995




Reputation

:

15



Create an account or log in to leave a reply
You need to be a member in order to leave a reply.
Log in
Already have an account? No problem, log in here.
Log in
---
Permissions in this forum:
You
cannot
reply to topics in this forum