Top posting users this month
How To Borrow Real Cash From MTN Using MTN XtraCash Package 2018
Tue Apr 24, 2018 2:11 am by DaddyBoy
As technology changes everything change also because as time goes on new things are been developed and upgrades are been made, the MTN Nigeria company has indeed upgraded their services to a high standard that MTN users can now borrow Real cash from MTN Using MTN XtraCash systems. 

[url=https://3.bp.blogspot.com/-APwMqDh2838/Wt5Tv7k6q8I/AAAAAAAAELU/Uaa7lD3y044Ws1wM7AvywquOXJP6TdIagCLcBGAs/s1600/images%2826%29.jpg][img(280px,186px):fcfa]…[/img(280px,186px):fcfa]
[
Full reading
]
Comments: 0
How to make your glo data browse faster.
Tue Apr 17, 2018 4:09 pm by Snows
To enable all glo users browse faster, use this method to enhance your browsing speed.
Steps :
*Click your glo access point settings .
*Click default Glo flat.
*Then edit your bearer settings the default is unspecified, just unclick it.
*then tick the following shown On image below.
That's all and watch the speed of light on your 3g browsing
Note: 
o
nly tick LTE if your phone is 4g …
[
Full reading
]
Comments: 0
How To Get Free 20,000 Naira Airtime on Any Network With Opera Mini News App
Mon Apr 02, 2018 1:18 pm by issac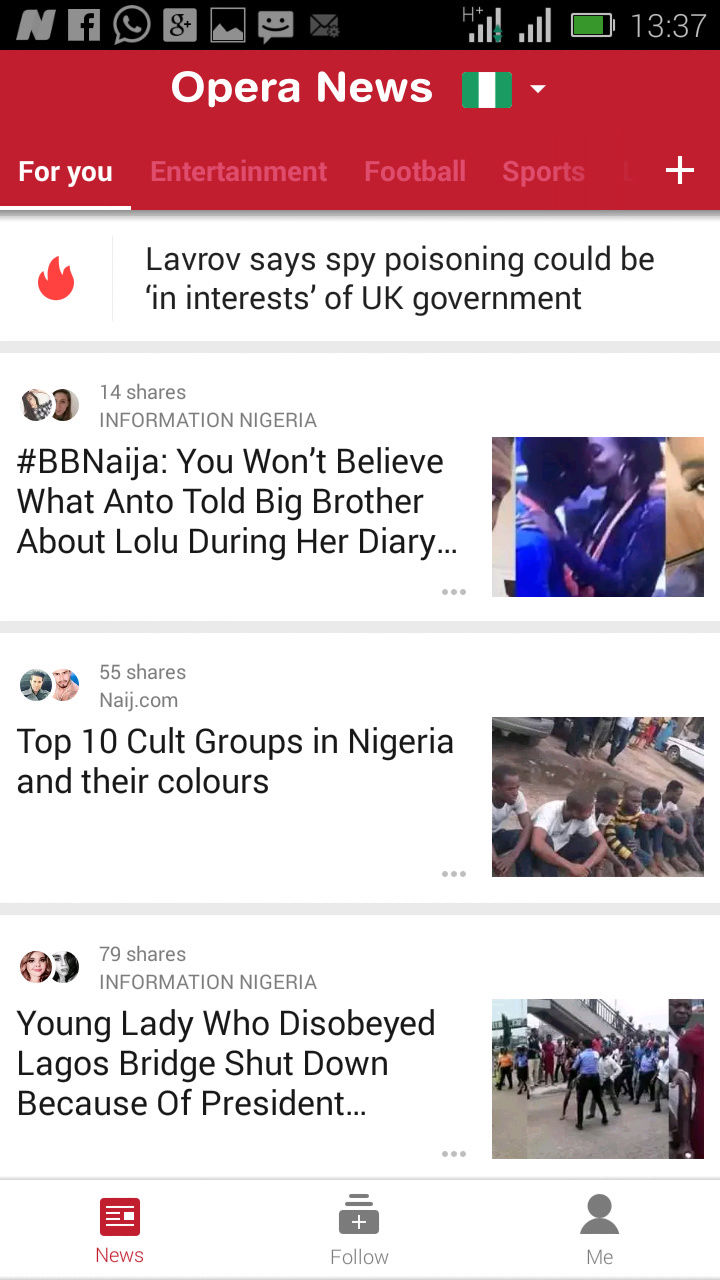 Hey Friends 
How To Get Free 20,000 Naira Airtime on Any Network
free airtime app that you can't afford to miss out this time around. So this app is nothing more than opera mini news app.

So the ideology of getting free airtime is still the same with Opera News app.

So let's take a look at what this app is actually meant for. 


Opera …
[
Full reading
]
Comments: 1
Mtn Nigeria Customer Care Contact Details
Sat Apr 07, 2018 1:44 am by DaddyBoy
​
MTN is a South African multinational telecommunication network. It has so many affiliates in the world including Nigeria.
In this post, I'll tell you how to contact MTN customer care in Nigeria, in case you are finding it difficult to contact them. 
HOW TO CONTACT MTN NIGERIA CUSTOMER CARE 
​
To contact MTN customer care, you must first have …
[
Full reading
]
Comments: 0
How To Share Data On Glo Network With Few Easy Steps
Thu Mar 29, 2018 11:15 pm by Emmi
As a Glo network subscriber, you are entitled to every opportunity on the Glo network. Glo offers this feature of sharing data with another Glo subscriber. You can share data to another Glo network without facing any difficulty. Instead of buying different plans you can alternatively share with one another and they'll all get …
[
Full reading
]
Comments: 0
One of the most annoying things about Facebook is that it lacks a solid search tool. It's just impossible to find that great post, article, or video you came across a few days earlier. With a little presence of mind, however, you can save yourself from having to scroll through a friend's posts to find that essential link. Facebook introduced a "save" feature nearly two years ago, which lets you stash anything you see on Facebook to a private area of your account.
You can use this feature to create a read-it-later list, a collection of funny videos, a scrapbook of interesting posts, or a big jumble of everything. This feature may get even better in the coming months as Facebook recently announced a new Save to Facebook button for websites. This will let you grab items from third-party sites for your saved section on Facebook without having to leave the page you're on
Today, we'll just stick with how to use Facebook's save feature when you come across interesting items on your own news feed. This feature exists on the mobile apps, but we'll be covering how to use it from your PC.
How To Save To Facebook
When you come across content in your feed that you want to save, click the downward-facing arrow in the upper right-hand corner of the post box. After the hide post and unfollow options you'll see an option to save the content. It will say something like "save video," " save post," or "save link." You may also see options to "save product" if what you're saving contains a link to a commercial website like Amazon.
Once you see the save option, click on it, and a small confirmation banner will appear above the post that says 

Added to Saved

.
Now, whenever you want to see your saved items you can either navigate to 

Facebook.com/saved

, or click on the 

Saved

link in the left hand navigation panel. The saved icon only shows up after you've started saving items.
That's all there is to it. Any items you save to Facebook on your PC will also show up on the mobile apps—including the mobile web app.
Click Here To Like 9Jatechs Forums Facebook Page For Latest Free Browsing and Tech Updates

Create an account or log in to leave a reply
You need to be a member in order to leave a reply.
Log in
Already have an account? No problem, log in here.
Log in
---
Permissions in this forum:
You
cannot
reply to topics in this forum