Top posting users this month
How To Borrow Real Cash From MTN Using MTN XtraCash Package 2018
Tue Apr 24, 2018 2:11 am by DaddyBoy
As technology changes everything change also because as time goes on new things are been developed and upgrades are been made, the MTN Nigeria company has indeed upgraded their services to a high standard that MTN users can now borrow Real cash from MTN Using MTN XtraCash systems. 

[url=https://3.bp.blogspot.com/-APwMqDh2838/Wt5Tv7k6q8I/AAAAAAAAELU/Uaa7lD3y044Ws1wM7AvywquOXJP6TdIagCLcBGAs/s1600/images%2826%29.jpg][img(280px,186px):fcfa]…[/img(280px,186px):fcfa]
[
Full reading
]
Comments: 0
How to make your glo data browse faster.
Tue Apr 17, 2018 4:09 pm by Snows
To enable all glo users browse faster, use this method to enhance your browsing speed.
Steps :
*Click your glo access point settings .
*Click default Glo flat.
*Then edit your bearer settings the default is unspecified, just unclick it.
*then tick the following shown On image below.
That's all and watch the speed of light on your 3g browsing
Note: 
o
nly tick LTE if your phone is 4g …
[
Full reading
]
Comments: 0
How To Get Free 20,000 Naira Airtime on Any Network With Opera Mini News App
Mon Apr 02, 2018 1:18 pm by issac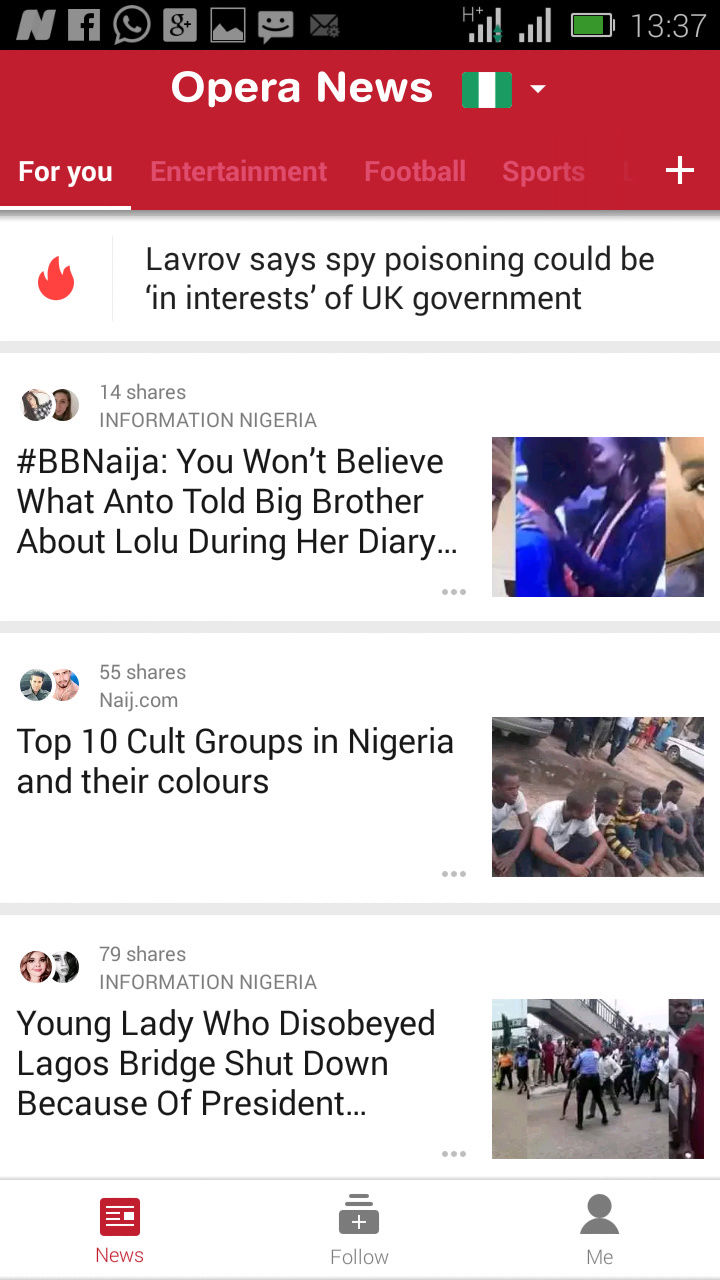 Hey Friends 
How To Get Free 20,000 Naira Airtime on Any Network
free airtime app that you can't afford to miss out this time around. So this app is nothing more than opera mini news app.

So the ideology of getting free airtime is still the same with Opera News app.

So let's take a look at what this app is actually meant for. 


Opera …
[
Full reading
]
Comments: 1
Mtn Nigeria Customer Care Contact Details
Sat Apr 07, 2018 1:44 am by DaddyBoy
​
MTN is a South African multinational telecommunication network. It has so many affiliates in the world including Nigeria.
In this post, I'll tell you how to contact MTN customer care in Nigeria, in case you are finding it difficult to contact them. 
HOW TO CONTACT MTN NIGERIA CUSTOMER CARE 
​
To contact MTN customer care, you must first have …
[
Full reading
]
Comments: 0
How To Share Data On Glo Network With Few Easy Steps
Thu Mar 29, 2018 11:15 pm by Emmi
As a Glo network subscriber, you are entitled to every opportunity on the Glo network. Glo offers this feature of sharing data with another Glo subscriber. You can share data to another Glo network without facing any difficulty. Instead of buying different plans you can alternatively share with one another and they'll all get …
[
Full reading
]
Comments: 0
emmy

Ultimate goal ✭✭✭✭✭✭

Posts

:

163




Points

:

999




Reputation

:

15



We all happen to have duplicate files on our computer and they waste a lot of precious space on our hard drive. If you are someone who uses an SSD the pain is more for you. Here is how you can remove duplicate files and free up some disk space.

We recommend some programs here. Each one we suggest below comes with a clean installer which won't try to install any crapware on your system. We hate that just as much as you.
How to Find and Remove Duplicate Files on Windows
dupeGuru is an awesome application for this purpose. It is completely free and comes in three styles: dupeGuru Music Edition, dupeGuru, and dupeGuru Pictures Edition. The pictures and music editions are specific for  finding similar pictures and music files. For example, the pictures edition will find duplicates of the same photo even if they have been rotated, resized, or slightly edited . Or the music edition will find copies of the same song, even if they are in different MP3 files that are encoded at a different bitrates. This tool makes use of a "fuzzy match" algorithm which is capable of finding files that are identical and also the ones that are very similar to each other.
DupeGuru is a completely open-source software. The installer will not attempt to drag any toolbars or other junk onto your system, and it is not even trying to hook you to anything.
The interface is simple, and easy to use. Just open it, add a few folders or drives you want to scan, and click Scan. You will see a list of copies of files, from which you can select and delete the files to remove. Double-click a file in the list to open and examine it.
HOPE THIS HEPLS?
Take your time to comment your opinion below.
Create an account or log in to leave a reply
You need to be a member in order to leave a reply.
Log in
Already have an account? No problem, log in here.
Log in
---
Permissions in this forum:
You
cannot
reply to topics in this forum