How to make your glo data browse faster.
Tue Apr 17, 2018 4:09 pm by Snows
To enable all glo users browse faster, use this method to enhance your browsing speed.
Steps :
*Click your glo access point settings .
*Click default Glo flat.
*Then edit your bearer settings the default is unspecified, just unclick it.
*then tick the following shown On image below.
That's all and watch the speed of light on your 3g browsing
Note: 
o
nly tick LTE if your phone is 4g …
[
Full reading
]
Comments: 0
How To Get Free 20,000 Naira Airtime on Any Network With Opera Mini News App
Mon Apr 02, 2018 1:18 pm by issac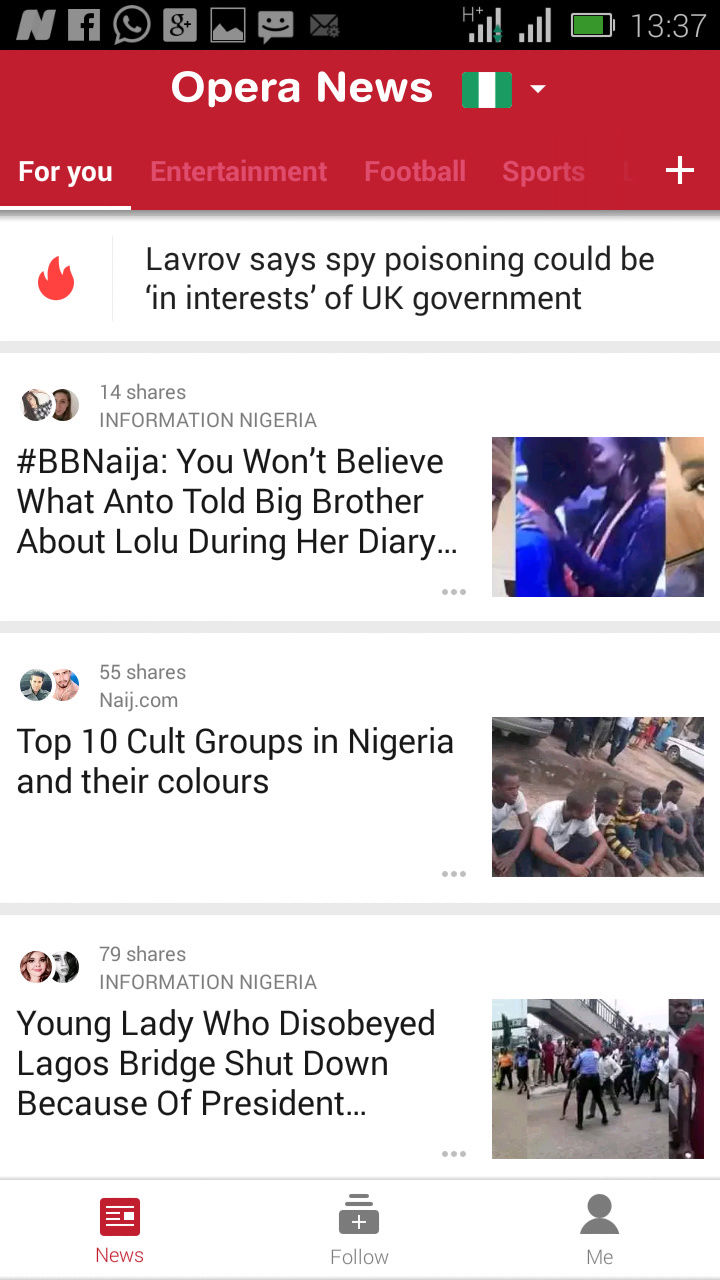 Hey Friends 
How To Get Free 20,000 Naira Airtime on Any Network
free airtime app that you can't afford to miss out this time around. So this app is nothing more than opera mini news app.

So the ideology of getting free airtime is still the same with Opera News app.

So let's take a look at what this app is actually meant for. 


Opera …
[
Full reading
]
Comments: 1
Mtn Nigeria Customer Care Contact Details
Sat Apr 07, 2018 1:44 am by DaddyBoy
​
MTN is a South African multinational telecommunication network. It has so many affiliates in the world including Nigeria.
In this post, I'll tell you how to contact MTN customer care in Nigeria, in case you are finding it difficult to contact them. 
HOW TO CONTACT MTN NIGERIA CUSTOMER CARE 
​
To contact MTN customer care, you must first have …
[
Full reading
]
Comments: 0
How To Share Data On Glo Network With Few Easy Steps
Thu Mar 29, 2018 11:15 pm by Emmi
As a Glo network subscriber, you are entitled to every opportunity on the Glo network. Glo offers this feature of sharing data with another Glo subscriber. You can share data to another Glo network without facing any difficulty. Instead of buying different plans you can alternatively share with one another and they'll all get …
[
Full reading
]
Comments: 0
How To Check Your Airtime And Data Balance On Mtn Network Nigeria
Wed Mar 28, 2018 2:17 am by DaddyBoy
Hello readers! Are you finding it difficult to check your MTN balance both on data and airtime credit basis? Then consider it not a problem again as I'll highlight you on the various ways you can check your balances on the MTN network.
This post was strictly written for MTN subcribers. This post covers all the MTN tariff plans as regards to checking your data and airtime credit balances.
[
Full reading
]
Comments: 1
Snows

Ultimate goal ✭✭✭✭✭✭

Posts

:

245




Points

:

1211




Reputation

:

15



When was the last time you where played a prank?.
I was played on April 1st when a friend really did made a fool of me, unno, fools day.
Can you imagine…
He made me leave home early in the morning all the way to school, running, breathing heavily and all that, with the thought that a quiz on a course (strength of materials actually, #engineers ) had just began, you can not begin to imagine how fast i ran(don't blame a guy for not checking his calendar we are Nigerians ) only to discover the guy was still in bed pressing the pause and play key on me .
Anyway that's what friends are for( they can do the "piss me off" thing and its all cool ), i must have my pound of flesh, (he aint seen nothing yet ) sending a blank message is just the beginning of all i have in stock.
Are you out of options of the latest prank to play a friend, Am here with a trick with which you can send a blank message in whatsapp and leave them confused
Yeah, confused like…
Please i have a problem with my device can you please resend, only for them to receive same and be like seems am having network issues (eh!! Data network issues, that's new).
You get the gist right?
Now unto it..
Performing this trick to send a blank message in WhatsApp, we will make good use of an android app.
Join me as we make this a success
Here's The Trick To Send Blank Message In WhatsApp
A little about WhatsApp
As we all know, WhatsApp is for now the best instant messaging app in the world, available in most operating systems including Android, IOS, Nokia, Blackberry and Java too.
The best and easy way to connect…
With WhatsApp all users can exchange messages, audios, videos and images in an unlimited manner and right now statistics count over 400 million active users who use this platform daily.
Now to the trick to send a blank message in WhatsApp and leave someone in the state of misma prisma .
This tutorial to send a blank message on WhatsApp is going to be as easy as it gets so don't fret, it's just a simple app.
Just like what it stands for, this app goes by the name EMPTY
We all know it's impossible to send a blank message on WhatsApp, but with empty installed on our device, this can be easy as hitting the send button and choosing a friend you wish to send the blank message to.
That easy? , yeah that easy..
How To Use Empty
Download The App
First things first, you need to download and install empty on your Android device, fellow the download link below to get that done without hitch.
Empty – Android-Apps auf Google Play
Download here
The Interface
Upon installation and opening of this app you will be faced with a screen which looks like the image below.
You see the send button, right?, click on it.
Do this next
Best part is you don't need any external app whatsoever, upon clicking on the send button shown in the screenshot above, choose the contact to whom you want to send a blank message in whatsapp to, and that's it.
You can do this as many times as you so wish to spike up the confusion.
And that's it on how to send a blank message to in WhatsApp, hope you enjoyed the piece.
Click Here To Like 9Jatechs Free Browsing Facebook Page 
Create an account or log in to leave a reply
You need to be a member in order to leave a reply.
Log in
Already have an account? No problem, log in here.
Log in
---
Permissions in this forum:
You
cannot
reply to topics in this forum