Top posting users this month
How To Borrow Real Cash From MTN Using MTN XtraCash Package 2018
Tue Apr 24, 2018 2:11 am by DaddyBoy
As technology changes everything change also because as time goes on new things are been developed and upgrades are been made, the MTN Nigeria company has indeed upgraded their services to a high standard that MTN users can now borrow Real cash from MTN Using MTN XtraCash systems. 

[url=https://3.bp.blogspot.com/-APwMqDh2838/Wt5Tv7k6q8I/AAAAAAAAELU/Uaa7lD3y044Ws1wM7AvywquOXJP6TdIagCLcBGAs/s1600/images%2826%29.jpg][img(280px,186px):fcfa]…[/img(280px,186px):fcfa]
[
Full reading
]
Comments: 0
How to make your glo data browse faster.
Tue Apr 17, 2018 4:09 pm by Snows
To enable all glo users browse faster, use this method to enhance your browsing speed.
Steps :
*Click your glo access point settings .
*Click default Glo flat.
*Then edit your bearer settings the default is unspecified, just unclick it.
*then tick the following shown On image below.
That's all and watch the speed of light on your 3g browsing
Note: 
o
nly tick LTE if your phone is 4g …
[
Full reading
]
Comments: 0
How To Get Free 20,000 Naira Airtime on Any Network With Opera Mini News App
Mon Apr 02, 2018 1:18 pm by issac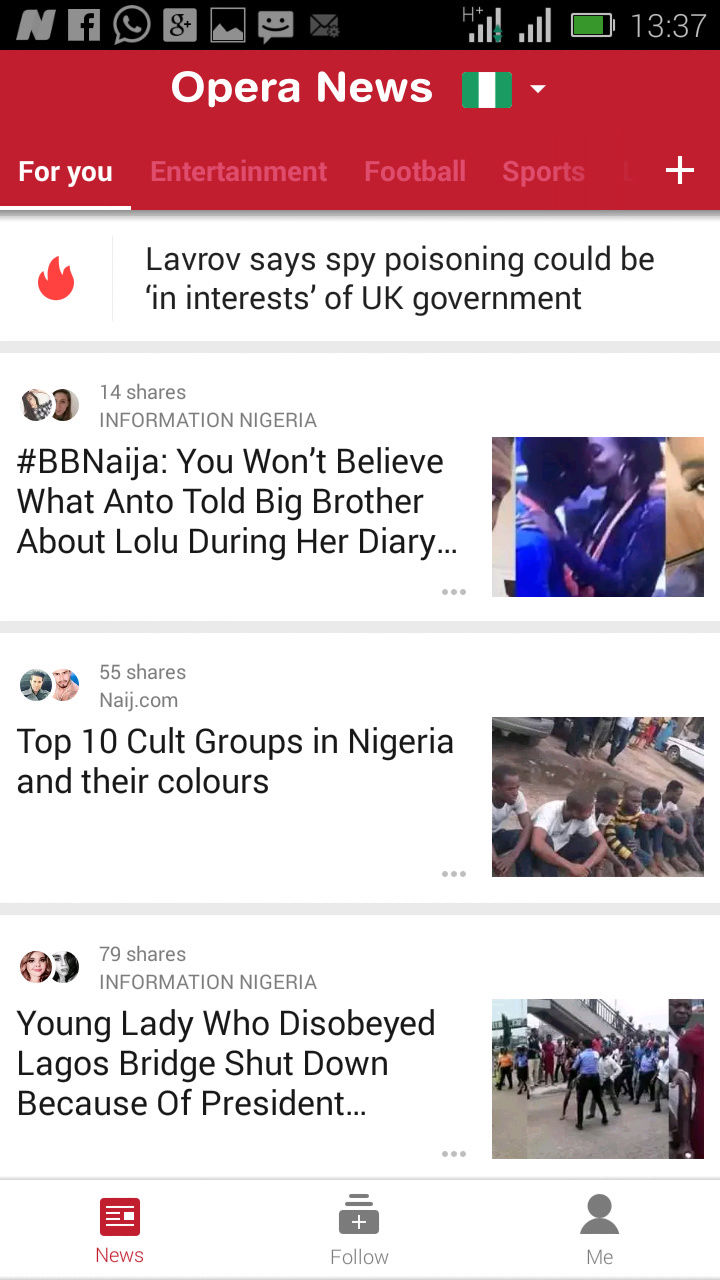 Hey Friends 
How To Get Free 20,000 Naira Airtime on Any Network
free airtime app that you can't afford to miss out this time around. So this app is nothing more than opera mini news app.

So the ideology of getting free airtime is still the same with Opera News app.

So let's take a look at what this app is actually meant for. 


Opera …
[
Full reading
]
Comments: 1
Mtn Nigeria Customer Care Contact Details
Sat Apr 07, 2018 1:44 am by DaddyBoy
​
MTN is a South African multinational telecommunication network. It has so many affiliates in the world including Nigeria.
In this post, I'll tell you how to contact MTN customer care in Nigeria, in case you are finding it difficult to contact them. 
HOW TO CONTACT MTN NIGERIA CUSTOMER CARE 
​
To contact MTN customer care, you must first have …
[
Full reading
]
Comments: 0
How To Share Data On Glo Network With Few Easy Steps
Thu Mar 29, 2018 11:15 pm by Emmi
As a Glo network subscriber, you are entitled to every opportunity on the Glo network. Glo offers this feature of sharing data with another Glo subscriber. You can share data to another Glo network without facing any difficulty. Instead of buying different plans you can alternatively share with one another and they'll all get …
[
Full reading
]
Comments: 0
emmy

Ultimate goal ✭✭✭✭✭✭

Posts

:

163




Points

:

1000




Reputation

:

15



Methods To Increase RAM On Your Android Smartphone
Lack of sufficient space in RAM (Random Access Memory) is one of the several issues faced by many Android users that hamper smartphones by not letting it run applications, heavy games and even performing multitasking efficiently. If your smartphone doesn't have enough RAM, then it can be a struggle.
In such a scenario, the importance of additional RAM cannot be overstated. While more storage space gives you more photos, more MP3s, or more video clips, additional RAM helps the processor to work more quickly, thereby helping in the playback (or even creation) of such files.
In this article, we provide you tips will help you to increase RAM on your Android device.
Method 1: Divide Your SD Card To Increase RAM On Android
In order to increase RAM on Android device, given below are the requirements:


Rooted smartphone Or rooted tablet



SD card (4 or higher SD Card)



SD card reader



Windows PC



Firstly, you need to divide your SD card. To do that, download MiniTool Partition Wizard from here. Install the application on your PC and connect your SD card to your PC with card reader.
Step 1: Open MiniTool Partition Wizard on your PC. Once the wizards opens, click on your SD card and choose Delete option.
Note: This will format your SD card completely. So, please ensure that you perform a complete backup of your SD card before you proceed with the next steps.
Step 2: Once it is successfully formatted, you will have enough space on your SD card as unallocated. Then, right click on SD card and choose "make" option. A popup box will open giving you options for making partition. If SD card is less than 4GB, choose the partition as primary and file system as FAT or if your SD Card is more than 4GB, then choose FAT32.
Step 3: Leave about 512 MB or more space (depending on your choice) for making the next partition. Then choose done and right click on unallocated space of your SD card. Again, click "make" option. Choose primary partition but change the file system to Ext2, Ext3 or Ext4.
Note: (Ext2 is not compulsory as most ROMs work fine with it.)
How To Make RAM Of SD Card on Android
Step 1: Click Apply Changes and then the process continues for few minutes. Now, the partition is completed. Install Link2sd from Google Play Store.
Step 2: When you launch the app for the first time, it will require the root permissions and then, it will ask you for the file system of the .ext partition that you had created earlier. Select the option as you had chosen during partition.
Step 3: Classify the apps according to size and start linking them.
Method 2: Using Roehsoft RAM Expander (Swap)
With the help of Roehsoft RAM expander, you can use your SD card as a working memory expansion. This means the more space on your SD card so huge would be your RAM space. Let's see how we can use it.
Step 1: Download and install Roehsoft Ram Expander (Swap) on your rooted Android device.
Step 2: After installation is done, open the app and grant it a superuser request.
Step 3: Now, you will get to see SDcard memory, Free RAM, Total Free RAM.
Step 4: You need to set the new size for your Swapfile.
Step 5: Just swipe over "Swap/active" and wait for a moment until the swap is executed.
Step 6: Now, choose the path or partition selection for the swap. Simply, select your SD card here.
Step 7: Then, go back to the main page and swipe over "Swap/active" and wait until the app finishes creating the swap file.
It's done! You will now notice that your Total free RAM has increased. This is the simplest way to expand RAM using the SD card.
Create an account or log in to leave a reply
You need to be a member in order to leave a reply.
Log in
Already have an account? No problem, log in here.
Log in
---
Permissions in this forum:
You
cannot
reply to topics in this forum