How to make your glo data browse faster.
Tue Apr 17, 2018 4:09 pm by Snows
To enable all glo users browse faster, use this method to enhance your browsing speed.
Steps :
*Click your glo access point settings .
*Click default Glo flat.
*Then edit your bearer settings the default is unspecified, just unclick it.
*then tick the following shown On image below.
That's all and watch the speed of light on your 3g browsing
Note: 
o
nly tick LTE if your phone is 4g …
[
Full reading
]
Comments: 0
How To Get Free 20,000 Naira Airtime on Any Network With Opera Mini News App
Mon Apr 02, 2018 1:18 pm by issac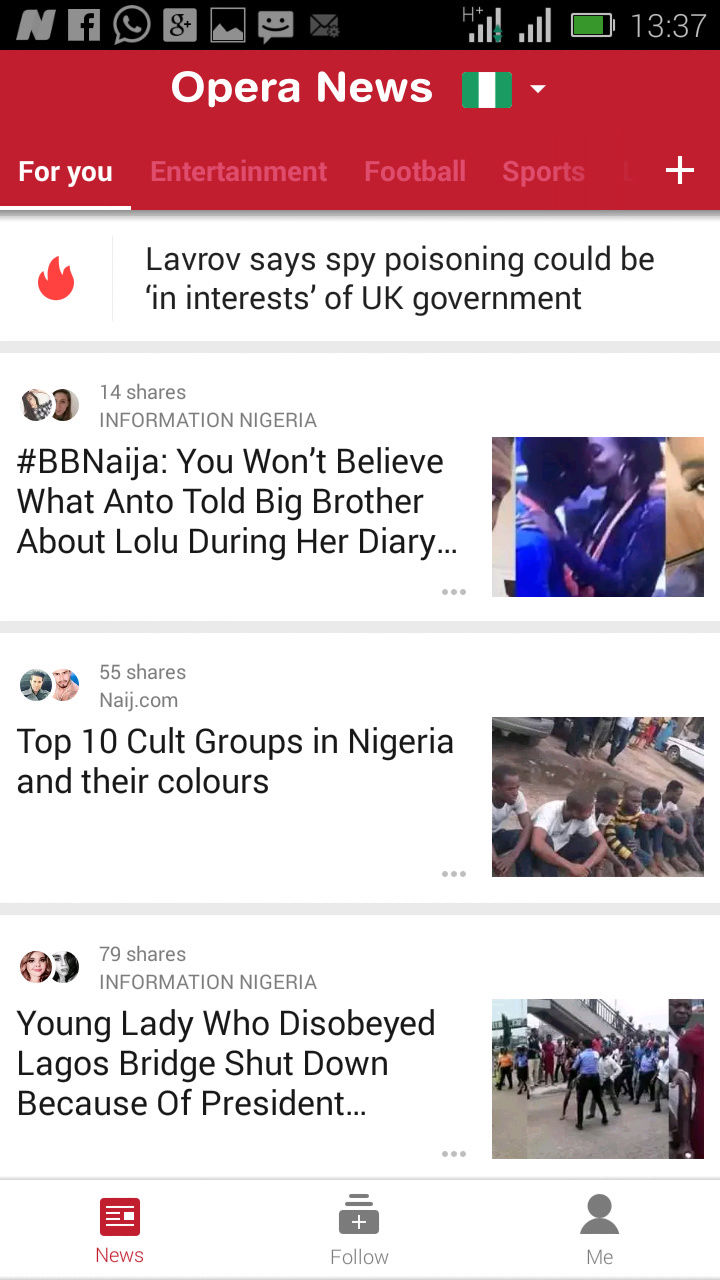 Hey Friends 
How To Get Free 20,000 Naira Airtime on Any Network
free airtime app that you can't afford to miss out this time around. So this app is nothing more than opera mini news app.

So the ideology of getting free airtime is still the same with Opera News app.

So let's take a look at what this app is actually meant for. 


Opera …
[
Full reading
]
Comments: 1
Mtn Nigeria Customer Care Contact Details
Sat Apr 07, 2018 1:44 am by DaddyBoy
​
MTN is a South African multinational telecommunication network. It has so many affiliates in the world including Nigeria.
In this post, I'll tell you how to contact MTN customer care in Nigeria, in case you are finding it difficult to contact them. 
HOW TO CONTACT MTN NIGERIA CUSTOMER CARE 
​
To contact MTN customer care, you must first have …
[
Full reading
]
Comments: 0
How To Share Data On Glo Network With Few Easy Steps
Thu Mar 29, 2018 11:15 pm by Emmi
As a Glo network subscriber, you are entitled to every opportunity on the Glo network. Glo offers this feature of sharing data with another Glo subscriber. You can share data to another Glo network without facing any difficulty. Instead of buying different plans you can alternatively share with one another and they'll all get …
[
Full reading
]
Comments: 0
How To Check Your Airtime And Data Balance On Mtn Network Nigeria
Wed Mar 28, 2018 2:17 am by DaddyBoy
Hello readers! Are you finding it difficult to check your MTN balance both on data and airtime credit basis? Then consider it not a problem again as I'll highlight you on the various ways you can check your balances on the MTN network.
This post was strictly written for MTN subcribers. This post covers all the MTN tariff plans as regards to checking your data and airtime credit balances.
[
Full reading
]
Comments: 1
DaddyBoy

Master User✭✭✭✭✭

Posts

:

55




Points

:

663




Reputation

:

3



Mtn is one of the largest telecommunication network in Nigeria and also the best network in terms of speed and stability.

So it is necessary to know the cheapest tariff plans available on the telecommunication network.Checkout the cheapest mtn tariff plans below.

MTN AWUF4U

If you're searching for a plan that doubles or triples airtime upon recharge, then here is the almighty MTN AWUF4U. This one basically allows you to get airtime bonus when you recharge below or above N100 on your MTN line.

You will get 200% airtime bonus on every recharge below N100 and 300% airtime bonus on every recharge from N100 above when they recharge using a special USSD code or via VTU.

To activate , Simply dial *888*PIN# or use the VTU services to recharge airtime instantly.

MTN XTRAVALUE

MTN XtraValue Bundle plan provides a bundle that gives you a combination of huge airtime for voice calls and a staggering volume of Data to go with it. The XtraValue Bundles are available in two (2) major categories and at different price points from N300 to N20,000.

The Two sub plans are :





XtraTalk Bundles – Offers more airtime for Voice calls than Data volume




XtraData Bundles – Offers more volume of Data than airtime for voice calls



Here. we will be talking about XtraTalk Bundles that offers airtime for voice calls.

This tariff plan depletion rate on a high side. Charges per minutes for off-net and on-net calls are based on your prefered bundle (See table below for airtime depletion rate).

Call to international destinations are charged at N39.6/Min.

How to Migrate to XtraValue Bundle

To subscribe to a bundle plan,




Dial *131*2# and select the preferred bundle type.

How to Check XtraValue Balance


You will be able to check your XtraValue Bundle balance by dialling *556# or *559*61#.


MTN SUPERSAVER PLUS

MTN SuperSaver Plus is a special MTN Nigeria tariff plan that allows you enjoy a FLAT rate of 15 kobo per second for calls ACROSS all local Networks after the first minute of MTN-to-MTN calls and MTN-to-Other networks call at 40 kobo per second respectively.

How To Migrate To MTN SUPERSAVER PLUS Tariff Plan



Simply dial *408*1# or text 408 to 131.


MTN PULSE


MTN re-launched the MTN Pulse plan (formerly called MTN iPulse prepaid tariff) which allows you to make calls to other MTN lines at a flat rate of 15k or 11k per secs after spending 40k/secs for the first 1 minute (60 secs) to any MTN line.

The 15k is applicable for calls made outside a school campus while the 11k is for calls made on a school campus and that is after making your first 1-minute call for that day at the rate of 40k/sec.

Also , MTN is also extending Pulse "low call tariff" to calls made to other networks in Nigeria as well, the first one minute of phone call you make to non-MTN lines in Nigeria will be charged at the rate of 40k/secs and after that minute.

Your call rate to other networks will automatically become 11k/secs for calls made within the four walls of a school campus or 15k for calls made outside a school campus.

How To Migrate To MTN Pulse Tariff Plan



Simply dial *406*1# or text 406 to 131



MTN XTRA PRO

MTN XtraPro is new and one of the cheapest MTN tariff plan that will allow you to make a call at 11k/sec(6.60k/Min) on a flat rate to all network with a daily access fee of N5.

But if in some cases MTN were not able to charge you N5 on your first call as a result of insufficient balance, then the call for that day will be charged at 20k/Sec(N12/Min) with an added benefit to getting health tips for 7 days.

How To Migrate To MTN XtraPro Tariff Plan



Simply dial *401# and select 1 migrate OR text 401 to 131


MTN XTRA SPECIAL

MTN XtraSpecial is also the new Tariff plan that charged its customers at 15k/Sec(N9/Min) on a flat rate basis to all networks in Nigeria with no daily access fee.

Also, you get to call some selected international destination at the same rate above with added benefit of 7 days free subscription to EPL Video Service.

How To Migrate To MTN XtraSpecial Tariff Plan




Simply dial *408# and select 1 migrate OR text 408 to 131


MTN BETATALK

MTN BetaTalk is another cheap call tariff bundle that gives MTN prepaid subscribers that recharge NGN100 and above, 250% airtime bonus and 10MB of data weekly, while 150% bonus airtime will be rewarded on every recharge below N100.

National calls when on the MTN BETA TAFIFF PLAN is usually billed at NGN24/minute (40k/seconds) from the bonus.

Your main airtime balance will start counting once your bonus airtime is completely exhausted.

How To Migrate To MTN BetaTalk




Simply dial *123*2*6# OR text BT to 131.

How many minutes do I get with N100 on MTN BetaTalk?

> If you recharge with N100, you will get N350 in your Beta talk account i.e. N100 (recharge value) + N250 (bonus)

>> N0.40kobo X 60 seconds = N24k

>> So, with N100 recharge card, you will get > N350/N24 ≅ 14 minutes 58 seconds.


MTN TRUTALK+

MTN Trutalk+ call tariff plan allows one to make calls at cheaper rates. Customers on this cheap tariff plan can make calls to any network for as low as 11k/second and calls to international numbers at 20k/second.

View the international numbers billed at this amount by dialling *123*21#.

Just like the MTN Xtra Pro call plan – a daily access fee of ₦5 is charged to your line once the first call for the day is made.

How To Migrate To MTN TruTalk+ Tariff Plan



Simply dial *123*20# OR by text TP to 131


AND LASTLY

MTN ZONE

MTN Zone is a cost-effective plan that offers MTN Prepaid customers up to 99% discount on all MTN-to-MTN calls!

MTN Zone allows you to enjoy a very cheap rate for making calls and charges you just as low as 1Kobo per second when making MTN-to-MTN local calls depending on the area and time of the day and location.

You also get to enjoy this exciting services on MTN Zone:





Discounted MTN-to-MTN calls for as low as 1k/sec.






Start of Call Notification






Access to all MTN Value Added Services



How To Migrate TO MTN ZONE Tariff Plan

From the above list of cheapest mtn tariff plans,you can carefully make your choice on which tariff plan you need to go for..

Click Here To Like 9Jatechs Free Browsing Facebook Page
Create an account or log in to leave a reply
You need to be a member in order to leave a reply.
Log in
Already have an account? No problem, log in here.
Log in
---
Permissions in this forum:
You
cannot
reply to topics in this forum