Latest Mtn Free Game+ MB Configuration on Psiphon handler
Sat Dec 16, 2017 2:41 am by DaddyBoy
Good Morning friends, Mtn Game+ is here again, and this time is a free Xmas gift to every Mtn user . @Emmi Recently share a post today about the Accumulation of Mtn Free Game+ MB

I'll be showing you how you can tunnel your gameplus mb to work on all your apps.
So let's begin.
Requirements:
*Gameplus Mb
*Good 3g connection.
*psiphon handler(any should work).
Now to the setup.
First …
[
Full reading
]
Comments: 2
Airtel 4.5GB Data Plan For Just N1000 Only
Thu Dec 07, 2017 9:23 pm by Gab2
Airtel NG is here with a pleasant data plan for all Youtube lovers; dubbed YouTube Plus Pack. These are standard data plans that give FREE access to YouTube at night, and also to other websites (any time).
With this plan, you get your normal Android data to browse and download on any website at anytime, plus free YouTube data separately; to stream your favourite video content at night—between …
[
Full reading
]
Comments: 4
How To Buy Airtime from All Networks With Bitcoins
Fri Nov 24, 2017 1:13 am by emmy
This guide on how to recharge or top up your phone with bitcoin using Bitrefill online service is a very simple and straight forward process. All you need to do is ensure you have a working prepaid sim and of course Bitcoin for payment.
To access bitcoin, you need a wallet.
Let's start off with little review of BitRefill
BitRefill is an online merchant that allows you to instantly convert …
[
Full reading
]
Comments: 1
Latest free browsing on MTN, GLO, 9MOBILE AND AIRTEL for December 2017
Mon Oct 23, 2017 1:06 pm by sandramira10
LATEST AIRTEL FREE BROWSING CHEAT, DOUBLE DATA CODE FOR OCTOBER 2017
It seems there's currently no available free browsing on the Airtel Network now anyway if you're a data subscriber you'll at least enjoy this double data thing, it gives you 100% data bonus on all your subscription. To subscribe to this plan just dail*144# and select the one you wish to subscribe for its very simple.
…
[
Full reading
]
Comments: 5
Get Free 100MB Worth Of data on Your MTN Sim | MTN Season Of Surprise For December 2017
Sat Dec 02, 2017 9:26 am by emmy
Good morning Buddy, 
MTN is here again with their free data offer for the month of December, this has always been a tradition for most of the telecommunications in Nigeria to surprise both New and old subscribers (customers) , MTN is giving free 100MB to both old and New customers. 
This offer comes with a message 
MTNFREEDATA wrote:It's the season of surprises and you have been rewarded 100MB data. Chat on …
[
Full reading
]
Comments: 3
Search found 2 matches for 9Mobile
Tue Nov 14, 2017 6:12 pm


Search in: Network
Replies: 0
Views: 123
9mobile
has official announced two new video steaming bundles which is the first of its kind. According to
9mobile
official statement;
"These sets of new video streaming plans lets you pause and resume your video data anytime. As per their official statement;
"Another first from #9Mobile! Introducing the only video streaming bundle that let's you pause and resume your data usage anytime! Choose between N500 for 3days or N1000 for 7days! #9MobileCares."
These new 9mobile video streaming plans comes in two different packages which are N500 for 3days and N1000 for 7days. The N500 plan is capped at 5GB worth of data while the N1000 plan is capped at 10GB worth of data.
These plans are really cool if you ask me.
Subscribers with good 9mobile data network good at your location, you can subscribe for this plan and enjoy data overload for your streaming pleasure.
HOW TO SUBSCRIBE FOR 9MOBILE VIDEO STREAMING BUNDLES
- Dial *253*1# for the N500 plan valid for 3days.
- Dial *253*2# for the N1000 plan valid for 7days.
HOW TO OPT OUT OF AUTO RENEWAL
Dial *253*0# to opt out of auto renewal.
That's all friends. What do you have to say about these new video streaming plans from 9mobile network?
CAN'T WE POWER ALL APP WITH THIS PLAN BECAUSE IT WILL BE AWESOME TO GET 3G FOR 500
Click Here To Like 9Jatechs Free Browsing Facebook Page
Sun Aug 06, 2017 4:06 pm


Search in: Network
Replies: 0
Views: 1086
Hello Technicians, Here I bring to you good news from
#9Mobile
formally Called Etisalat. 
9Mobile Formally Called Etisalat is here with new and cool offer  for all their subscribers to get entitled to free data when a new smartphone is purchased 
9Mobile
is here to impress their old and New customers, imagine buying a new Smartphone and you receive free 1.5GB instant data that will be Valid for 30days.
According to information on their official website, when you activate your new smartphone on the
#Etisalat
network you will get 1.5GB instant free data valid for 30 days plus 100% bonus on all monthly data plans purchases in the first 6 months and 50% bonus on all monthly data plans purchases in the second 6 months.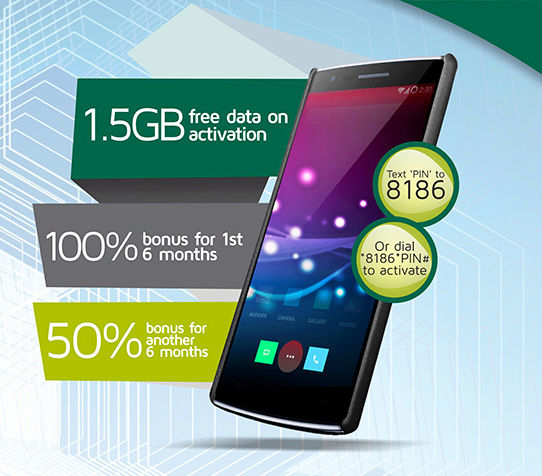 This
#offer
is it is open to both old and new
9mobile
subscribers, it means that you don't need to buy a new
9mobile
sim before you benefit from the offer, once you purchase the eligible smartphone, you can activate the offer with your old Etisalat sim (now, called
9mobile
sim.)
To Activate The Offer
Simply SMS the PIN found in box or given by the authorized phone retailers to 
8186
 OR dial 
*8186*PIN#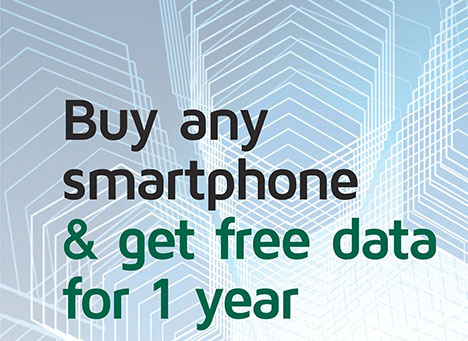 Where To Purchase The Smartphones That Eligible For The Offer
You can purchase smartphones that are eligible for this offer either from
9Mobile
experience centers or authorized phone retailers in the open market nationwide.
Remember:
 The validity of first 1.5GB free data is 30 days from activation, but
9Mobile
will be given you 100% bonus on all monthly data plans purchases in the first 6 months and 50% bonus on all monthly data plans purchases in the second 6 months.
ALSO READ>>http://www.9jatechs.com/t768-get-free-200mb-on-your-9mobile-etisalat-sim-valid-for-2days#1024